Hey+ B1800 Smart Bracelet International Edition
Since the famous Fit-bit band smart bracelet arrived there have been a lot of competition, especially in china. And thankfully the power of the internet gives us access to these products. The Hey+ B1800 is much better than the Q13 which I wouldn't recommend. The smart bracelet has some great features such as a heart rate monitor, alarms and my favorite the ability to customize your watch face with your own photos. The included ones are nice, but a smart bracelet needs to be customizable for my liking. The AMOLED touch screen is clear and responsive. Not too responsive like others I have tried. It's a nice watch which is comfortable on my wrist with an ok accompanying android app (iOS Untested). I say ok because it isn't fully translated but the parts that are can easily be understood.

Smart Bracelet: Specifications
| | |
| --- | --- |
| Model | B8100 |
| Manufacture | Hey+ |
| Display | AMOLED |
| Operatingmode | Touch Screen |
| Waterproof level | 50m |
| System requirement | IOS 8.0 and above, Android 4.4 and above |
| Battery capacity | 120mAh |
| Charging time | 2 hours |
| Standby time | 18 days |
| Bluetooth version | 4.2 |
| Usage temperature | 0°-45°C |
| APP | Hey Plus |
Unboxing the Smart Bracelet
The B1800 comes in a nice looking box that you can tell was designed with care. It has a simplistic design with a nice presentation of the band when you open it. Lifting the top layer with the little tab shows a small box with the charge cable.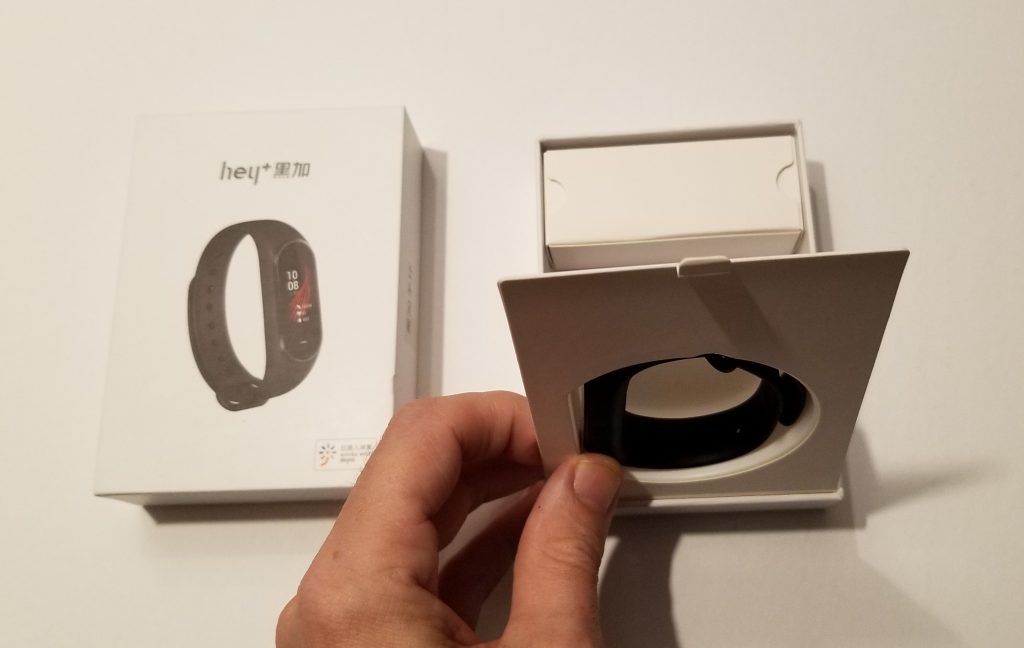 Design and Build quality 
The smart bracelet B1800 band has a soft rubbery feel. The band is made TPU (Thermoplastic polyurethane) and not the plastic that cracks from constant bends. The display pops out so you can place it into a different color band which you can buy on ebay.
The band has plenty of holes to fit a range of different size wrists. Mine being pretty thin. The pin that fits into the hole fits very snug and does not feel like it will come undone while you sleep and during exercise.
One thing I like about this band is the touch screen isn't super sensitive. You wouldn't think that should be a problem but I had one band that changed by the static in my shirts and blankets. I would wake to find the watch settings and face changed.
The lock screen has 6  built in background images with a time layout you can't change. They all look ok but when it comes to a smart watch I expect to create my own.
The position of the time, date and data limits your custom dial options. Here are some of mine. I just wish I could save more than one custom face at a time so I don't have to recreate them every time I wish to change it.
Functions of the smart Bracelet
Functions you expect from a smart bracelet are usually simple things like the pedometer, phone notification and now heart rate sensor. The Hey+ B1800 comes with that and many more cool features.
The watch has plenty of data you can view at a glance without having to go to your phone to see your steps, heart rate and more. In fact one of the main apps is called Data. It tells you your steps, calories, distance, heart rate and sedentary. Until now I had no idea what sedentary was. It means time sitting or inactive.
It also has features such as exercise monitoring and recording. Such as Running, Treadmill, Riding and even Free training (weight lifting). Because I'm disabled I can't use many of those features. I can use the pedometer and a bit of riding but not much else.
When you start an exercise function such as running you get a 3 second countdown which I'm not sure is useful. It uses your phones GPS location to track speed and distance.
You get data as you exercise so you can see how far you have gone. That could be a bad thing for some. Haha. Here is a sample of the data it offers.
During your exercise it gives you the option to pause or finish. And when you are done it gives you a summary or it tells you your exercise was too short to record.
This smart bracelet band has many features which are great for people like me that should track this information and set goals for myself. With heart issues it is good to have the heart rate monitor to record and share with my doctor.
Being the "International" version though isn't very internationally friendly if you wish to use the weather app. It does not support cities outside of China. And much of the help section is not translated.
I contacted the company through an email address I found in the app but I didn't get much of a response. Here is their response when I asked them to update the weather to include more cities. "Ok, this part has not been updated yet, and it will need to be updated later. Thank you very much for your feedback and wish you a happy life."
Alarms are very handy if you are one of the rare people like me that doesn't keep their phone in their hand 24/7. It vibrates pretty well but doesn't beep. You can set one time alarms as well as daily or weekly alarms. I just wish they would link it to my phones alarms which I have setup for reminders. As an application developer, I wish it was open source so I could add all the features I want. When you select the alarm app on the watch it tells you to add them through the phone application of there are no alarms set. When there are alarms it lets you flip through them and turn them on or off.
The Alipay app I'm assuming is a china pay service like Apple pay.
The last app is the setting which has the about info as well as brightness settings.
Two very cool features which I love is the NFC (near field communication)and the Passcard feature. This supposedly lets you scan your works door card to let you replace it with your watch. I'm not sure if it works because I don't have one to try. Although you would think your work cards would be pretty secure and hard to copy.
The other feature which will be great for my kids is, find my phone. It sounds an alarm on your phone to help you find it.
The charge cable feels well built and holds the band firmly in place. It also has a guide to be sure the pins connect to the charge points. The sensor for measuring heart rates are located on the bottom with the charge points.
App
The smart bracelet watch connects to your phone with Bluetooth 4.2. And hanging the face is quick. The application is full of features but they are all over the place. For instance the top left brings a side menu with Account profile settings and about information. It also has setting in the top right which houses the watch information and in the bottom right it has an Assistance icon which is again info like frequently asked questions.  They should be placed together in the left menu bar.
Translation makes many of the app functions questionable. What is Transport card for? It would help if the help section wasn't in Chinese.
Door card I assume, the NFC part which is cool but I don't know how the security part works.
The app is where you can view all your data with pretty charts and graphs. Which is missing the option to export the data. I would build in an option to export to CSV.
You use the app to also set alarms, exercise goals and notifications. Any app on your phone that has notifications can be used to send to the watch, which is a must have feature.
The custom dial interface is simple enough to use. Select a style and chose a background. That is it. You also have the option to share your watch face but that seems pointless. The efforts spent on that feature would have been better spent on something like exporting the data or saving multiple faces.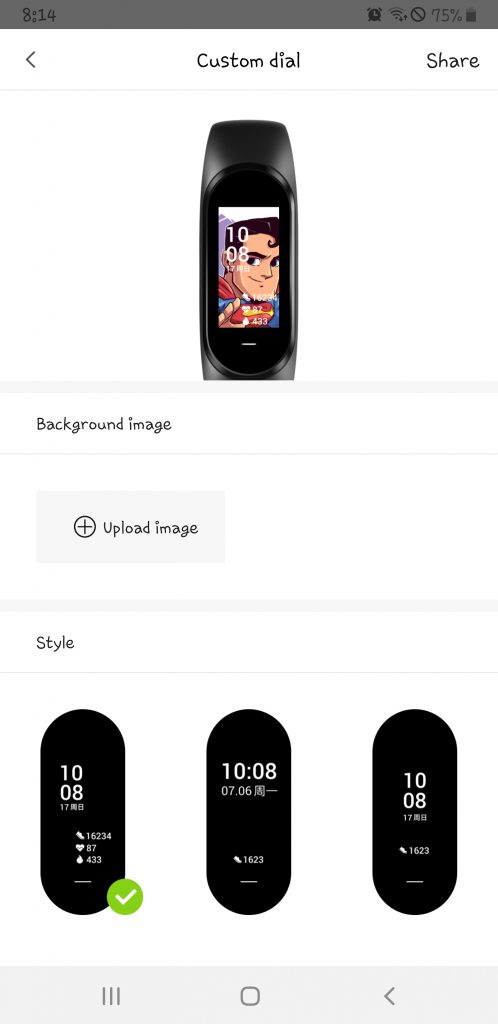 Smart Bracelet Final Summary:
The Hey+ B1800 is very smart band. In time, I'm sure it will be more advanced ranking in one of the top smart bracelets category. Not being a doctor I can't say how accurate the sensor is. The other features alone are well worth the price. The Apple smartwatch came out with less and cost many times more.
And right now it is part of a flash sale on Gearbeast.com
You can find them here on Gearbest with a special price for you guys reading this article.