3D printing has been a wonderful hobby. The kids like it, the wife not so much. But she tolerates it because she knows anything positive to take my mind off my chronic pain is a good thing. I can only do so much at a time, but it's better than nothing.
Until now it has been Fused Deposition Modelling (FDM, also known as FFF, or fused filament fabrication), which takes spools of plastic and extrudes the plastic at a small width (.4mm most common). This process places them layer upon layer. There are many types of 3D printers that use a variety of materials including metal powder, PLA filament, and liquid resins. Metal printers are industrial-grade and very expensive, and back when I started this hobby the resin printers cost over $2000.
Resin printers are also known as Stereolithography. That is the process of projecting an image to cure the resin. With DLP 3D printing, a digital light processing(DLP) provides a light source for curing the materials to form the objects through an LCD screen.
The recent influx of cheaper FDM printers was a sign of  DLPs coming down in price. From over $2000 down to less than $1000. This one is less than $600 USD at the time of writing this review.
The Flying Bear DLP 3D printer has been a messy but fun printer to play with. The detail in the prints is crazy high. This printer works well and I had very few problems with it.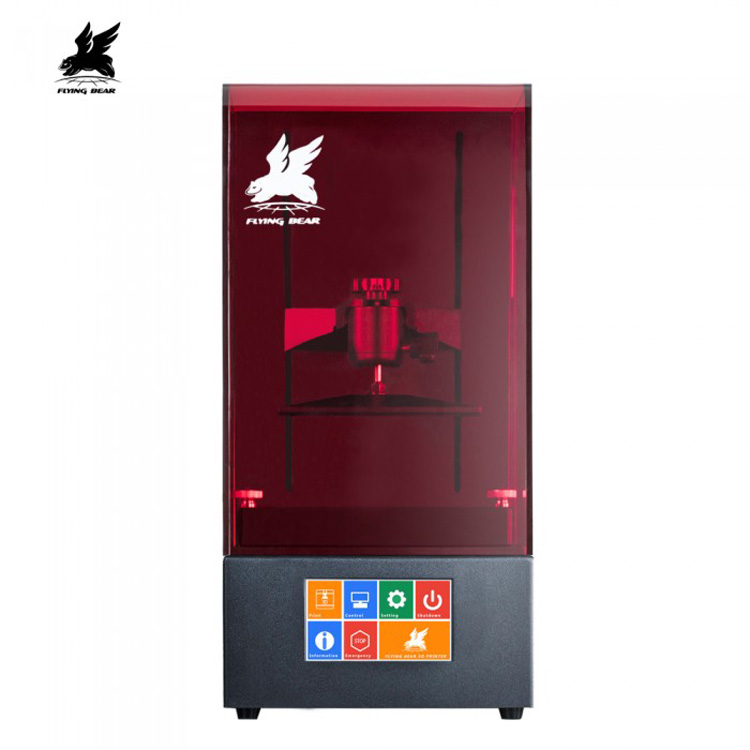 The Flying Bear DLP 3D Printer: Specifications
Print size 120*68*210mm

Printer size 203x175x415mm (LxWxH)

Connectivity WiFi,U-disk, USB

Layer resolution 0.025 -0.100mm

Z axis resolution 0.004mm

XY DPI 0.047mm (2560*1440)

Light-source 405nm UV integrated light

Technique LCD Shadow Masking

Printing speed 30mm/h

Printing material 405nm UV resin

Slice software FLYING BEAR-Shine slicer, Creation workshop

Screen 4.3-inch colour touch screen

Machine weight 12kg (26.45 lbs)
The printer specs are similar to those of other SLA and DLP printers. I'm assuming the cost of the resin is the reason for the small print size. This printer has a 120 x 68 x 210mm build volume which is quite small in terms of 3D printing, but not for SLAs or DLPs. The board or screen has WiFi built in and is configured through a text file. I'm not sure if it's my WiFi network or the printer, but I haven't been able to get it working. It connects to my network but not to any of the software. The 4-inch colour touchscreen is a great interface, much better than the text and turn-dial menu system.
Unboxing the Newest Flying Bear Shine UV Resin DLP Color Touch Screen 3D Printer
The printer was well protected in the box with foam shaped to the contours of the printer. The tools were packed inside the printer in their own foam box. This 3D printer comes with a power supply, rubber gloves,  a scraper and an Allen key. It was supposed to come with a bottle of resin but it wasn't there. I contacted the company and they said they can't export the resin to some countries. Which I don't believe, because I can buy resins from any other site.
Printer Navigation
The touchscreen is a very nice full-color display. The main screen has a seven-button layout. Three of those are basic commands. You can click the others to display screens with controls, settings, and information.
The first button brings you to the Print screen. To prevent accidental starts, you first have to confirm that you want to print.
The Control button takes you to a screen where you can do things like adjust the Z axis and turn the LED on or off.
Next is the Settings screen. The display consists of two files. The first is the sysconf (system configuration) which I won't mess with. The other is the wificonf where you can enter two lines; your WiFi SSID and the password.
When you click the i (for info) option, the following screen appears with your IP address, screen mode, and other information.  like the IP address for your network.
The fifth button simply powers down the machine. The next is the emergency stop. This isn't for stopping the print, it's to stop the homing if there is a problem. To stop the print there is a stop button on the print screen.
Last is the Company info screen.
Print Quality
I expected the quality of this printer to be awesome, but it is better than I expected. I have seen many prints online and have wanted an SLA or DLP printer for a long time. It is only recently that companies like Flyingbear released DLP printers cheap enough for everybody. On FDM prints the .1 layer height has been considered high quality. On the DLP as well as the SLA, .1 is considered low quality and .025 is high quality. At those resolutions the layer lines are almost invisible.
Print of the Eiffel Tower
The first print I wanted to do was the Eiffel Tower. I have always liked this model and it's usually one that is done when showing off a DLP or SLA printer. It printed very well but I messed up the post-processing. I dipped it in alcohol then put it in the sun. The problem is that resin that remained between the parts has left a thin film of resin that hardened there.
Print of a Medieval Castle
Another model I love that is popular for showing the detail your printer can print is a castle on a hill with lots of tiny trees. And if you look at the image of the bottom you will see another mistake I made. Putting it in the sun in the window made it stick to the wood a bit and pulled off a bit of the finish.
Print of a Green Lantern Ring
Being a DC comic fan I, of course, had to print a Green Lantern ring. It was my first attempt at adding manual supports. My supports stuck too well, and I had to cut them off the ring.
Prints of Flash and Superman Rings
After that, I thought I would give the Flash and Superman rings a try. I tried them by placing them face down on the build plate. The problem with that is the liquid pools on the ring – so it cures as it cures.
When I purchased the resin I chose green for the Green Lantern ring and Kryptonite. Superman is my favorite of all the comic book heroes so of course I needed to print some kryptonite. The giant Lego kryptonite was a great option.
Print of Superman's Fortress of Solitude
I found this cute little model of Superman's Fortress of Solitude. It should be printed in white or clear resin, but I only have green for now.
Print of Skull Dice.
My last model is of the skull dice. It didn't work. I suspect it was because there is no drainage, or the resin isn't clear enough to see it.
Software
DLP and SLA slicing software is different from FDM slicing software. The company gives out the program called "FLYINGBEAR-Shine slicer" and "Creation workshop". I'm not sure if it's developed in house or if it's a derivative of an open source software.
The supports are different on DLP printers and have to be added through third party software such as Autodesk Meshmixer. The included slicer works great and odd times it will connect through FTP to the printer over the network. You can then upload prints to do on the printer. The Creation Workshop is another slicer that looks good but compared to the Flyingbear one, overcly omplicated. I stuck with the Flyingbear one because it worked most of the time. That, and the slicing time for the Creation Workshop takes a lot more time. Slicing creates an image for every layer, and then the printer prints each layer all at once where FDM uses G-code. The G-Code is just commands for the motors to move the tool-head line by line.
Printed Tools
There are no "upgrades" or "modifications" for this printer, but there are tools to print and use. Although, you need an FDM printer to print these.
The first and the one I use the most is this lid to keep the resin-covered when not in use. This is one I designed myself in Fusion 360.
Next is a drain tray to let the build plate drip the resin in the tray. I found it faster and easier to use the scraper that came with the printer, and to push it off the build plate.
PROS
High accuracy
Strong material
Tinted cover to see how the print is going
Big bright touchscreen controls
Easy to learn
WiFi uploading
2K LCD with resolution up to 2550 x 1440
Z-Axis adopts Ball Screw to improve printing accuracy and stability
CONS
Glitchy WiFi
Small build volume
Supports are difficult
Messy post-processing
Needs lots of room for baths and tools.
Evaluation
People online who have DLP printers say these are very messy. I now actually know how messy it really is. You need more space than with FDM printers, despite the printer being smaller. You need room for an alcohol bath and paper towels and a soapy water bath. It's a lot, but worth it.
I keep the water and alcohol in Tupperware containers that seal airtight. DLP printers are a great idea if you want to print figures or anything you want printed with super fine detail and almost no layer lines. It has a high precision Z-axis ball screw. If the WiFi would work at all times it'd be that much better, and it could be so for you.
I can't wait to see DLP become mainstream. That will happen when the cost of resin gets lower as the cost of printers did. It will happen just like it did for filament and FDM printing.
Types of resins aren't as clear as FDM filaments. The Wanhao resin I purchased is made for Wanhao SLA printers. There is no smell but it's good advice to keep the room well ventilated, and using gloves in handling.
Before I had an DLP printer, I would advise against buying one as your first printer. Now I would say, go for it. Yeah, the resin cost more but it won't be long before its price drops. Even without the promised resin, the Flyingbear shine is a great choice for a great price.
You May Also Like…
Flying Bear DLP 3D Printer (Shine UV Resin Color Touch Screen)
User Interface and Navigation
This printer prints beautifully and is an awesome addition to any office or workshop. The printer is well-built with good parts. I'm nervous about the acrylic cover snapping off but if you're careful there won't be a problem. As for the user interface and navigation, I love the touch screen but editing the wifi and config file is difficult. Luckily you don't need to do that often. This printer currently sells for less than $600 US dollars. This is a far cry from the thousands SLA printers used to cost.