Ever since I started 3D printing on my own, I wanted to try dual color printing. Despite many in the hobby saying to avoid dual color printing, because of the complexity, I wanted to give it a try.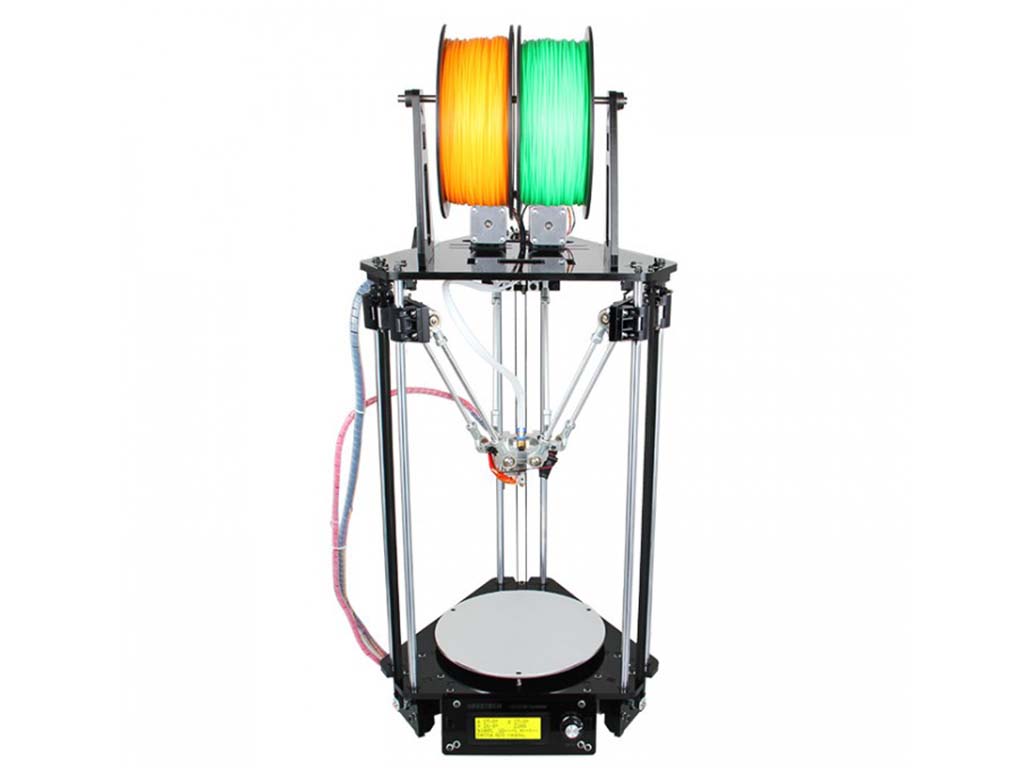 That's why, when asked to review the Geetech GS2 Pro I got very excited. Even though it only took a week to arrive I was still watching the delivery status on DHL, following it closely. When it arrived I started the build as soon as I possibly could.
Technical Specification
Printer model

Build Volume

Printer Dimensions

Printer Weight

Print speed

Layer resolution

Axis positioning accuracy

Material diameter

Printer Frame Material

Platform board material

Mainboard

Pre-assembled

Screen

Extruder type

Heated Bed

Max Nozzle Temperature

Max Heatbed Tempeature

Auto leveling sensor

Filament sensor

WiFi/Cloud

Resume from outage

Enclosure

Recommended Material

Power Supply Input

Power Supply Output

Retail price
Delta Rostock Mini G2S PRO


D:170mm H:200mm


320 x 320 x 870mm


~10kg

60 to 120 mm/sec

0.1-0.3mm

0.1-0.3mm

1.75mm

Acrylic

Aluminum

GT2560


2004 LCD

Bowden

Dual Extruder

~240°C

110°C

ABS/PLA/Nylon/Flexible/Wood

115V/1.5A 230V/0.75A

DC12V/15A

~408$
Unboxing
The packaging for this printer is pretty standard with foam packing to prevent damage during shipping. Nothing special nor different about the way it's wrapped up, but not bad either. The box was 19 X 16 X 8 in or 48 X 41 X 20 cm and weighted 11kg.
SD Card
I'm not sure why but this printer does not come with an SD card. It takes the original larger SD card which is super cheap so they really should include a small card. If they don't have one on hand they will have to go buy one. Although the printer does need to be the tether for the initial setup to upload the firmware with the changes to the Z height
Assembly
Building the Geeetech Mini G2S Pro Delta  printer was pretty standard procedure for me. The build manual is detailed and so easy to follow there was no need to use videos.
After building 7 other printers I knew what I was doing but on those printers I had to watch assembly videos. Using videos are OK to see how parts combine but they are a pain because you have to keep pausing and rewinding.
I spent about 4 hours building it with a dinner break in between.
The 8mm Acrylic felt solid enough. Using the rods that the three axis ride on as the main supports is a questionable design choice. I wasn't ok with how the belts needed to have a hole poked into them and screwed to the holder. I felt like it may split and slip off. So having more printers I went to Thingiverse to find a better solution.
I found this belt clamps as an alternative. I highly recommend these if you can print them. I had a few problems with the rod holders as some of the threads seemed off and I had to hold them with pliers to get the screws in.
Build Quality
This printer is very heavy for its size. It feels solid enough. The Z rails are holding the top quite well.
The Extruder steppers are larger Nema 17s for better torque. Printer has  heated bed. That gives you more print options than just the PLA. G2S Pro has an acrylic frame. Most people within the 3D printing community say that the acrylic is not well suited for printer frames, mainly because it can get deformed over the time.
The 8mm thickness feels solid enough. The metal rods and effector being metal is a negative though. The steppers don't seem to have enough torque to keep them up. They slide a bit from time to time and I saw layer shifting in one of the prints.
This printer doesn't come with an SD card. The SD card slot is located in the back of the LCD. It sinks in so far it is very hard to remove. I had to use needle nose pliers to remove it. After a few times I got tired of it and back to Thingiverse, I go. I found this card handle to help. I had to glue it to the card which is OK because I only use this card for printers. It works so well I will be using it for the Black widow printer as well.
Print Quality
I always test 3D printers with as much materials (filaments) I can. Below are the results I was able to get with the Geeetech Mini G2S Pro Delta.
PLA
I always thought that the pros in the hobby were talking nonsense about dual extruders and their difficulty. I searched the internet for some cool dual color STL files. The first one I tried was this dual color, Marvin. Marvin was designed to test a printer's capabilities like the Benchy. The Marvin started well then suddenly the filament jammed in the 1st extruder.
I then gave it another try with different colors. I then tried a cat, lips and a storm-trooper with the same results.
Unfortunately every time this happened I have to take it apart to get the filament out and had to realign it each time.
Finally, I got this Batman bust to print. I printed it with an oz shield which prints a cover over the item to catch the filament that oozes from the extruder not printing at the time. For the most part, it works.
But as you can see the print didn't turn out all that great. I kind of lost hope at that moment.
ABS
After the disappointment of the PLA prints, I decided to give ABS a shot. Having a heated bed is a must for ABS. An enclosure is important also but you can get away with small prints if there are no drafts in the room.
My first ABS attempt was a low poly Charmander Pokemon. Of course, it clogged half way up.
Then I tried the Lips again in ABS. This time it finished but as you can see it had layer shifting. This could be from one of two things:
being the effector weight
2 the nozzle catching the print while it tries to move and it makes the motor skip steps.
PETG
Next, I tried PETG which is easy to print like PLA but requires slightly higher temperature, like ABS does. Unfortunately, I only had one roll of PETG so I couldn't do a dual color print. I printed the famous Benchy. This printed ok despite the under extrusion. The stringing is common with PETG and can be removed by playing with temperature and extraction settings.
I figured out what was happening, but not how to fix it. And it was always happening with the first extruder. As you can see its bunching up above the throat (Heat break) of the extruder.
Back to PLA
After many failed prints and clogs I decided to swap the hotends and print single prints. After the first attempt failed from the second nozzle I took the advice of the other G2S owners on facebook and removed the second hotend.
I will order a new one and figure out how to cool it better to prevent the jams. Then I will go back and give dual color another try. I may try one of these Y splitters as they seem to be getting popular and less chance the second nozzle will snag the print.
So with a single nozzle, I got two good prints. The Pacman ghost and the dragon from the Game of Thrones TV show. The dragon was stringy from the retraction settings. Being Bowden retraction is important to get right.
Software
Cheap printers always come with free open source software. Cura comes on the SD card but there are others you can download such as Slic3r and Craftware. But if you want the best it will cost you $150 USD. That is called Simplify3D. It great because you can customize your support structure and it prints well. For beginners and people on a budget, Cura is more than enough to get you started.
Upgrades and Modifications
Power supply cover. I don't know for sure if it will fit on this bed.
You should really replace the effector as soon as you can. Because it will be lighter and pick one that can adjust easily.
As mentioned above the belt holders would be better than screwing through the belt.
Pros and cons
Please check the list of all pros and cons I experienced with this printer.
Pros
Built solid
Good motherboard
Bright display
Strong extruder Stepper Motors
Cons
Dual extruders are hard to align and require a perfect flat print.
Heavy rods and effector makes the axis slip easily.
Frequent filament jams.
Evaluation
Please understand that these ratings are just a personal opinion of the author. They are not comparable with other Facebook or printers on our site since we have several reviewers. However, these ratings should be a guideline to understanding overall printer performance the author experienced.
That being said, here are my overall ratings for this printer.
PRINT QUALITY
It will take a complete replacement of the hotels for me to get prints I am happy with. The part cooling fan would be good also.
BUILD QUALITY
This printer is built well and solid. Just some questionable part choices.
USER INTERFACE AND NAVIGATION
I give the interface and navigation quite low rating, because you can't-do fine control for movement because each click of the dial moves 3-4 positions. So if you want to move the axis .1mm you can't unless you control it over USB. This seems very common with the knob style displays.
VALUE FOR THE MONEY
The current cost of this printer is $367. That would be a pretty good deal if the dual printing worked like I expected it to work.
FINAL JUDGMENT: 5:/10
I was very excited for a dual color printer. I will keep trying to get them to work because I see a use for it with dissolvable filaments as support for the figure I would like to print.
Just in case you're curios on the differences between different types of Geeetech printers, check out our Geeetech comparison chart.
Reader Interactions