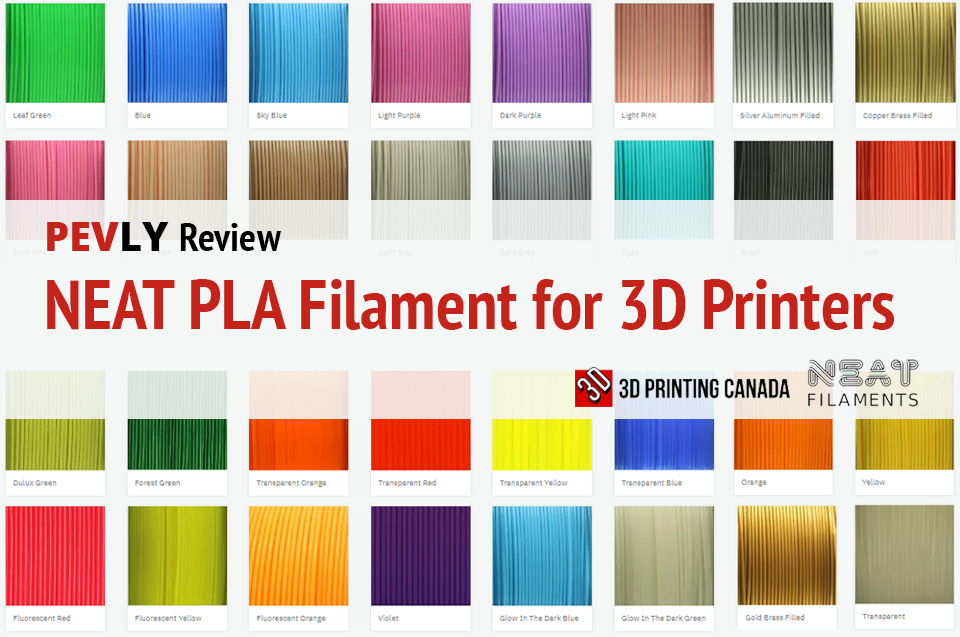 Reviewing filament for 3D printers has opened my eyes to all the possibilities of PLA (Polylactic Acid) filaments. Typically I would just order whatever is cheap and be done with it. Thanks to 3D Printing Canada I found there are much better products available in the same price range. For instance, the other PLA filament I have tried have had issues with supports sticking way too much, even with lower temperatures. I won't name these companies or sellers.
I would definitely recommend 3D printing Canada for the filaments I have reviewed so far.
This filament was sent to me to review and I received no other payment. This is my opinion only and I ask that you try it and form your own opinion. I believe you would come to the same or similar conclusion of your own.
This review is of the Neat brand PLA. This filament is in the $25 CDN price range which is a great price. Their shipping is a flat $10 fee or free for orders over $120 CDN. So for 5 rolls, you get free shipping and you will be well stocked. Depending on how often you print of course. Haha, I go through a lot of filament for personal use and for printer reviews.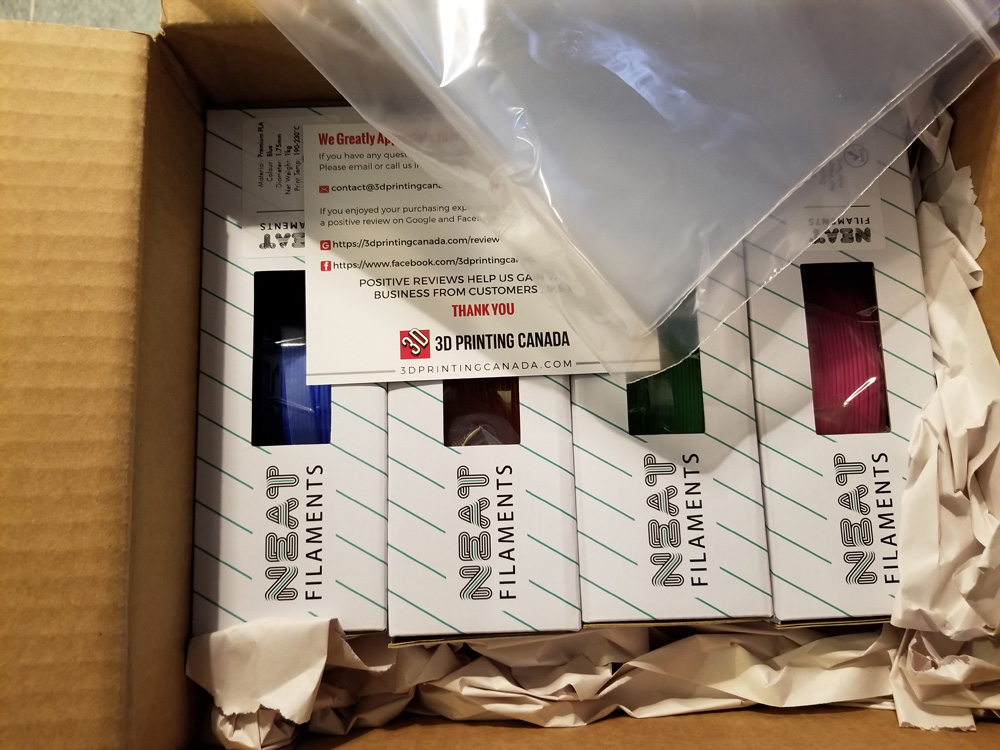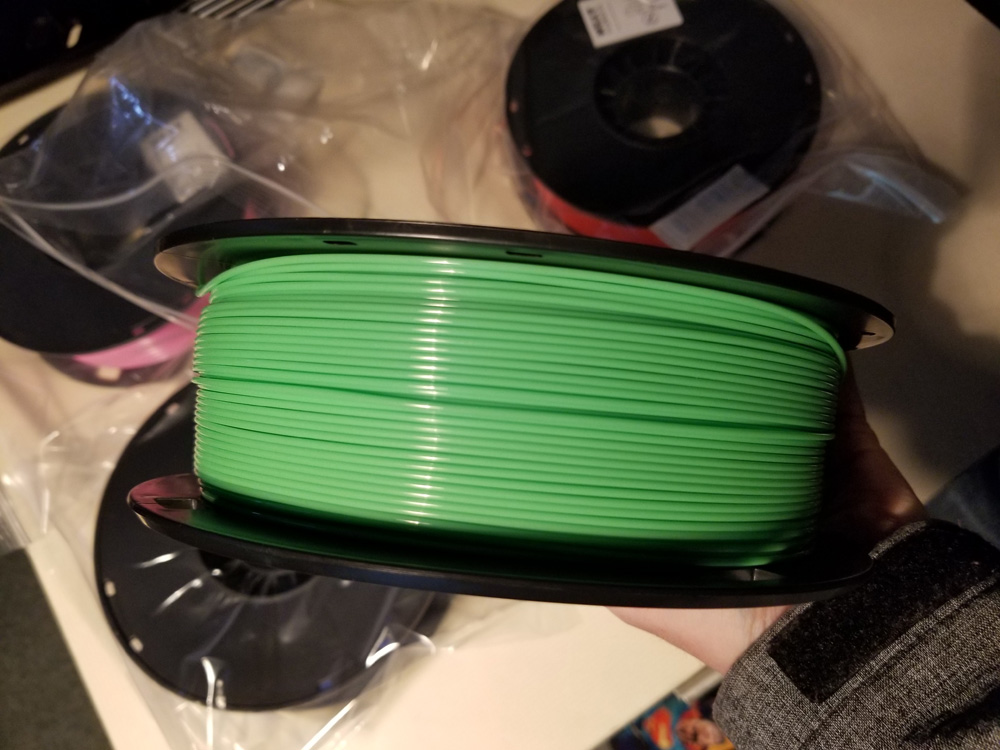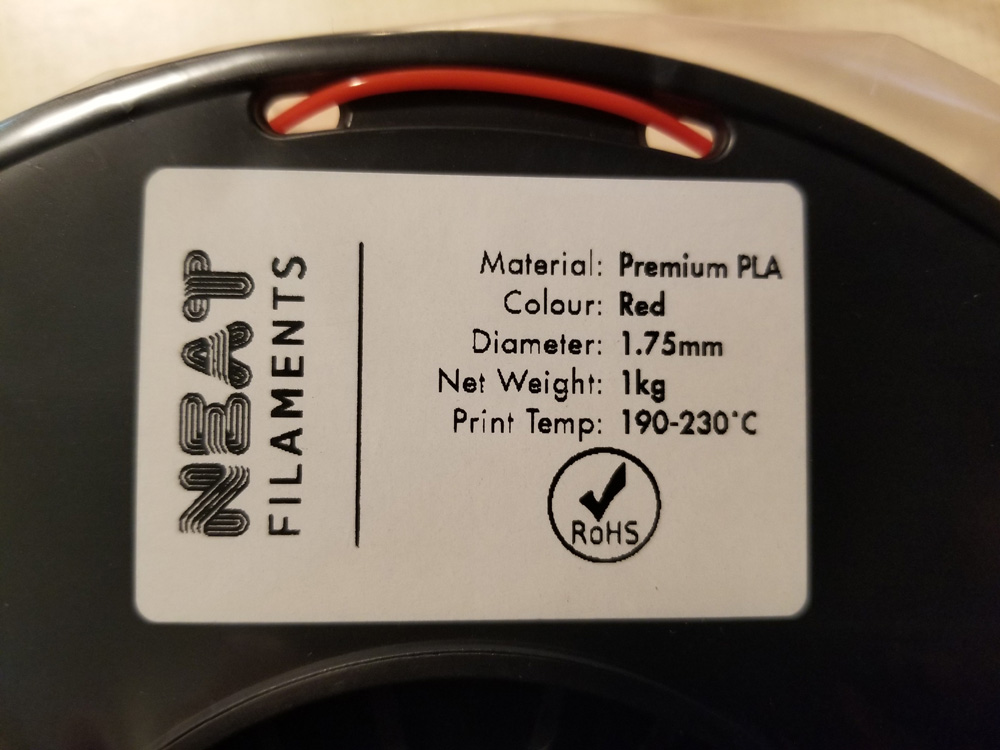 OK, let's get to the good stuff. I have a friend who asked me if I could make some dinosaurs for his friend's 3-year-old kid who loves dinosaurs.
I started with the pink. My first print was a test print on the Tevo Michelangelo. I review printers as well as filaments and other technical Items. It started rough with strange shifts in the prints. I printed a couple of dinosaurs and wound up with some odd artifacts in the prints. The arms and legs have overhangs.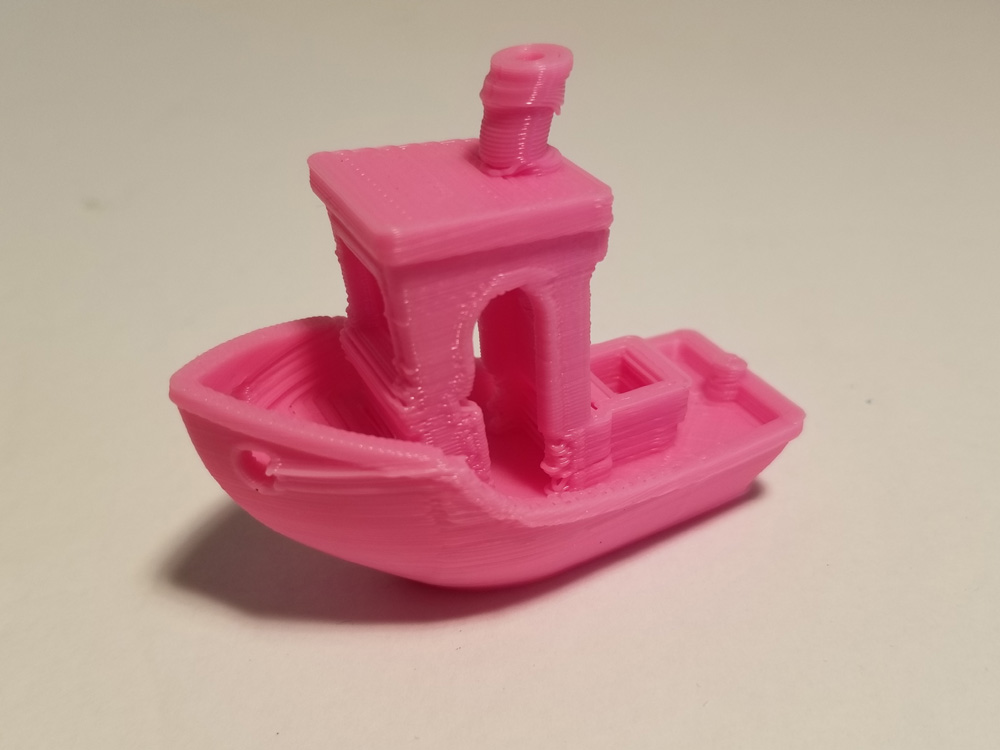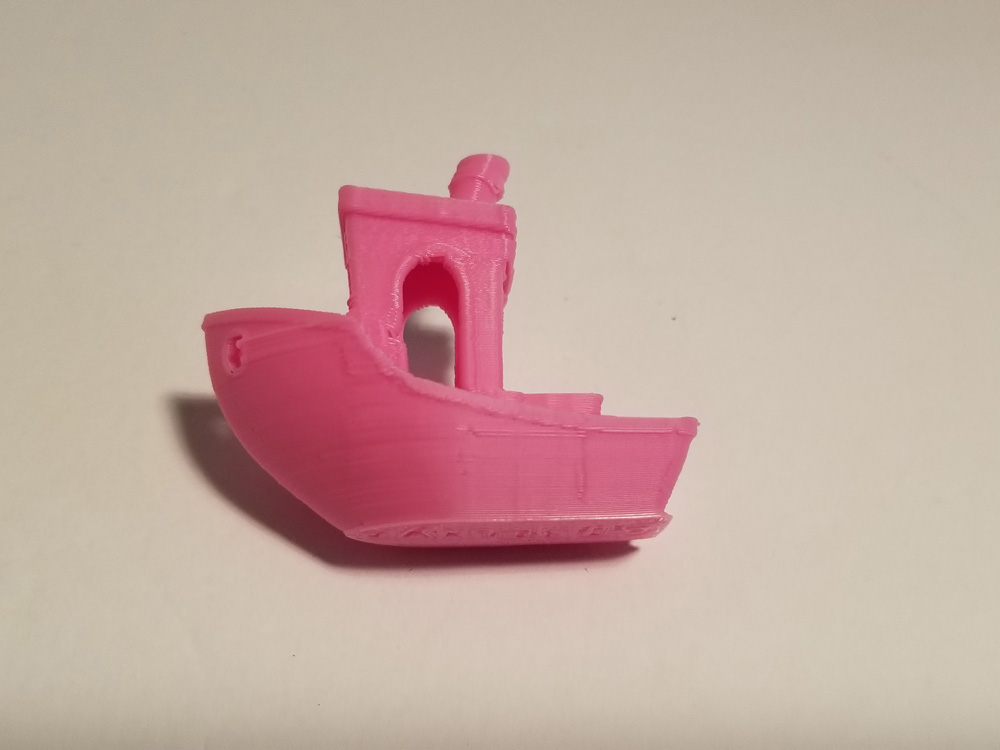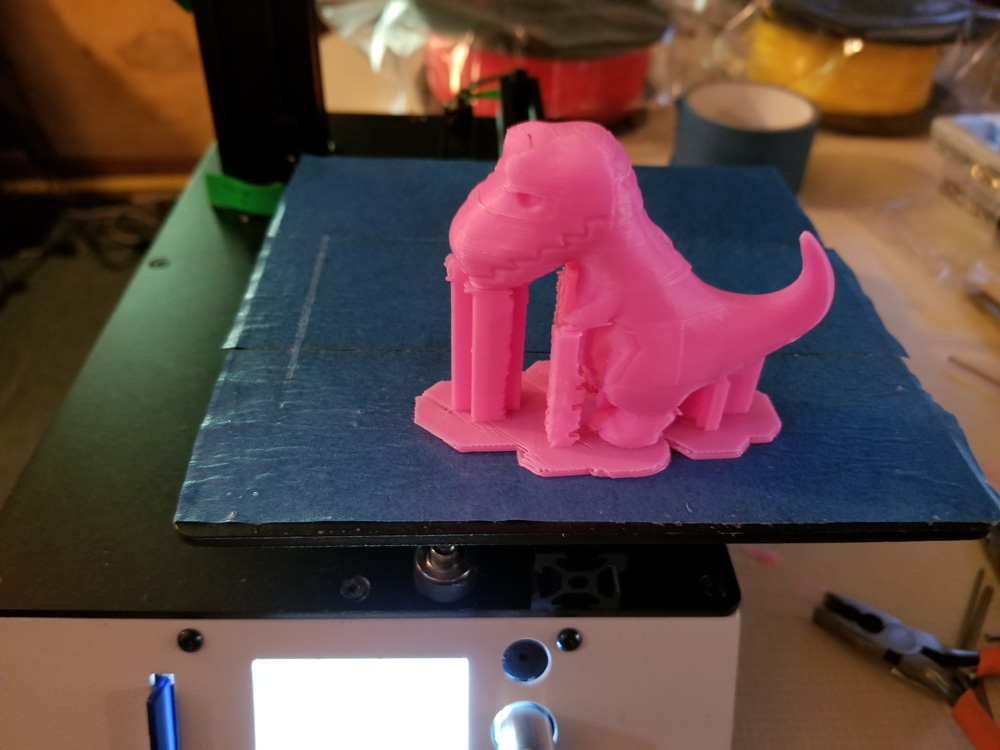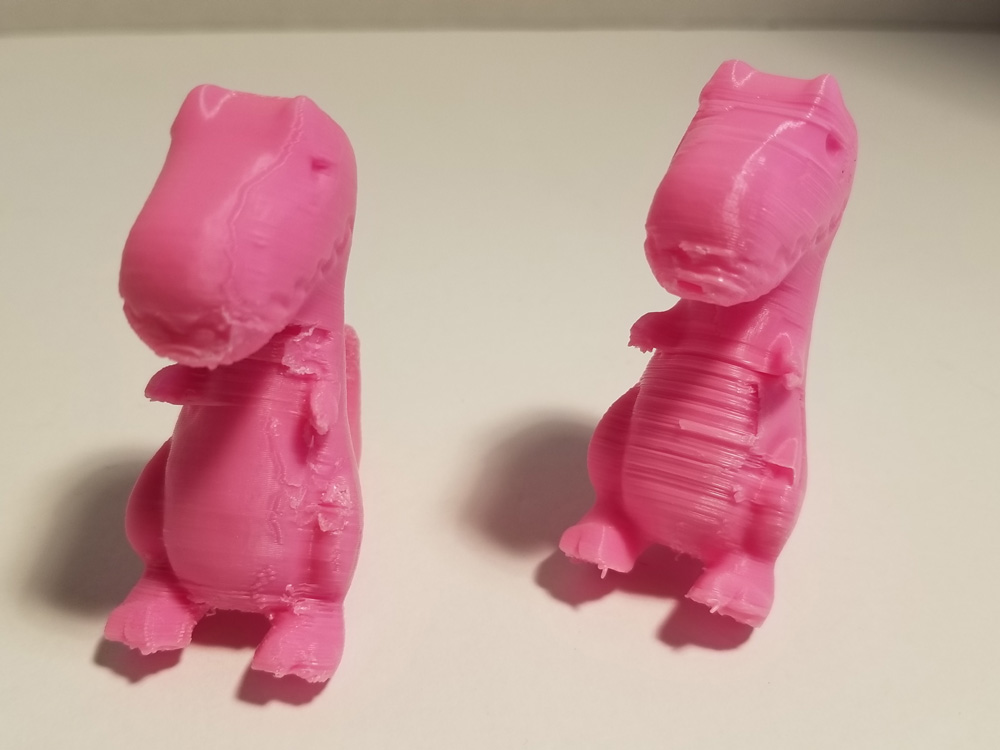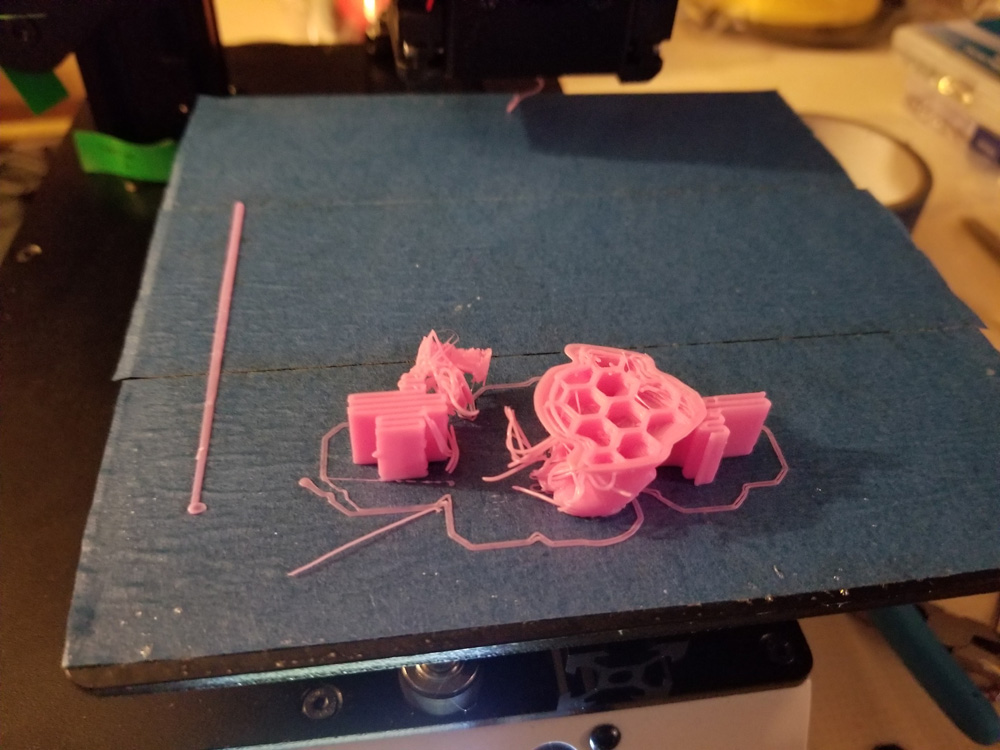 Next, I printed the ever popular Benchi and the shifts were very obvious. It showed me the shift was in the X axis. After finding the grub screws loose on the X motor pulley I printed a new T-Rex. That one turned out perfectly. Zero issues at all. This little printer prints awesomely and a review is coming soon. Which brings me to a point. When reviewing filaments and printers you need to know what is the fault of the printer, what is the fault of the filament and what is the fault of the software.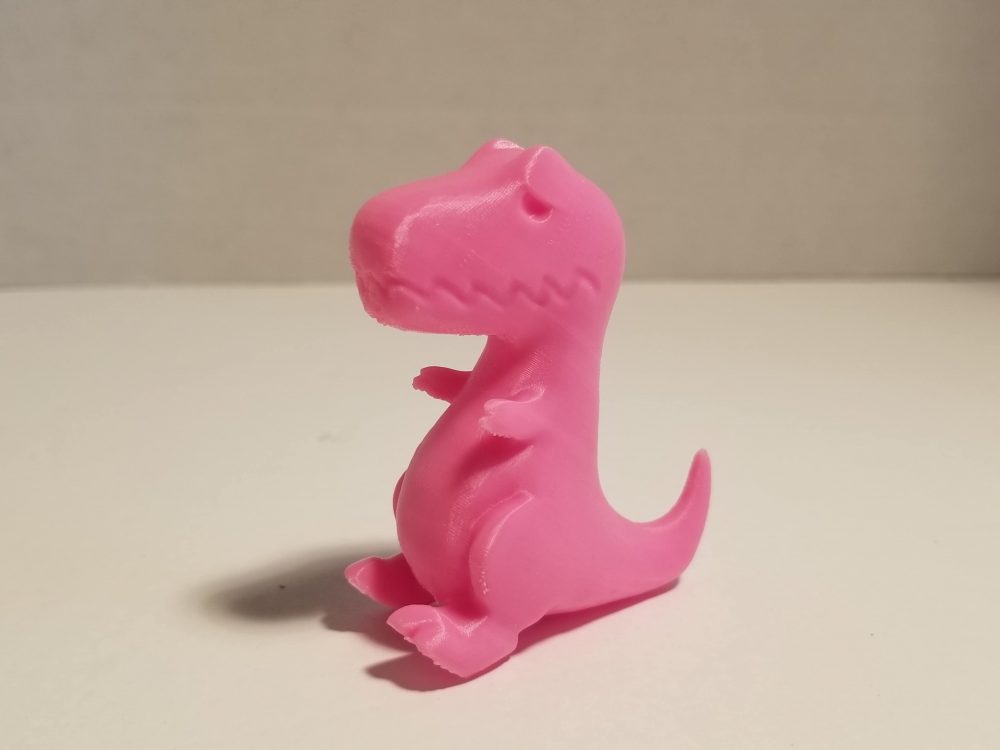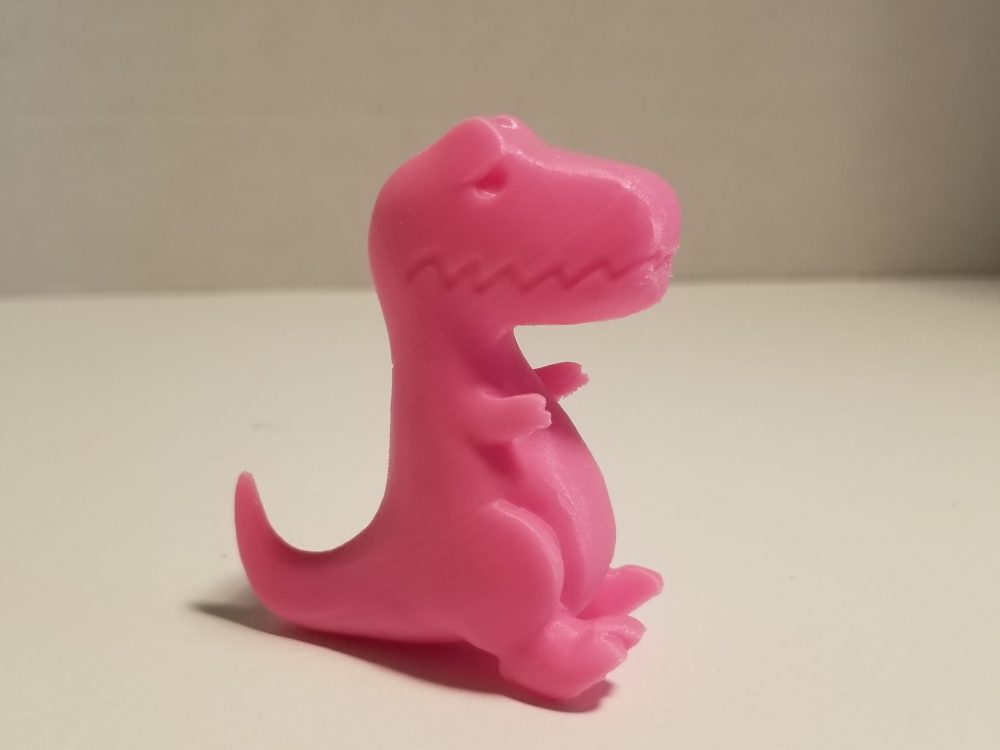 I printed a pixel dinosaur and an articulated triceratops in the red filament. The pixel one was a little under extruded but that is the fault of the printer and not the filament.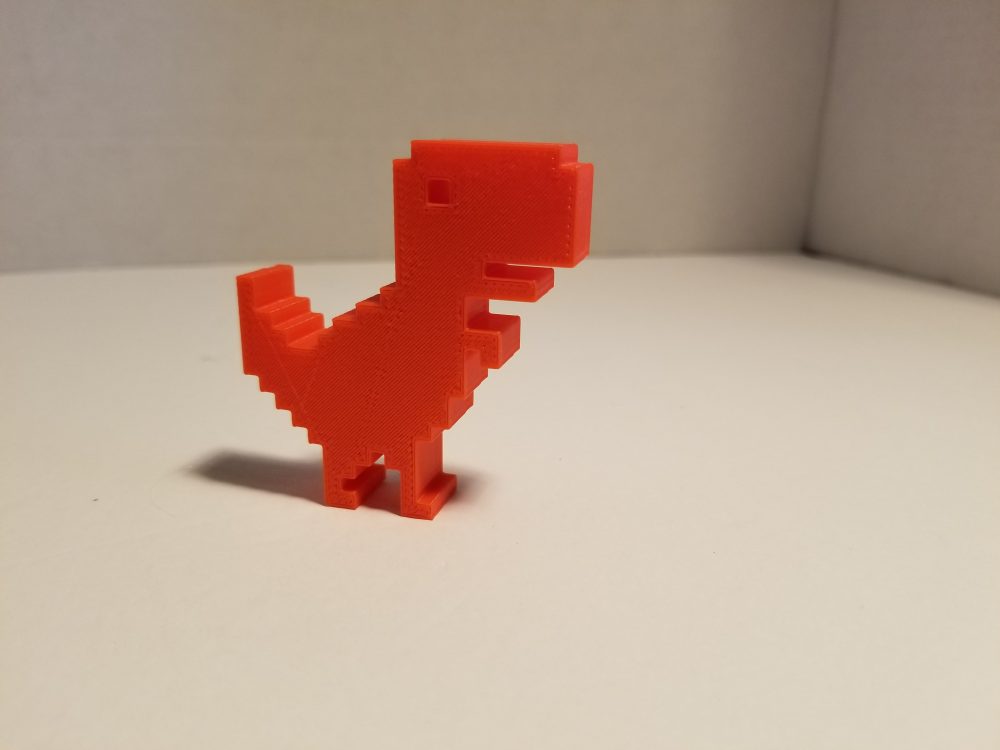 Toy dinosaurs are great but the Moon city is tremendous. Jukka Seppänen created a tiny city in a tiny moon. I have a thing for space. Stars, planets and other celestial bodies are fascinating. This model is a quarter shape moon with the city on the inside like a shell. The detail looks like Middle East architecture with a bit of modern and future tech.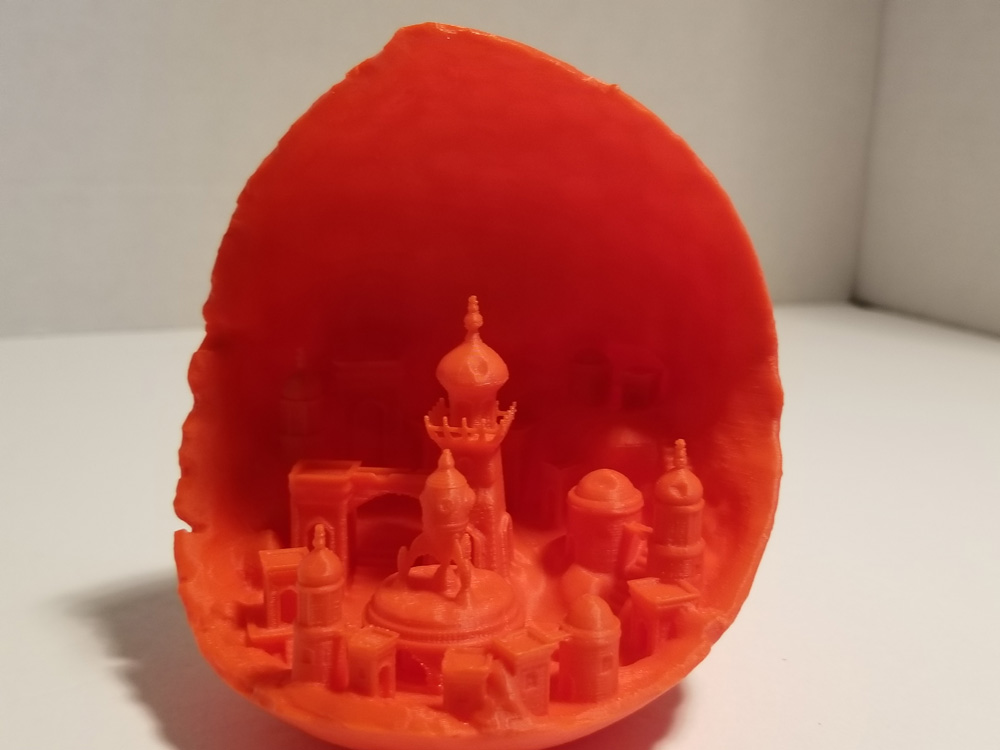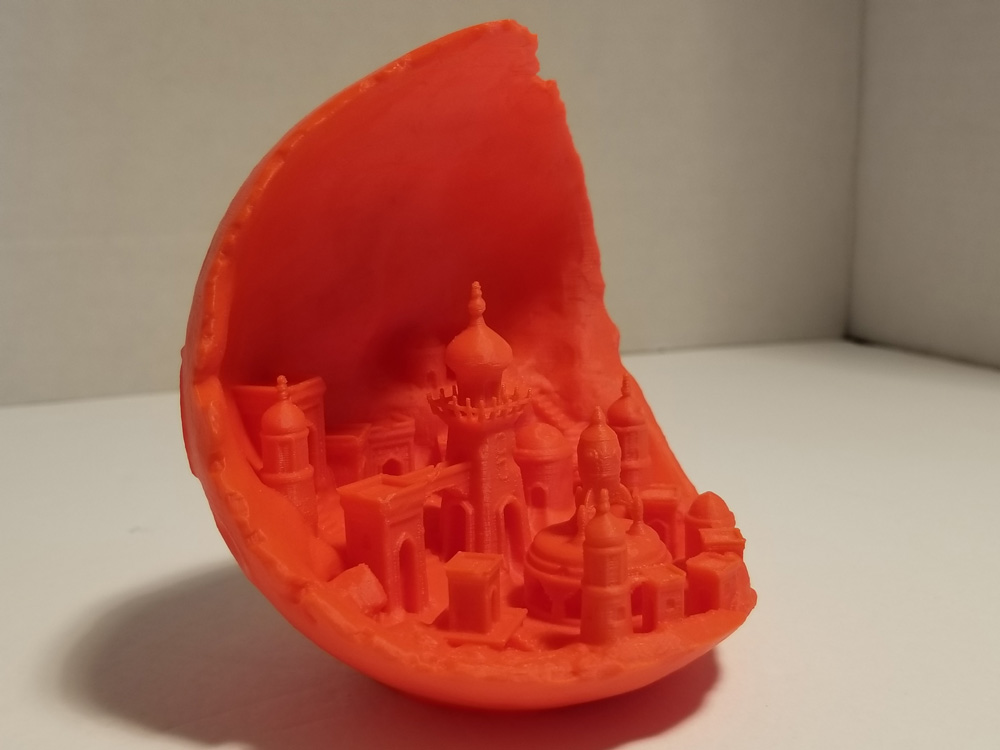 A couple of blue dinosaurs to add to the set. You can find almost anything you'd want to print on the two big free model sites: ThingIVerse.Com and MyMiniFactory.com. If not you can probably find it on one of the pay sites. There is a site that you can buy models for RC airplanes which you can actually fly. I'm looking forward to trying a 3D printed RC plane.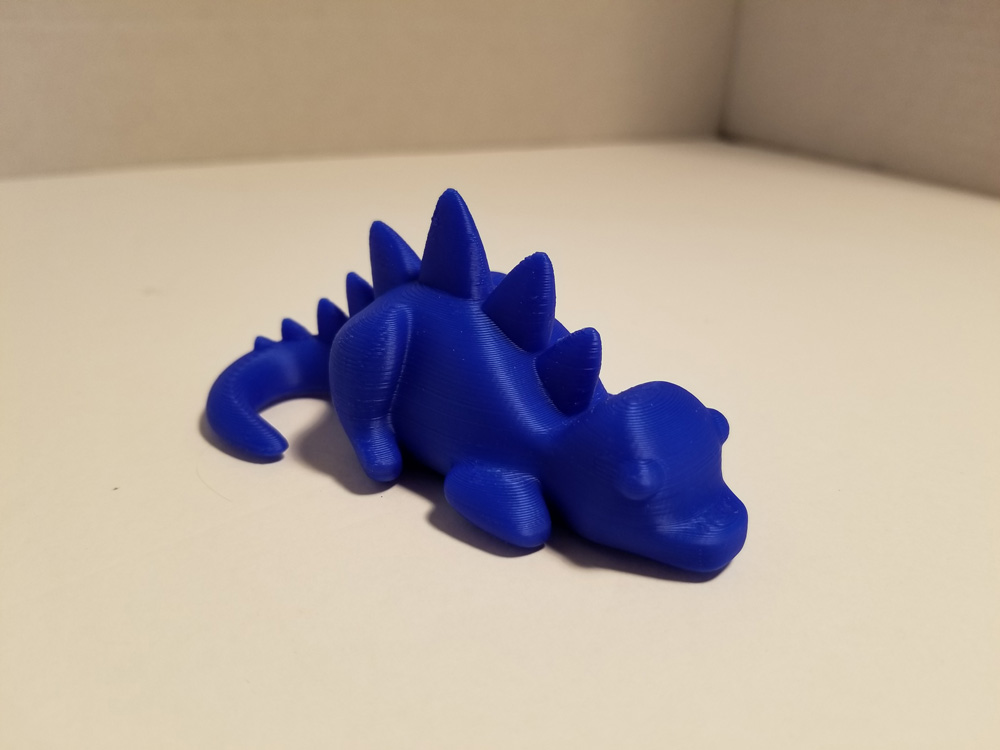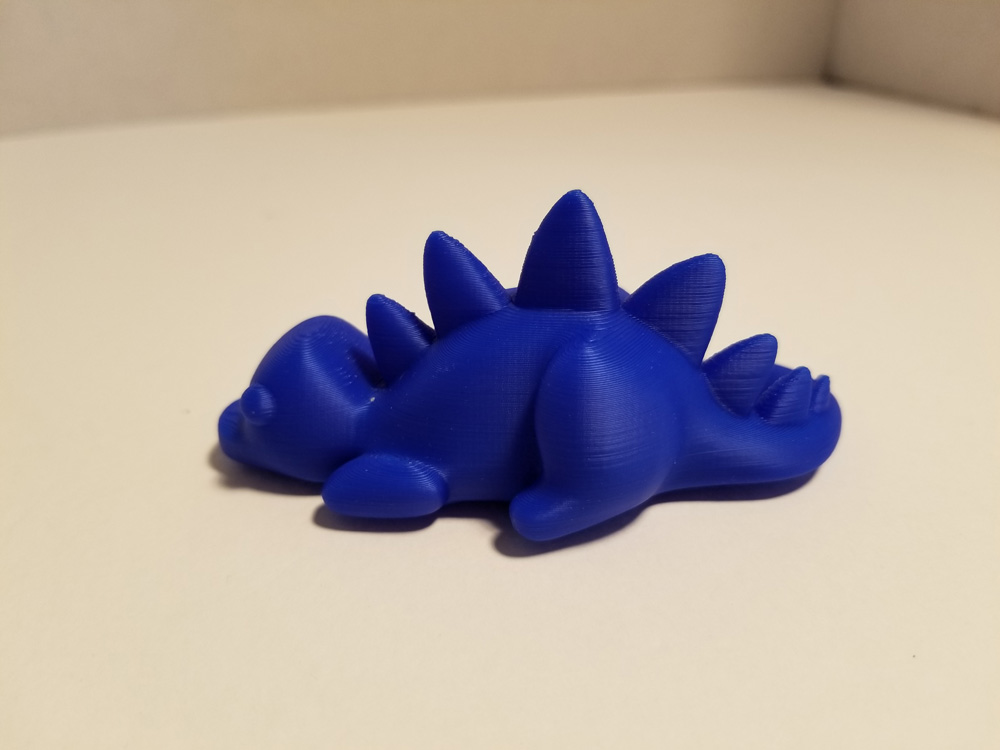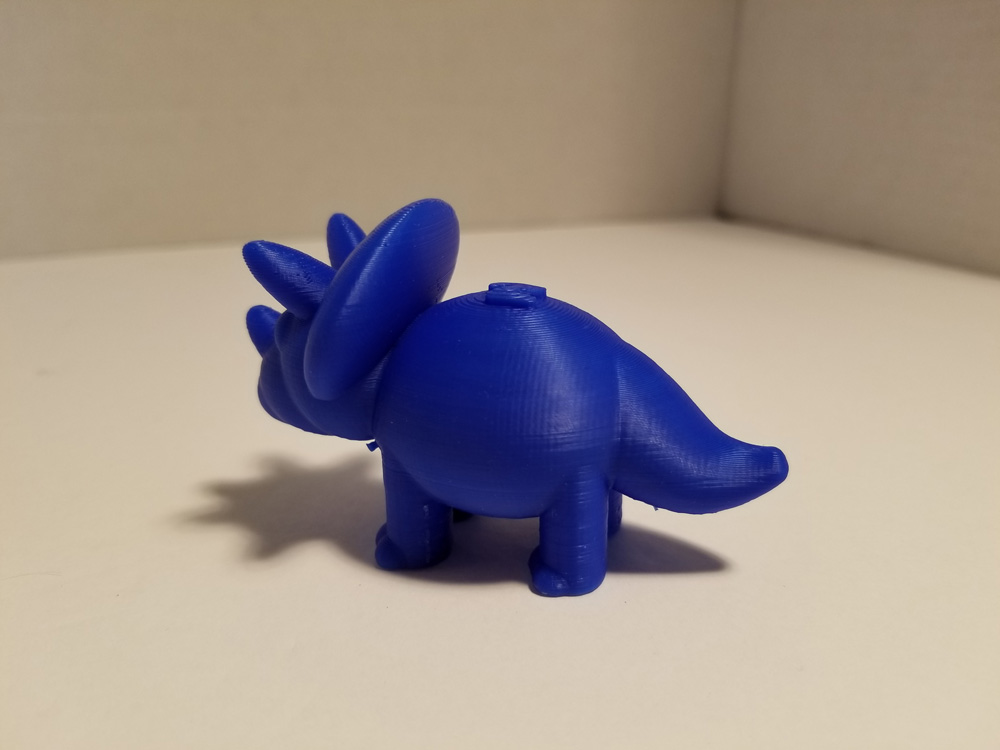 Next, a Captain America figure from the Avengers Infinity War movie and a very nerdy Star Wars clock. 3D printing is a nerd and geeks dream come true. I painted the minute and hour hands in red and green to represent lightsabers. I will probably design my own hands the shape of lightsabers and print them in the proper colours as soon as I have the time.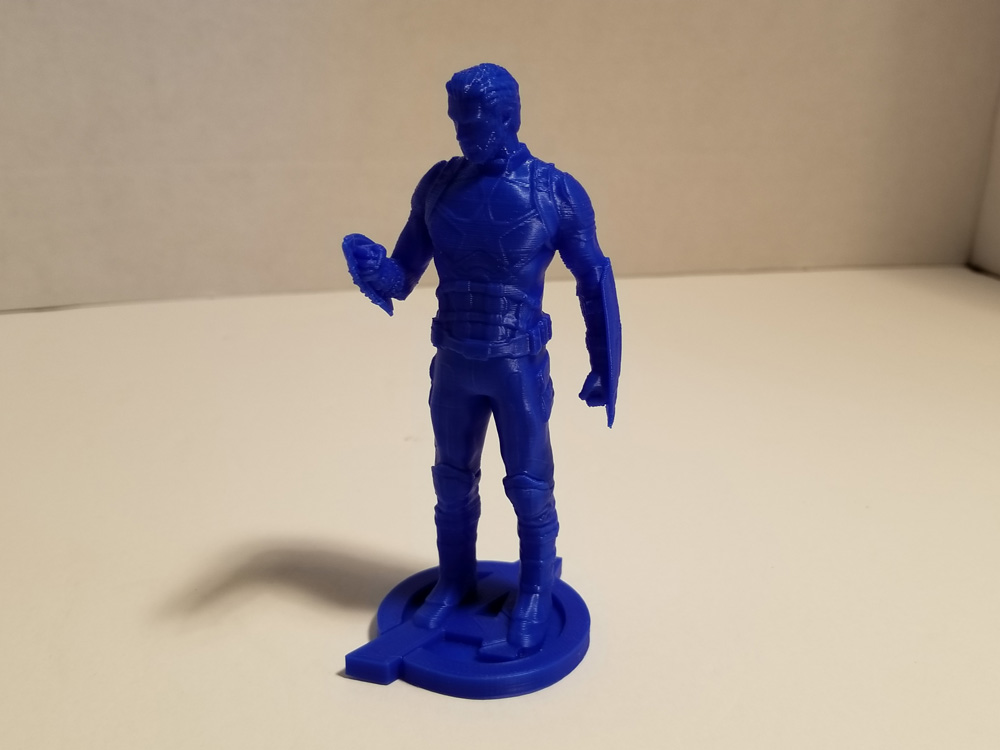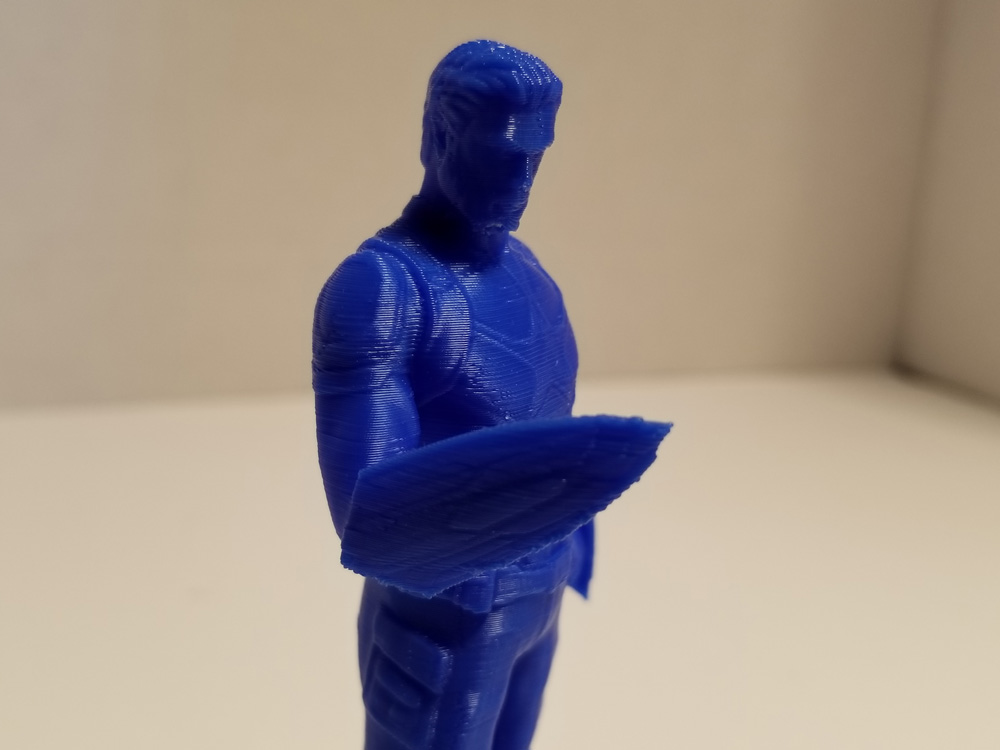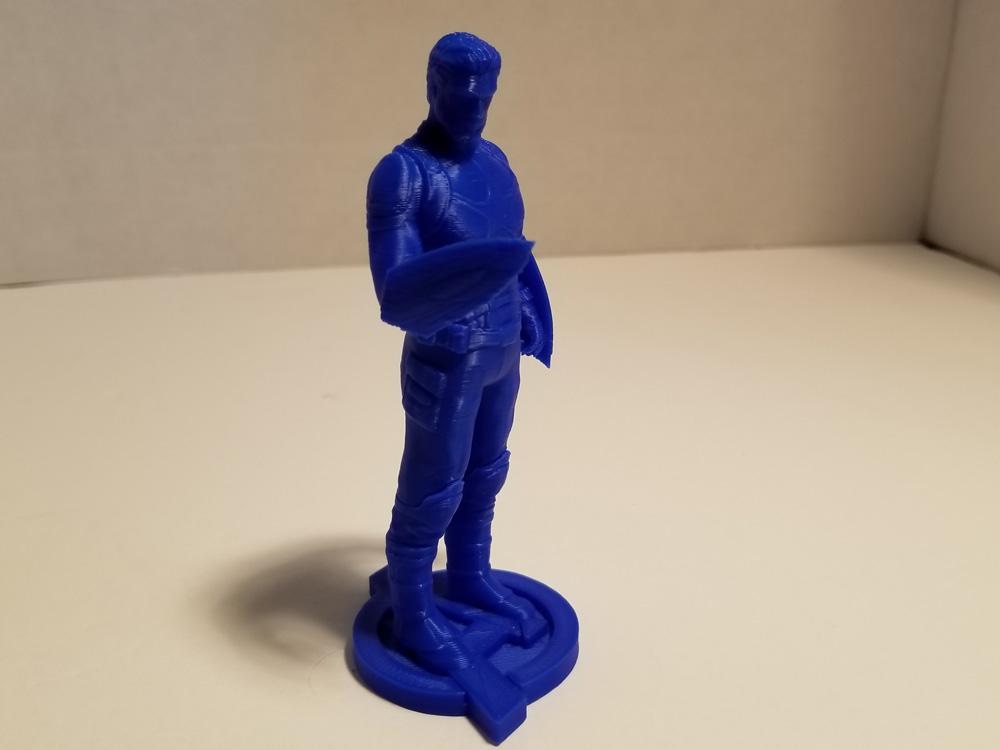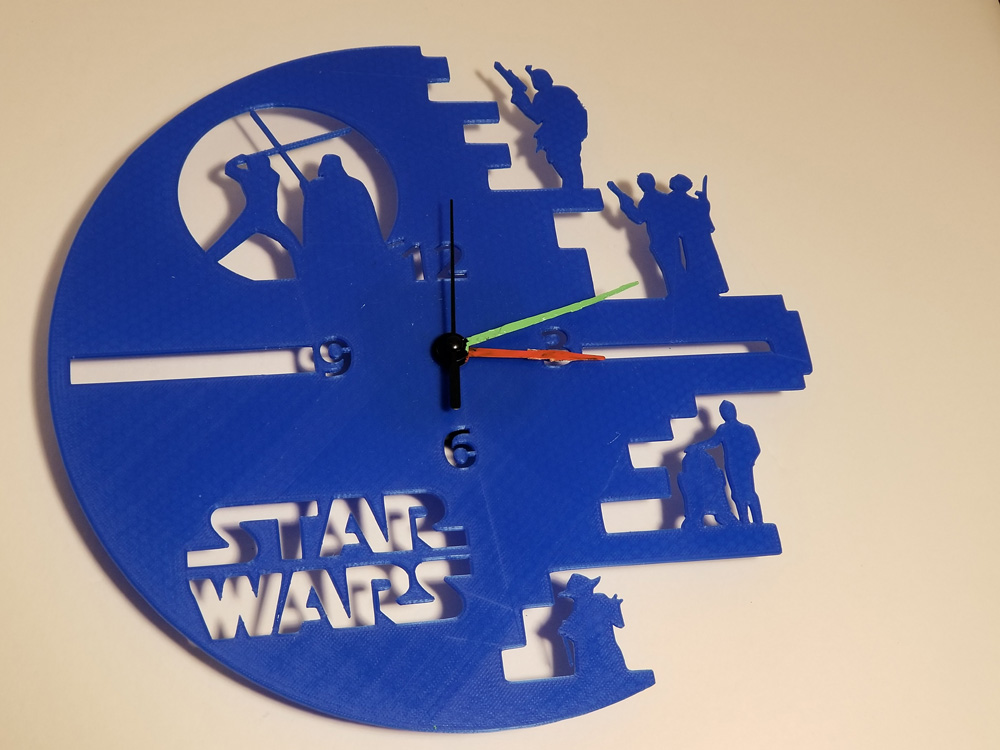 3D printing is more than just printing trinkets and cosplay. It also has it's practical uses. For instance, I purchased a new set of jewelry screwdrivers for my workbench. I plan to use them quite often and don't want to get out the case and open it then put them back when I'm done. So I opened Fusion 360 which is a free computer aided drawing (CAD) for students and hobbyists. Then I designed the cool little holder that I can screw to the side of the desk and have easy access to the screwdrivers. It printed easy and is plenty strong enough to hold them and not break if it gets knocked by something or someone.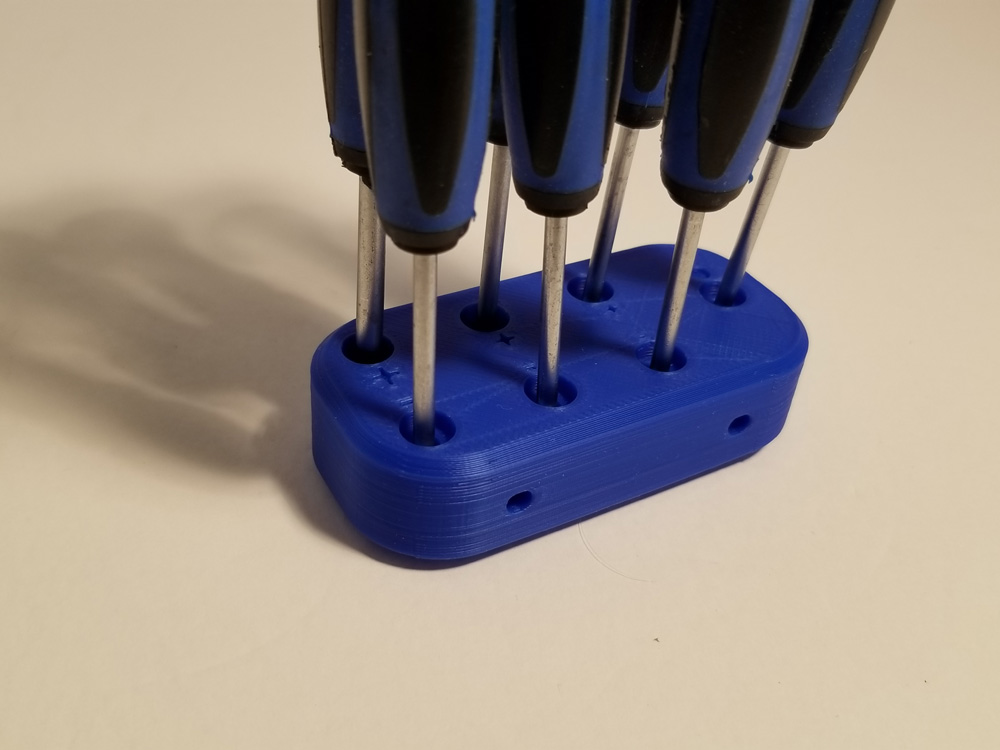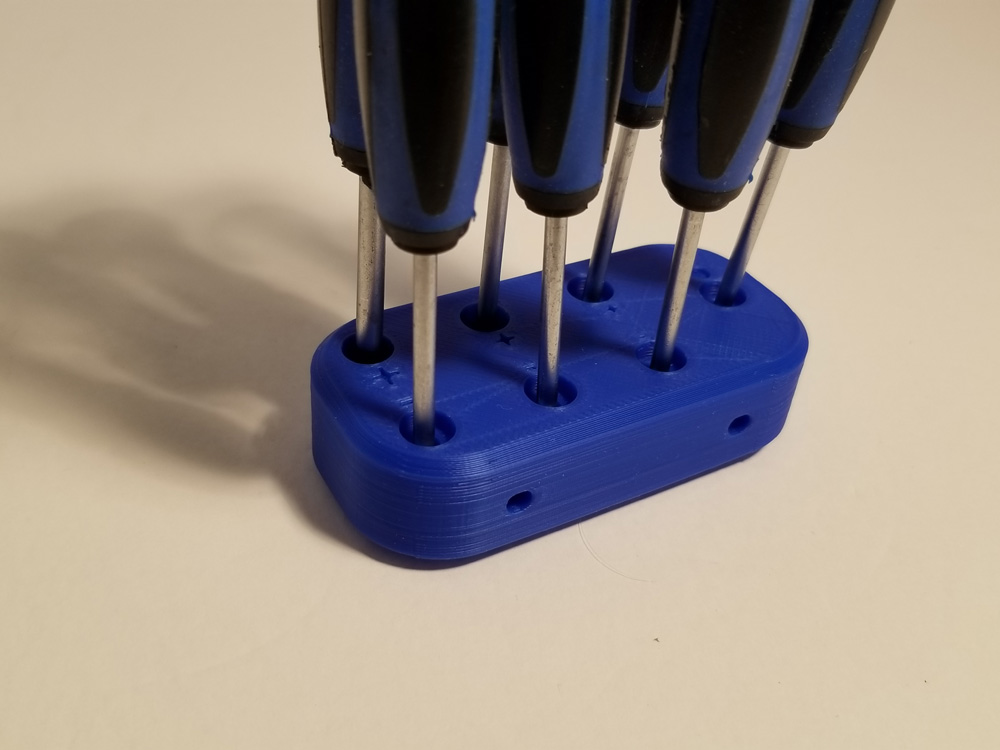 I love playing in Fusion 360. There are plenty of free YouTube or other online tutorials to get you started. There are also plenty of advanced tutorials. I get a sense of accomplishment when I print something I came up with in my head.
The fourth colour I chose to review was green. I have been wanting to print a cool Hulk statue since I started 3D printing. So I went to www.thingiverse.com to find the perfect Hulk statue. The one I chose is 300mm(30cm) tall. It used almost the entire roll of filament. The tolerances were not set right so the pieces need to be sanded a bit to assemble it. It uses block extrusions and cavities to hold the parts together.
This Hulk shows the level of detail that can be accomplished with the right printer and NEAT PLA filament.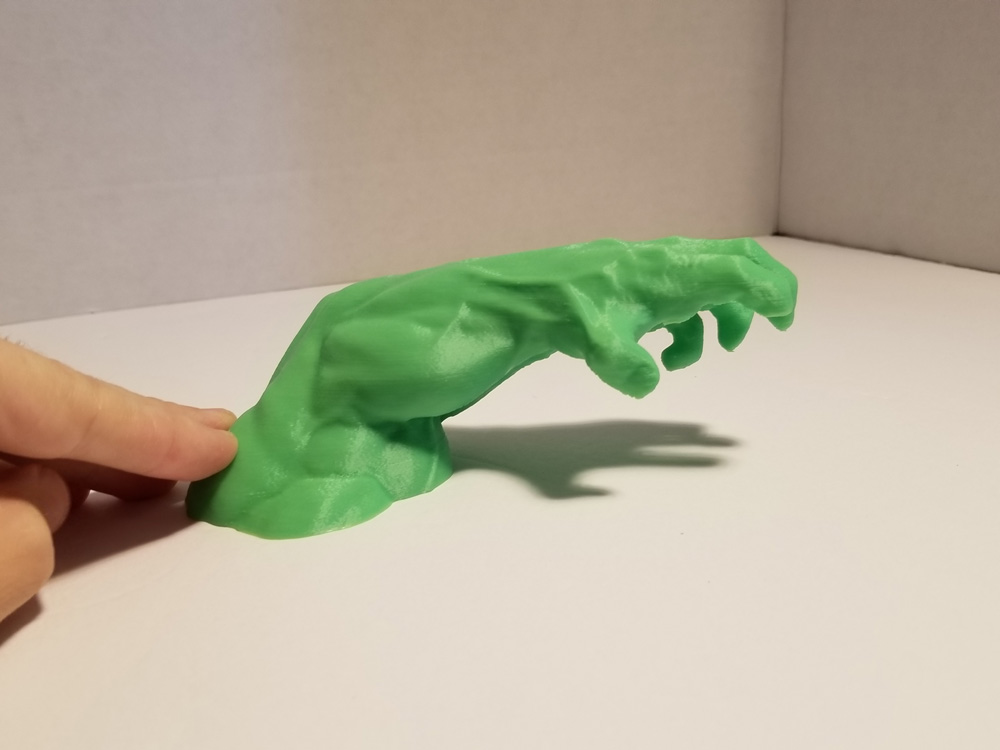 One thing about 3D printing is the waste of plastic. There is often a waste when it comes to supports. If there is a more than 45% overhang then you need to add supports so the filament doesn't ooze down onto the build plate. The other waste of plastic is failed prints. Many times you will have a print start off well and part way through the nozzle will catch a curled up part and pulls it off the platform. You can count on probably 20% waste depending on what you print most.
Again 3D Printing Canada has impressed me with another spectacular filament. The only downside is the supports sticking to well to the prints. This can be adjusted within the supports settings but that only gets you so far. Being mid price range the Neat filament is definitely worth the price of admission.