3D Printing is perhaps one of the most exciting advancements in technology that a lot of people are now interested in learning. However, a  Creality3D CR-10 printer is significantly more expensive than a regular printer. Not to mention the additional cost of the filament that you need to print a 3D object.
The Creality CR-10 is a good example of a 3D printer. In fact, it is regarded as one of the best performing printers in its price range. That said, this review will cover all the essential things you need to know about the Creality CR-10.
What is the Creality CR-10?
The Creality3D CR-10 is an FDM 3D printer which managed to shake the 3D printing community. In a very short time, it became one of the most popular mid-range 3D printers together with Anet's A8 and A6. What makes CR-10 so special that it has twice the price compared to the other kit printers?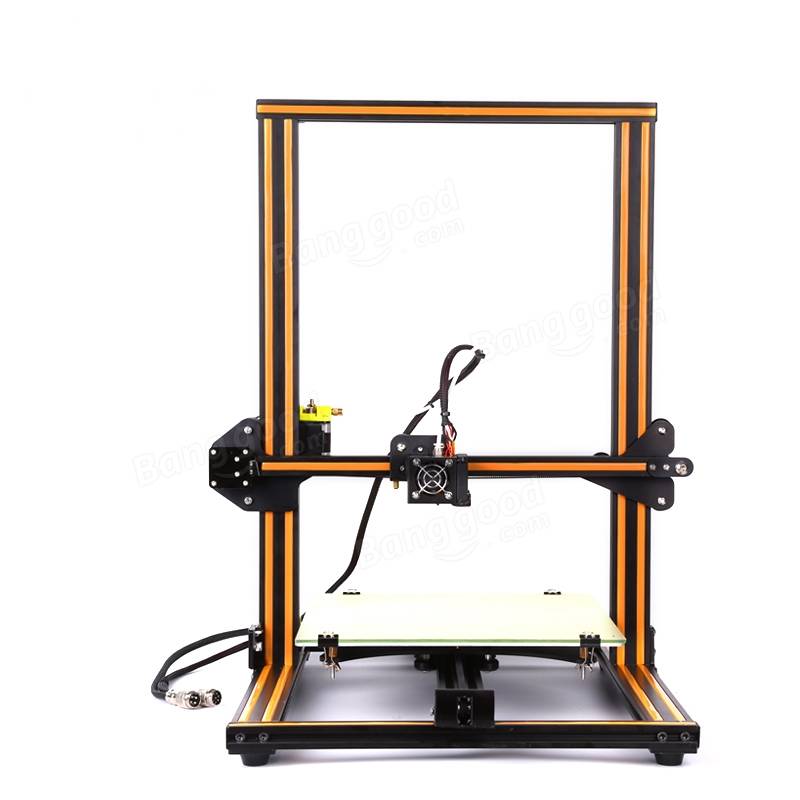 First of all, CR-10 comes nearly assembled. Other kit printers take a couple of hours to complete from scratch, whereas the CR-10 takes only a few minutes. Second, it has a huge printing volume of 300mm x 300mm x 400mm. The biggest question is, is CR-10 worth the ~500$ price tag?
In this review, I will try to figure that out. I will unwrap it, assemble it and print tons of stuff to test its performance, durability, print quality, and safety.
CR-10 variations
With the rising popularity of the CR-10, Creality 3D released few more versions of the printer. The only difference between the versions is in the printing volume and of course – the price. Larger the volume, higher the pricing. Additionally larger printing volume models included a 2x 1K roll of filament.
So far CR-10 can be found in these sizes :
Update: Creality 3D released CR-10S which is a dual lead screw Z axis printer and has filament sensor.
CR-10 Specification
In this review, I'll take a look at the most standard CR-10 model, the below table shows the technical specification of the product.
Printer model

Creality 3D CR-10

Printing size

300*300*400mm

Printer Dimensions

490*600*615mm

Printer Weight

10.3kg

Print speed

20mm/s – 100mm/s

Layer resolution

0.05mm – 0.4mm

Axis positioning accuracy

0.01mm – X

0.002mm Z

Material diameter

1.75mm

Printer Frame Material

Metal

Platform board material

Aluminum

Mainboard

TriGorilla

Pre-assembled

✓

90% pre-assembled

Screen

✓

Extruder type

MK10 Bowden

Heated Bed

✓

Max Nozzle Temperature

~250-270°C

Max Heatbed Temperature

~71°C

Auto-leveling sensor

x

Filament sensor

x

Resume from outage

x

Enclosure

x

Recommended Material

ABS / PLA / Wood / Nylon

Power Input

110V/220V AC, 50/60Hz

Retail price

Check the price
CR-10 Unboxing
I received my CR-10 from BangGood. The box arrived looking tired, but everything was well packed in foam and has everything needed to get started. My oldest daughter has an unboxing video located below.
What's inside the box?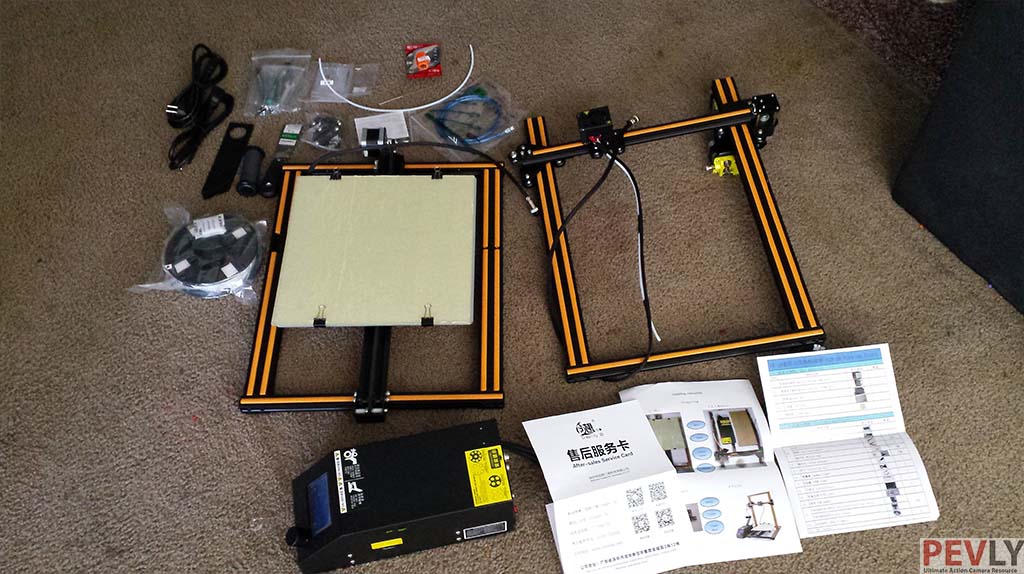 1x CR-10 3D printer
1x rack shelf stack
1x sheet metal wall
10x cable
1x pilers
1x scraper
1x power adapter
1x USB cable
1x certification
1x hose
1x socket wrench
1x 8G SD Card
1x T Z Fixed Block / Z limit
1x T Z Fixed Block
1x tape
a bunch of screws, bearings, nuts, and washers
1x nozzle
2x tube connector
several alien wrenches
1x screwdriver
Creality CR-10 Assembly
After unboxing it's time to assemble the CR-10. Even though some newbies might think this part is scary, it's actually quite easy. Two of my daughters helped me and had some fun along the way.
Inside the box, you'll find the printed building directions. However, they are quite blurry and vague. On the other hand, the pdf manual, which can be found on the SD card is great. It contains a sufficient amount of information to assemble.
The hardware was not complicated either.  I can't stress this enough, but the whole process was straightforward. The CR 10 came in two pieces: the base and the Z axis. Eight screws connect the two main parts. And that's pretty much everything. The frame is completed.
Next came the cable wiring and they are all bundled and very clearly labeled. My desire for organization greatly appreciated this. This printer came with an SD card containing plenty of information for new and experienced printers; operating instructions, a basic troubleshooting guide, slicing software, and even screen grabs of the settings they used when slicing the included .stl files.
CR-10 Cura Setting
Cura is one of the many slicing software compatible with the Creality CR-10. You can use the default settings or make some adjustments according to your needs. For beginners, you can check online discussions and forums where other users of CR-10 share some useful information about the different settings they use. Also, you may want to save your g-code to the Micro-SD card that came with the printer for convenience.
Design and Build quality
From the aesthetic point of view, CR-10 looks quite unique. It has stripes on the frame which make it stand out from other printers. Lately, some other manufacturers began copying the same stripe design (Anet E10).
The frame is quite sturdy and the slot bearings are quiet and a very smooth motion, only 2 needed tightening upon arrival. I feel this is a great printer design and I would only make one change to the frame and one change to the carriage. Details about these can be seen in the upgrades section.
The 300mm x  300mm hotbed took a bit to warm up and kept the room warm, but at that size, it is expected. Leveling the bed was quick and nearly painless.
CR-10 Upgrades
I upgraded my previous printer, the Anet A6 multiple times. I worked to improve extrusion which is how much filament is extruded with each step on the motor for this I added a Greg's Wade geared extruder, I printed frame braces to improve stability and enable me to add tension to the belts which help reduce wobble. I added an e3dv6 hotend to improve print quality and used a Bowden setup to lighten the carriage.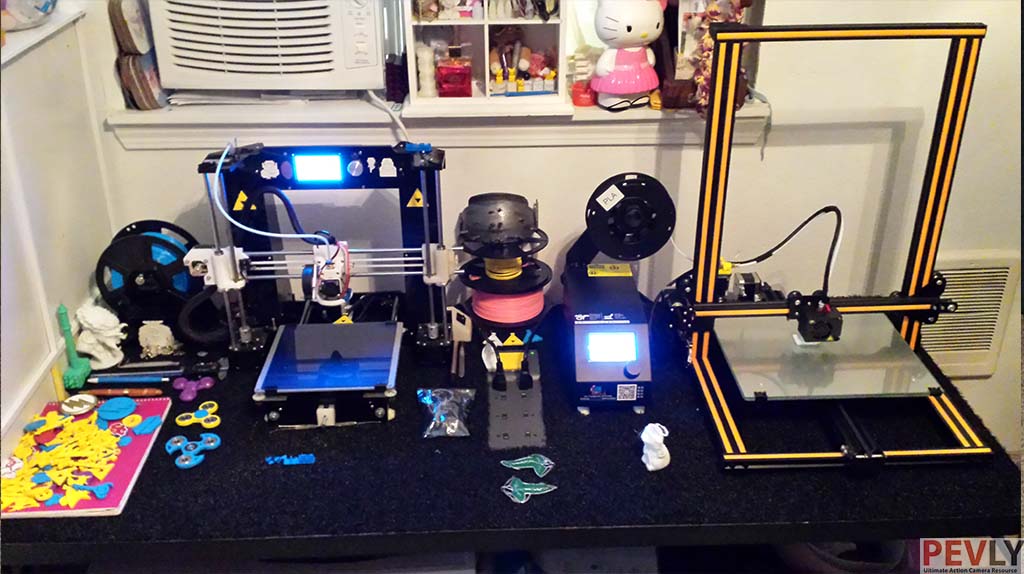 All this except the Wade extruder come built into the CR-10. This makes it a great print out of the box printer. Just to give you an idea on how much improvements some 3D printers need, take a look at Anet A8 upgrades list.
Because most issues a printer may encounter are engineered out of the design I will only be putting a cross piece to stabilize the Z axis and lessen wobble and a better parts fan. There are several great designs available on thingiverse.com at the minimum I would recommend everyone get the upgrade available that lessens stress to the heated bed wires solder joints.
So far, I had no need for other modifications and upgraded or printed parts. If I come across a worthwhile piece or upgrade, I will update the article.
User interface and navigation
Loading the filament with the MK-10 extruder was quick and easy and the filament flows wonderfully. The display is nice and bright with adjustable contrast. The dial navigation made selecting in the menu a breeze. I do feel the grouping of the menu items could use a little work. However, I may be biased since I am more familiar with my other printer. My daughters were able to navigate the menus themselves.
However, I may be biased since I am more familiar with my other printer. My daughters were able to navigate the menus themselves.
The display shows bed/nozzle temps both set point and current value so you know exactly where the printer is running, flow rate so if you notice either over extrusion (too much material) or under extrusion (too little material), fan speed If the part is too warm you can also adjust this while live printing and live display of each axis coordinate which is nice since these are set during slicing and tuning may be required to maintain a quality print. It would be good to mention the progress bar is not a representation of % completed but layers completed.
Printing quality
Luckily only two test kitties were lost to loss of adhesion. Some glue stick and away she printed. The stock kitty stl has had several weird loops it made while printing then the y-axis seemed to have shifted at the neck I couldn't let the poor kitty suffer when it shifted again. I'm going to blame the file.
It turns out some sd cards have a corrupt kitty stl affectionately named decapi-cat on the CR-10 forums. It is kind of like an initiation step in owning a CR-10. There is even a cleaned up version of the decapitated cat that has been modeled.
It was time for a bench and the bench came through and I am very impressed by the print quality. It wasn't perfect but that is remedied by changing settings. At 80mm/s the printer was quieter than I am used to.
Having printed multiple items on the CR-10 I can say I am impressed. The overhangs are well formed with no drooping. The infill isn't visible through the print wall. The bridging all completed without issue and taller objects have little to no Z banding even at higher print speeds, which is seemingly a standard to most FDM printers.
I placed my Anet A6 printed bench and my CR-10 printed bench side by side and I had to be careful to not mix them up they were so similar.
With one upgrade and after adjusting only a few of my slicer settings I was able to dial in the printer to run on par with my heavily modded Anet A6.
Safety
I believe a well-built machine can run safely for extended periods of time. I pushed this printer running back to back long prints with total times ranging from 18 hours to over 45 hours. I have left the printer idle for several days and returned it to running long and intricate prints and it is still printing without issue.
The electric box for this printer is well designed and the cable connections make assembly easy. The cabling is all covered in protective sleeving and its bundled in a way that makes routing the cables easy. One thing which adds an extra layer of safety is an external mosfet for the heatbed.
The mosfet is one of the most common upgrade recommendations for most Chinese kit printers. It costs around 7-10$, but it's even better when it's included with the printer, so you won't have any extra investments.
CR-10 3D Printer Pros and Cons
PROS
Large Build volume

Simple to use

Easy to build

Quiet running

Prints out of the box

Requires little to no upgrades at all

Removable print bed
Intuitive control box
Flexible power supply

Good community
CONS
Only has one lead screw, 1 Z-axis motor, instead of having one on the other side of the gantry.

The said lead screw is found at the lefthand side.

Without an enclosure, the heat bed can reach only 70 degrees.

The bed also takes a while to heat up thoroughly.

Due to the large heated bed size, it warms a room quite a bit.
All pros easy to build and simple to use, a large print area, and its quiet running. The printer is quick and easy to set up, and it prints great out of the box. It can also run for extended periods of time without issue.
Moreover, the fact that the glass print bed is removable allows some users to replace it with a borosilicate glass or mirror which is believed to have its own benefits in producing really smooth first layers. Such glass or mirror can be fixed into the printer's heated bed with ease.
If I have to come up with a con, it would be that the printer's heated bed will warm the room it is in while it is printing. However, I am not a fan of being cold, so that kind of works for me.
Since receiving the CR-10, I have successfully printed Decapi-cat, Benchy, Clash of Clans: Hog Rider, Dare Devils cowl, multiple Triforce key chains, 14 Ninja headbands from Naruto Shippuden, Crystal Gems and Rose Quartz sword from Steven Universe. I also printed the logo to Final Fantasy VII, Dancing hotdog from Snapchat, several Leaves of Lorien, a Groot flower pot, Guardians of the Galaxy emblems, Starlords blaster, the UNSC Magnum from Halo 4, the idol from Raiders of the Last Ark, and two forearm bracers for a cosplay project.
Where can you purchase the Creality CR-10?
This printer is available on Amazon and other online retailers. For an 18% OFF coupon for Creality CR-10, check out this link e27d8dUSE Coupon code: e27d8d
Final Review of the Creality CR-10 3D Printer
All in all, this is a great printer design. I'm shocked to say that I have nothing bad to say as 3d printers can be fickle. I have and will recommend this printer for new people in the 3d community that want to jump right into printing.
I do recommend a few simple upgrades mentioned above that will improve the life of the printer. Some advice I wish I could have heard would be to remember to use the resources around you, ask questions when you have them.
Most of the 3d printing forums and groups are great resources of data and the people in the community are eager to help beginners learn more about the printer. Sometimes the correct terminology is all that's standing in the way of a successful search or question. Always search the file section. There are some key sites to remember.
The community behind CR-10 is massive. There are plenty of user-groups on Facebook where you can get immediate online help from owners of the printer. If you have a question about using the printer or need assistance in troubleshooting or calibrating it, you can visit this group (there are few, but this one has over 13 000 members).
CR-10 is an amazing printer. I would highly recommend it to beginners who are looking to enter the 3D printing hobby or experienced users who need a stable printer with a large build volume.