Is this the best 3D printer under $300?
The Alfawise U30 is another in a very long line of budget 3D printers. Little brother to the Alfawise U20 reviewed here. It seems more and more arrive every week. There are many brands with very similar models. With little to no copyright in China it's no wonder. It's unfair for the tech companies trying to compete but great for us end users. I here many lecture against buying from China but lets face it, no one can beat the prices. This may be the best 3d printer under 300. Although the down side is Safety seems to take a back burner when they are competing against themselves. Purchase and use the items with caution.
One of the biggest safety concerns when it comes to 3D printers is the safety checks disabled in the Firmware which many do.
So how do they compete in such a saturated market? Well in the case of the Alfawise U30 they have a nice touch screen with power failure recovery and filament run out detection.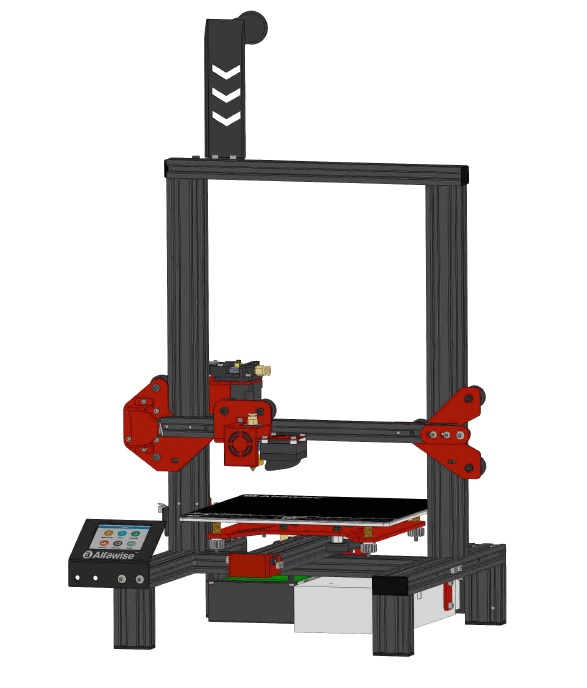 Alfawise U30 Specifications
| | |
| --- | --- |
| Brand: | Alfawise |
| Type: | DIY |
| Model: | U30 |
| Engraving Area: | 220 x 220 x 250mm |
| Frame material: | Aluminum Alloy |
| Nozzle quantity: | Single |
| Nozzle diameter: | 0.4mm |
| Nozzle temperature: | Room temperature to 250 degree |
| Layer thickness: | 0.1-0.4mm |
| Memory card offline print: | TF card |
| LCD Screen: | Yes |
| Print speed: | 120mm/s (max.), 30 – 70mm/s ( recommended ) |
| Platform temperature: | Room temperature to 100 degree |
| Supporting material: | ABS,PLA,Wood Filled |
| Material diameter: | 1.75mm |
| File format: | G-code,OBJ,STL |
| XY-axis positioning accuracy: | 0.0125mm |
| Z-axis positioning accuracy: | 0.0025mm |
| Voltage: | 24V |
| Host computer software: | Cura,Repetier-Host,Simplify3D |
| Packing Type: | unassembled packing |
| System support: | Windows / Mac / Linux |
| Connector Type: | TF card,USB |
Unboxing
The U30 doesn't comes as most Kit printers. Packed in white packing foam. The U30 comes with a set of allen keys, a flat cutout wrench and a Micro SD card. The printer also comes with the 3 meter roll of filament. I don't typically use the small pieces of filament because they don't usually include enough to print the test models on the SD card. I started to print with it and it tangled up and jammed the printer. So I tossed it and moved on. Keep reading to see if this is the best 3d printer under 300.
SD Card
As usual the included Micro SD comes with sample models and a soft copy manual pdf file. The included USB micro SD reader is junk and I had a similar one that corrupted every card I put in it. Therefore I don't use them. I keep them in case I need one in a pinch but I have better ones to use and you should also. It also includes an older copy of the free slicer software Cura 15.
Assembly
The U30 is considered a "DIY Kit" printer, aka best 3d printer under 300. But more like a 50% assembled kit. For me I love the assembly process and this one seems like a happy medium between a fully assembled printer and the 0% ones like the Anet A6 and A8.
The Base comes pre assembled with the power supply and mainboard wired up. That is a good thing as most users shouldn't  be wiring up mains voltage. The manual doesn't have much text and uses images to show you the steps. Similar to Ikea furniture.
I won't go over the steps but I'm including photos of my assembly and a link to the manual.
Software
As I mentioned in the SD section the SD has Cura 15 included with it. I would say use that and if you can afford Simplify 3D then it's worth the investment. You can keep Cura 15 on your PC and install the newest version at the same time. Give the newest version a try and if you get bad prints then try version 15.
Print Quality
After the awesome prints I got from Alfawise U20I was excited to see what the U30 could do. Being the same printer with a smaller build size my expectations were high. While it's not the same quality it isn't to far off. At the current $250USD price point is better then the Creality Ender 3 Pro at a regular price of $323USD. This is starting to look more and more like the best 3d printer under 300
PLA (Polylactic Acid) Filament
As usual I chose to print one of the files off the SD card. It came pre sliced. Unsure what settings or slicer was used but it printed very well. That's the thing with test prints, if they print better then your own sliced objects it proves any issues your prints have are slicer and not printer problems. It's harder to see with the black filament but this little fox is very well printed.
For a while now I have been wanting to print this cute cartoon gun from the my mini factory website. This image is from the site and I just wanted to show how cool it is painted up.
Mine isn't glued together yet but will be sanded and painted also.  I printed most in black but the black doesn't show well in photos so I printed a white one to show you the details.
These little bullet guys are awesome! I can't wait to paint mine up.
Next I printed a ghost face from thingivers.com. Again, sorry the black is hard to see. I just bought a bunch of filament and most of it is black the rest is white. I have plans to print my own RC BB8 from the BB8 Builders club. I also printed the big cartoon gun.
Here are a couple of photos with an American dime for size reference.
PETG (Polyethylene terephthalate) Filament
Because my PETG was grey and almost gone I printed this little Castle Grayskull from Thingiverse. It is supper tiny and even at 300% it was still super tiny and didn't print any of the detail. So I printed it again at 400% https://www.thingiverse.com/thing:2840544
I was a big He-Man fan growing up. I had all the toys and watched the show regularly.
I included an American dime for size reference. PETG is a mix of PLA and ABS(Acrylonitrile Butadiene Styrene) to get some of the ABS strength and ease of PLA. Only problem is that you have to get the temperature and retraction settings just perfect or you get strings going from one pice to another as the tip travels from piece to piece. The reason for this is that the melted filament comes out while traveling. The retraction pulls back the filament whatever distance you set in the slicer. That reduces pressure that is created while the extruder pushes the filament through the tip during printing. Mastering the retraction settings is difficult. I find a retraction distance of 8mm and a speed of 40 mm per second works well on all of my printers with bowden tube extruders. The bowden tube guides the filament from the extruder motor to the hotend. This lets you keep the weight of the motor from the X axis allowing easier movements at higher speeds. This is looking to be one of my favorite best 3d printer under 300.
TPU (Thermoplastic Polyurethane) Filament
TPU is an elastic type of filament that allows you to print cool things like RC Tires or flexible hinges. The flexibleness is determined by how much infill you fill the print with. So for RC tires you can print them almost empty for soft off road driving. If you add more infil you can print harder rubber tires for RC onroad driving. I printed these Mario question cube and tunnel toys with to much infill and it doesn't flex as much as I hoped.
The popularity of 3D printing has paved the way for many types of filaments that I have yet to try. I want to order some ASA (Acrylonitrile styrene acrylate) filament as I heard it is very strong. Nylon (Polyamide) is also a strong filament that requires an all metal hotend and high temps for printing with the best 3d printer under 300.
Matterhackers has a nice comparison page for the filaments they make. https://www.matterhackers.com/3d-printer-filament-compare
Modifications
The only modification I did with this printer is flip the bed over. On the top they have a builtack surface stuck to glass. Glas and hairspray is all I use so simply flipping the glass over works well for me. The larger bed printers are usually 300mm or close to it therefore 1 foot square mirror tiles works perfectly.
Being fairly new there isn't much for printable mods. You could print bigger bed level knobs but the ones on there aren't to bad.
Best 3d printer under 300: Final Judgement
This printer is the perfect mate to the bigger Alfawise U20 which is my current favorite printer.
They have the same look and feel. It's a bit noisier then the U20. The U30 is a direct competitor of the Creality Ender 3. The U30 has a the same price as the ender 3 and $40 cheaper than the Ender 3 Pro. Aside from the closed source firmware and the ribbon wire for the display the U30 is a much better machine. They are both good little machines but the U30 would get my vote. I hope the Alfawise grows in popularity because they are great printers at great prices.
Last update on 2023-12-07 at 00:13 / Affiliate links / Images from Amazon Product Advertising API