The Xiaomi Mi Robot Vacuum Cleaner, a.k.a Rockrobo Vacuum v1, is one of Xiaomi's many creations within their Ecosystem Program that encompasses lifestyle products like cameras, routers, smartphones, TVs and more. We are very excited to bring to you the Xiaomi Mi Robot Vacuum Cleaner review! Spoiler, we recommend this purchase.
What's In The Box?
The Xiaomi robot vacuum unit
The charging base
A power cord
A brush cleaning tool
A user manual
User's Manual
A user manual is included; unfortunately, it is in Chinese. I was able to download the English pdf version online since even the graphics in the manual have Chinese descriptions. There are a few incorrectly placed English descriptions with the graphics, and some of the text needs a more thorough proofreading.
Dimensions and Design
The Xiaomi Mi Robot Vacuum Cleaner looks like a self-ambulating pie that is 38 centimeters (13.4 inches) in diameter and about 8 centimeters (3.15 inches) tall, weighing a tad less than 4 kilograms (8.8 pounds). With a shiny white ABS-like plastic finish, it has an elegant and sleek design. This household device is neither too big, nor too small. You could say that the Xiaomi Mi designers wanted it to appear similar to the autonomous devices seen in SciFi movies – they have indeed succeeded in that aspect. So keywords would be clean, simple, elegant, futuristic, and beautiful.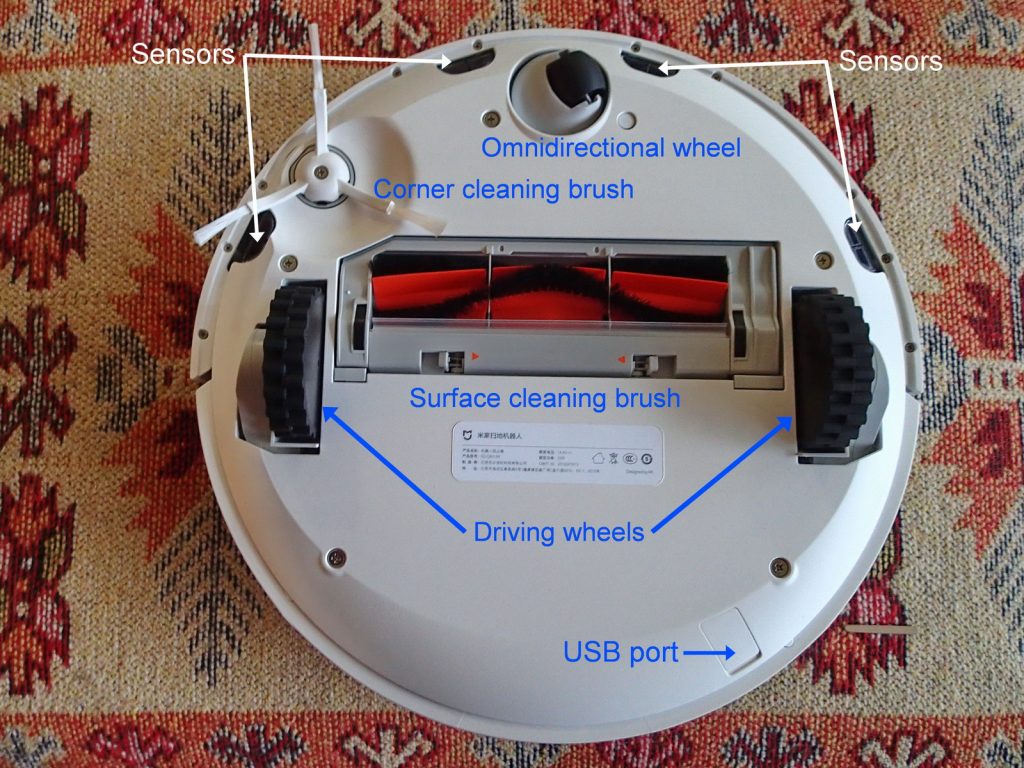 Operation
The Rockrobo receives power from a 5200mAh Li-ion battery at 14.4V for roughly 150 minutes, or about 2,690 square feet (250 square meters) of cleaning. When the battery charge drops to 20%, the vacuum cleaner will seek the charging base and charge the battery to about 80%. Once this percentage is achieved, it will return to the location where it left off and continue its work from there.
A small side brush makes contact with ridges and corners around the floor to dislodge dirt and dust, which is channeled to the suction opening and then into the collection container. This cleaner works well on smooth flooring, as well as on other various other types of raised, ridged, and bumpy surfaces. I'd say the cleaner is efficiently designed.


Navigation
The Xiaomi Robot Cleaner uses the Simultaneous Localization and Mapping (SLAM) movement algorithm to map the configuration of your space in order to determine the way it will move about the room.
Its spatial awareness comes from 12 different sensors which include the laser distance sensor, ultrasonic radar sensor, gyroscope, accelerometer, four cliff sensors, speedometer, and electronic compass. All of the environmental information converge at three of the unit's processors where the "decisions" are finalized in its all-round spatial awareness.
Thus, the Robot is actually planning its movement rather than aimlessly blundering about doing its best to avoid all the obstacles that your specific floor configuration might have. Its movement will be purposeful, exactly pre-planned and monitored.
You can purchase a virtual wall for $14
here.
Watch how simple it is to clean the Mi Robot
Watch a time-lapse of the Mi Robot in motion
Operating Noise
For reasons explained in the "App" section, I was only able to hear the standard mode's operating noise, but elsewhere it was said that the machine emits 68-70 dB in power mode, 64 dB in standard mode, and 61 dB in quiet mode. It is comparatively quieter than hand-guided vacuum cleaners, if that observation helps, but I wouldn't say it is overly loud.
I have several dogs to test the noise by! Interestingly, they were not alarmed at all by this strange device ambulating all across the room. Neither the ultrasonics, nor the motor and brush noise bothered them in the slightest – an important quality worth mentioning!
Unit Cleaning
Both brushes and the dust container can, and must, be cleaned on a periodical basis to keep the robot working properly. For that purpose, the manufacturer has added one small plastic comb to remove dirt and fibers from the rotating parts.
I have found that some carpet strands and fronds, united with pet hair, effectively resist the comb. Instead, I had to use small scissors to cut through such tightly wound knots. The small comb had no chance there. I don't think it's a big problem, just something that should be noted for the future models.
I do wish the manufacturer added more of the non-washable HEPA quality filters with the package since Xiaomi spares aren't exactly ubiquitous. At least not yet.
On the plus side, all parts that require such attention are super easy to remove and return to their proper positions, and they can't be replaced wrong.
We highly recommend the 5PC Mi Robot Accessory Pack: 1 Virtual Wall, 1 Rolling Brush, 1 Box of Side Brushes ( 2pcs ), 1 Box of Filters ( 2pcs ), 1 Rolling Brush Cover.
Check out the package on this link.
Dust Container
At 0.4 liters (13.5 ounces), it is rather small – so you might think. It may appear small when you first start using it, but you will quickly realize it is actually plenty large enough. The container is right under the unit's top cover and easily accessible. The container can be emptied in 20 seconds then replaced to let the Mi Robot continue. It's that simple!
Mi Home App
This is the longest section here, but not without reason. It happens to be my main beef with this robot cleaner. Then again, it is only fair to say that many folks did not encounter any problems, at least according to their published statements.
The robot can be remotely operated through Xiaomi's Mi Home app. Many functions can be set up remotely: switching the unit On/Off, choosing between three cleaning modes, defining different cleaning schedules, monitoring the cleaning, and also memorizing cleaning patterns for various rooms. For all this to function, you'll need an internet connection, and a login to the Xiaomi page.
The Mi Home app is, by default, in Chinese, but you can alter the language. In my case, some app screens appeared in English but others didn't. This problem persists even after downloading the latest update. I searched for help with this translation issue, and upon finding help, I did my very best to make the App co-operate; with me as with the cleaner.
Mi Home app asks that you login to the Mi site with your email and password, along with approving the app to access your phone data. According to some information gleaned on another site, the app/vacuum need access to your home router as well. This, I can understand since it makes it accessible from anywhere – something many folks might find useful, but also something many can do without.
I strongly maintain that such apps should be a lot simpler. They should be more device-related and possibly less interested in my personal affairs, including my accounts, numbers, contacts, and all else not related to the floor hoovering! However, even with the above permissions temporarily allowed for the purpose of this review, I am forced to admit that I did not succeed in connecting the phone to this Robot, as opposed to an action cam app where such procedure is pretty straightforward and comparatively undemanding.
Whatever I did, the App would not recognize my Robot, not even when I manually added it.
My main goal was to have the cleaner's voice message base replaced by something I could understand, since now it speaks to me in Chinese. Suffice it to say I never got that far. The next day, I tried to tackle this task all over again, but the results were the same. The changes I attempted only provoked diagnostics along the lines of not available right now, or unable to change. In all, this was pretty frustrating.
Most importantly, all the Mi Robot functions should have been made accessible by the available hardware commands on the device itself! The way things are, one practically needs a smartphone in order to program some, otherwise inaccessible options, like cleaning intensity, speed, language change, voice & sound level, operations scheduling, etc.
Had Mi decided to integrate a small action cam type monitor, this would suffice for total interaction with the device. With the computing power already on board, the usability of this device would be more direct, and also more user friendly. The smartphone control could've simply been left as optional.
Here is just one example of friendly suggestions aimed at helping people to connect the Mi Home app to their smartware. YouTube is loaded with videos of these good-hearted attempts, so it is hard to ignore that many people experience problems with this App.
See the copy/paste of one such set of instructions found on the internet:
Step 1. The first thing you have to do is to download the Mi Home App, to install it on your smartphone and to make an account with Xiaomi.
    Step 2. After the app is installed, turn on the robot vacuum, open the wireless settings on your phone and search for the WiFi spot produced by the robot. It should be something with the word "robot" inside. Connect to this network.
    Step 3. Open the app and search among the Xiaomi product for the robot vacuum. Tap it and wait for the software to connect.
    Step 4. Insert the WiFi settings from your own home router which is connected to the internet.
    Step 5. Disconnect from the robot WiFi and connect instead to you home WiFi, which has internet. Your device should appear online.
My impression of the App? Mightily sloppy work for a program aimed at being one very important component of a global product. Even when it works for some people and/or Xiaomi devices, the Mi Home app left me with a mixture of feelings which managed to douse my enthusiasm about this, otherwise, fine appliance.
Summary
There are just two buttons to command the Xiaomi Mi Robot Vacuum, but there is no way to access all functions and options without installing the Mi Home app for iOS or Android. This should have been solved in some other way, especially since the manufacturer thinks that everyone has a smartphone and home WiFi readily available. One small, cheap, LCD monitor would have easily done away with the hassle of an app, and perhaps add to the number of satisfied users.
Xiaomi Robot Vacuum Cleaner works excellently on smooth surfaces and also on various types of carpeting. The unit's drive system can climb up to 15-degree slopes, so it can practically go anywhere, except the stairs. Maybe an upgrade can solve even that – wouldn't surprise me at all!
When you hear the voice signal from the lady inside, just touch any of the unit commands to temporarily stop the operation and empty the dust container. The robot doesn't stop for this by itself since it may occur somewhere inaccessible, like deep under the bed. Instead, it will continue to move so you'll stop it when it is convenient for you. When the dust container is replaced, a short press of the "Start" command makes the cleaner continue. This part is very easy and simple, thanks to the good concept and design.
Several more filters should have been added, and perhaps some among those should be washable. The one included with the cleaner must not be washed because it could clog with the fine dust particles.
At this moment there are only the HEPA filters available. (HEPA stands for High Efficiency Particulate Air, High Efficiency Particulate Absorber – sometimes also called High Efficiency Particulate Arresting type of air filter).
The battery charges relatively fast, somewhere between 90 and 120 minutes. It depends upon several factors, like grid power consistency, battery age, and basic things like good contact with the power adapter. Across the internet some people have found that poor contact may be problematic, so check this on your unit! Thanks to the unit's excellent spatial orientation, the recharging base is easily found and the connection process is exact.
I think this is one very good product – it only needs a more imaginative aspect of simplified operation range available right on the cleaner, and the App should remain optional.
Pros
Affordable pricing
Very good air/dust filtering
Very good design and materials
Adequate battery & charge controls
Excellent orientation & mapping system
Cons
Smallish dust container
Inadequate & incomplete translations
Too complicated and overly intrusive App
No spares (like more filters)
Poor range of accessories (1 weak cleaning tool)
No direct access to all device functions & options
Need for (not included) virtual barriers – magnetic strips