It's not that I don't have enough knives at home, including some perfectly and specifically used in my diving forays, but frankly, I simply had to have the one I'm presenting today.
It is offered as a single piece multi purpose blade, more precisely as an Outdoor Survival Scaling Knife with either flat or a serrated blade, and it can be found at GearBest for mere $6.65 . For that money it will even arrive to your address by Free International Shipping, to boot!
This is a small review since there are only three pieces to see, so let it be short'n'sweet.
Here are some general data to support the images which usually tell quite a lot:
Material: Stainless Steel
Product weight: 0.067 kg,
Package weight: 0.110 kg
Product size: (L  x H x W): 18.80 x 2.60 x 0.40 cm / 7.4 x 1.02 x 0.16 inches
Package size: (L  x H x W): 19.80 x 4.00 x 1.00 cm / 7.8 x 1.57 x 0.39 inches
Package Contents: 1 FURA Fish Spear, 1 Sheath, 1 m Paracord
As mentioned before, I chose a straight-sharpened blade instead of a serrated one, because I'm more used to such edges. Since I sharpen my blades myself, maintaining a flat edge is somewhat easier. I also picked a black finish instead of metallic one to reduce shine and glittering which might influence fish behavior. For photographic reasons I want to be as unconspicious in water as can be.
However, tastes and purposes will vary, and you might well feel differently. In both cases I'm happy with the tool material. It seems to hold the edge well, and its thickness makes it very sturdy. The blade is honed razor-sharp and ready for use right out of the package.
The sharp end, which is roughly 1/3rd of the total product length, comes enclosed in Kydex sheath. It is a folded piece of thermally formed plastic that follows the blade shape. Two indentations in the sheath opening lock into the finger groove (which could also be regarded as a harpoon barb). The elasticity of the Kydex holds the sheath firmly over the blade.
The sheath has three shoelace-type rivets meant for fixing it in whichever way one decides, and a length of paracord-like cord tightly passes through those. There are another similar five holes on the knife / harpoon itself: two on the handle end, and three in the blade, for optional variations in the ways the product could be used.
For my kind of diving and snorkeling I have decided to wrap the paracord around the relatively thin handle part, so as to be able to hold it more firmly. I also used the surplus length of the cord to secure the Kydex sheath, and in the same way form a closed loop which allows me to fix the sheathed blade to / through / around my swimwear. By releasing the sheath off the blade, the loop opens and the blade is free to use. Sheer simplicity.
Alternatively, one can form the paracord end into a wrist strap, and secure the sheath in some other fashion. For snorkeling, the best place for any kind of knife would be the forearm (handle end close to your wrist), so as to be in the field of view for unsheathing and returning.
For SCUBA diving, the best place is the inner side of the lower leg (handle tip close to the knee), because it can be reached by either hand (!), and also less likely to snag into anything underwater – as opposed to being worn on the outside of the leg.
An exception to that would perhaps be the cave diving, where you want to have the blade handy in tight places – thus, the forearm. Small things can sometimes make big difference!
I'll be using it underwater, so as to have a super-sharp tool for removal of torn-off pieces of fishing nets. These net pieces go on killing fish and crustaceans until taken out of water! I also want to be able to efficiently cut myself or my camera free from a possible entanglement, should such need arise.
What I won't use it for is a weapon, since a knife is simply a tool. Those who think they can attack or defend themselves from dangerous marine life with any knife… better think again. It is way more likely to get seriously hurt in the process. Slashing open of sharks or moray eels happens only in Hollywood movies, where the beasts are just spongy rubber toys. Weight-compared, real fishes are immensely stronger than us.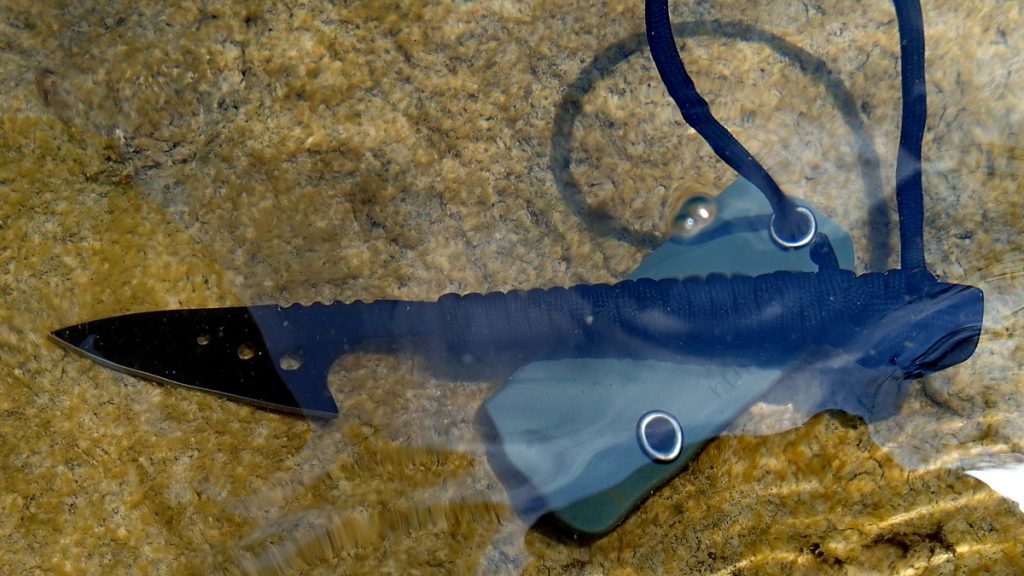 And that's about it. This simple, practical , and excellently made tool can be used in so many ways that it would be illusory to try and cover all among its possible applications! Some folks might think car, mountaineering, camping, fishing, hunt, EDC… and even to fix your camera, by means of adding an attachment accessory piece to its handletop. This kiridashi-like blade suggests its practical sides all by itself.
Use your blades responsibly, keep'em well honed and maintained – and be safe!