I'm really happy to present yet another review in a long line of SJCAM products! Thanks to SJCAM I'm now able to also test the new SJ8 PRO.
The PRO version is the highest version of the three available designations; AIR, PLUS and PRO. This is the first SJ camera that manages to record videos in 4K at 60fps – just like the most famous brand GoPro.
So could this camera really be the ultimate "GoPro killer"? Let's see its specifications first!
Specifications for SJCam's SJ8 Pro
Chipset – Ambarella H22 S85

Image Sensor – Sony IMX377

Ute sit dolor lobortis.

Lens – 7G (2 Aspheric Lens Included)

Weight – 85g

Size (L x W x H) - 62.5 mm * 41 mm * 28.8 mm

Screen – Front screen 0,96 inch + 2 inch touchscreen

Max image resolution – 12MP 4:3 (4000x3000)

Video resolutions
4K: (3840×2160)25/30/50/60fps
1440P: (1920×1440) 25/30/50/60fps
1080P: (1920×1080) 24/25/30/50/60/120fps
720P: (1280×720) 240fps

Video compression format – MP4 (H264/H265)

Image format – Jpeg, RAW

Wifi – Yes (2.4G/5G)

Connection - USB Type C

Car camera - Yes

Video stabilization - Gyro

External mic – Yes (Optional)
Unboxing
Accessories for the SJ8 Pro
This camera is sold in two different packages. First, there's the "Small Box" one containing only the camera, charging cable, and the Manual. The "Full Set" one, as the one I have received, contains all from the "small" pack, plus a lot of accessories. Adding many accessories is quite usual for SJCAM, but now you have another option there.
The components for the SJ8 Pro's Full Set are as follows:
1 x Original SJCAM SJ8 AIR/PLUS/PRO Action Cam;
1 x Battery;
1 x Waterproof Housing;
1 x Quick-Release Buckle;
1 x Handlebar Seat Post Mount
1 x Curved Adhesive Mount;
1 x Flat Adhesive Mount;
2 x 3M Adhesive Tape pieces;
1 x Universal 1/4″ Camera Tripod Mount
1 x Tripod Mount Adapter;
1 x Cleaning Cloth;
1 x USB-C connector Cable
Design and build quality
The general shape of this camera is actually not much different from the most other cameras. But when you take a closer look, you can clearly hear all the materials screaming how these are not cheap at all!
All the surfaces are covered by a rubbery paint that helps with the grip. What you immediately notice is that the buttons are backlighted, which is very beautiful!
LCD screen and touchscreen
The SJ8 PRO has two screens. The one in front is a classic LCD screen, and it is one of the rare cameras that has a main, capacitive touchscreen on the back. I can state with pleasure that it works perfectly, exactly like the one on your phone!
The touchscreen ability is very useful; you can go through the settings a lot faster before taking footage of your adventure. Behind this nifty function, there is a superbly intuitive and clear menu. Still, it can be an irritatingly slow chore if you want to change something during the action. It will all depend on what you need to do, and I don't consider this feature a "malus".
I just want to add a little note about the front LCD, actually about its temperature. I can't precisely tell you why, but it is always very hot! And honestly, I left it switched off during my tests, just to speed up the cooling down of the entire camera.
Dual microphone
Another feature that this camera has is the dual microphone. One is positioned on the front and the other on the side, and, at least in theory, this ensures a perfectly clear audio recording. But we will dwell on this in its specific section.
USB-C port
On the same side of the second microphone, there is the USB port. It is not your classic USB port but finally a type C! Now we can say goodbye to the struggle of trying to find the proper plug orientation!
Jokes aside, the type C port has an advantage of a double face; both literally and figuratively! We have the comfort of an omnidirectional and resistant plug, but then there are not that many devices that use the type C! So you have to acquire your own cable if the provided one is not enough for your needs.
SD card slot
On the bottom of the camera, there is the essential bushing for an eventual tripod, or any other standard  1/4″-20 screw mount. Furthermore, in the battery door (a part of the battery itself) there is the SD card slot.
Honestly, I don't think this is a good idea because it is well known that the battery can be quite hot during the recording and when the camera is being recharged. That doesn't help the SDcard much! I have noticed that during a 4K/60fps recording the battery and SDcard corner becomes too hot to hold comfortably.
Menu overview
This camera's menu is very well made. With help of its touchscreen, SJCAM has managed to create one of the most intuitive menus to be found on an action camera. We can easily find everything we need:
From the top left to the bottom right we see:
Selected Mode
Recording time/Recording left
Mic/Battery status
Zoom in/out
Playback
Resolutions menu
Modes
Actual mode settings
General settings
In the Mode Settings we can find every setting for any mode, like:
EV – +-0/+-1/3 / +-2/3 / +-1 / +-4/3 / +-5/3 / +-2
White Balance – Auto/Sunny day/Cloudy/Fluorescent/Underwater
Color – SJCAM/Flat
Metering – Center/Spot/AVG
Gyro Sensor – On/Off
Encoding – H.264/H.265
Distortion Correction – On/Off
Loop Recording – On/Off
File Size – 1min/2min/3min/5min/10min/15min/20min
Video Quality – Fine/Normal/Economy
ISO – 6400/3200/1600/800/400/200/100/MAX100/MAX200/MAX400/MAX800/MAX1600/MAX3200/MAX6400
Audio – On/Off
Time Stamp – On/Off
Same goes for the General menu:
Language – Czech/Danish/English/French/German/Hungarian/Italian/Japanese/Korean/Polski/Portuguese/Russian/ Simplified Chinese/Slovak/Spanish/Traditional Chinese
WiFi – On/Off
WiFi Frequency – 2.4G/5G
Format (SDcard, that is)
Auto Power off – Off/3min/5min/10min
Screensaver – Off/30sec/1min/3min/5min
Front Display – On/Off
Indicator Light – On/Off
Keypad Tone – On/Off
Brightness
Color Temperature
Volume
External Mic – On/Off
Date/Time
Gimbal Control – On/Off
Frequency – 50Hz/60Hz
Default Settings
UI – Classic/SJCAM
Version – v1.2.0 (2018.05.25)
For more on navigating the menus, see the video below.
You probably didn't notice the lack of one little but (in my opinion), very important feature: ROTATE! With this camera, you can't rotate the image upside down, and I don't really get it. People like me — who use the camera upside down 90 percent of the time — are forced to make a post-production rendering so as to rotate the image. It may seem like a  little thing but it is very important! So SJ, add this to the menu, please; it's an important setting!
Since the Firmware v.1.2.4 (July 9th 2018) the Rotate setting is available in the Menu!
Some advice on the settings
After this little grumble, I'd like to offer some advice about the settings.
First of all, this camera has both the classic H.264 as well as the H.265. The new video encoding generates smaller files with the same quality, but it is not quite like that. I have noticed an important detail loss with the H.265, so maybe you'd prefer to retain the default H.264.
The second important thing is to ensure you have set the ISO to MAX3200 or MAX6400 because by default the camera has a setting of 100 ISO-FIX. This means that the camera makes beautiful videos in bright light, but in the low light, the images become utterly black! I had to repeat several tests for this reason.
My last bit of vital advice is to keep the front screen switched off because it heats the camera like a BBQ and it's not very good for anything it has inside!
Except for these things I have no other warnings of this sort. All in all, this cam is really beautiful to see and comfortable to use.
Video
Honestly, it was more difficult to grasp this camera than other models. Not because it is complicated to comprehend but because, after A LOT of testing, I understood that it has been primarily created to make videos in 4K and not so much with other resolutions. Yes I know, it's a strange thing to affirm, but let me explain.
I've always said the most used resolution and frame rate is 1080p 60fps and I don't want to go against my own theory. It is still valid but it seems SJCAM doesn't think like me. They concentrated all the resources to develop the 4K and not the other resolution. It's not that hard to prove because I only need to tell you is that the 1080p bitrate is only 18.000 kilobitseconds (Kbps = thousands of bits per second transfer rate).
If you don't know what the bitrate is, well, in simple words, this is the number of details in a video. You can go deeper into this theme by reading my guide HERE.
Usual bitrate at 1080p on any other camera is around 30.000kbps, yet this camera has only ~18.000kbps making very light files with very ugly images. Contrary of that, the 4K with 30fps has 60.000kbps and with 60fps the transfer rate can reach 100.000kbps! Honestly, I never found such a high bitrate before and talking about the quality, it can make big difference between a "normal" camera and a good camera!
Now I'm going to show you some classic videos with the standard resolution of 1080p 60fps compared with the 4K 60fps
The difference is evident, the 4K on this camera is on another level compared to all the other cameras. I have no doubts about that!
I'm quite disappointed about a couple of things here. The first one is the low quality of the 1080p resolution. I am 100% sure that it is a software problem because this camera has one of the best hardware sets on the market. It could be the direct rival of the GoPro Hero 6 and I'm not joking. That's why I think, with some corrections in the firmware, they can make one if not THE BEST of all affordable action cameras on the market.
The second problem is the framerate. I can't understand why the 4K 60fps has real 60fps but the 1080p 120fps and 720 240fps resolutions have doubled frames, meaning half of those are the same. This problem can also be easily solved with a simple firmware update, and I'm confident in the future!
Since the Firmware v.1.2.4 the 240fps issue is fixed but the problem with 120fps remained!
After these few lines of criticism, it's time to talk about the huge quality of the 4K and the magic of the camera's Gyroscopic stabilization. I am truly amazed about how good this camera can stabilize videos! I think this feature can almost replace a Gimbal!
As the first example I want to show you how it kills the shakes as a dashcam in my car:
And the magic it can make during a bike ride:
It uses up a little bit of field of view, but it's worth it!
Same place, different resolution:
As you can see, the quality is superb, you can see every detail of every leaf. It's just amazing! And it doesn't have too much of speed effect!
You also can notice the color gamut of this camera, it's a pleasure to see all these colors faithful to reality, here's where the high-level sensor makes the difference!
In the low light conditions, this camera shows all its potential. With the ISO wound up to 6400, it succeeds in capturing all the light in its field of view. I was honestly impressed how good it gathers the light also on far objects, like houses or far intersections. These colors are incredibly realistic too, it's not all yellow and dark. If there is a lighted tree, you can see the greens! It seems like an unimportant thing but it's not. It means that the sensor knows how to do its job!
I think this is one of the best cameras I ever tested in the night lighting conditions!
Audio
We can clearly find the section on the SJAM website where they advertise the presence of two microphones, built in to capture a perfect sound, even in a concert.
I won't hide from you my happiness to be able to write about that because I like a lot the cameras with good sound recordings. Now, I don't want be rude but I think my car is not as loud as a concert but the results are like this:
Well, it's not exactly what I expected.
Apart from this "LITTLE" problem, with a normal audio volume, it will be quite acceptable. The high frequencies are clear, but the bass is croaking a tad. This may be good enough for recording a conversation but not good for the music. Still, during normal usage, you will not encounter any trouble.
Photo
Following my theory on the video quality, the photos must be good as well.  Luckily this theory is confirmed because this camera can make good photos for an action camera. OK, you didn't expect a DSLR, but these images are good enough to be generally satisfied.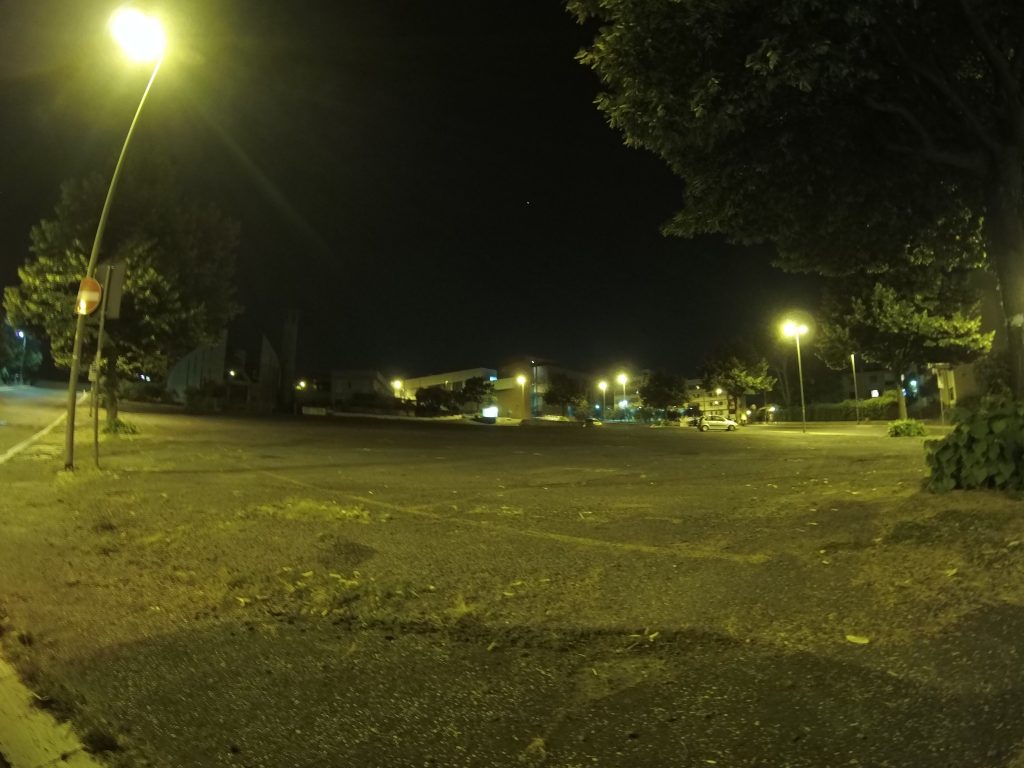 Samples
In this link you can find all the media files present in this review with the original quality, straight from the camera.
https://mega.nz/#F!P74mWKJI!2rK4zguyDGox0HPeBkh-0A
Battery Performance
The battery performance is extraordinary! I read that the battery of this camera is one of the most capacious with its 1200mAh – it has 150 to 200mAh more than its rivals.
The results of my test are hard to beat. This is a list of the main resolutions and frame rates:
4K 60fps – 90 minutes (46,1 Gb)
4K 30fps- 89 minutes (24,7Gb)
2.7K 60fps – 70 minutes (14,8Gb)
2.7K 30fps – 109 minutes (12,1Gb)
1080P 60fps – 118 minutes (12,5Gb)
1080p 30fps – 135 minutes (7,20Gb)
Charging time – 130 minutes
Wifi and app
Both Wifi and the app are still the same as with all the other SJ cameras. Everything works perfectly and everything is stable as it should be. In the beginning when the camera was released, the App had a few problems, mostly with the resolutions. The app resolutions simply didn't match the camera resolutions and it was risky was to choose the 4K resolution just to find out in the end that your entire video was made at 720p. Luckily, they fixed this problem by the end of June.
In summary
This camera, in general, is a good camera. It could be a GREAT camera but it's not the first time SJCAM released a camera with bugs and fixes it through its firmware updates later on. The SJ8 PRO has a good video quality and an amazing battery life, but the audio is still poor. So, this and some other tweaks must be performed in its software area. I will recommend this camera anyway because after all, it is a good camera. I hope to see in coming firmware updates all it requires, to make this camera truly A BEAST.
Pros
Beautiful touch screen
User-friendly navigation
WiFi and app are impeccable
Incredibly long battery life
One of the best 4K resolution on the market
Great Gyro Stabilization
Cons
Few bugs on the firmware

Frame rate issues (120fps) still remained


Very low bitrate at 1080P resolution

Bad audio quality with medium/high volume sounds