In this article I want to compare two very small cameras, the smallest cameras we've ever reviewed. I'm talking about the SJCam M20 and the AEE MD10.  The specifications for these two cameras are so similar that they beg for comparison!
You can find the original reviews here:
Specifications
Chipset

Image sensor

Lens

Weight

Size (L x W x H)

Screen

Max image resolution

Video resolutions

Video compression format

Image format

Memory

Battery

WiFi

Connection

Remote controller

Video Stabilization

External Mic
SJCAM M20

Novatek 96660

Sony IMX206 16MP


166°wide angle
6 glass

67g (with battery)


5.40 x 4.00 x 2.90 cm
2.13 x 1.57 x 1.14 inches

1" LCD / color, back-illuminated

16 megapixels (4608*3456)


4K @ 24fps (2880*2160) interpolated
2K @ 20fps (2560 x 1440)
1080 FHD 1920*1080 @ 60fps
720P1280*720 60fps
720P1280*720 30fps
WVGA 848*480
VGA 640*480 VGA 848*480
VGA 640*480

H.264

JPEG / RAW

32GB

900 mAh (removable)

USB, HDMI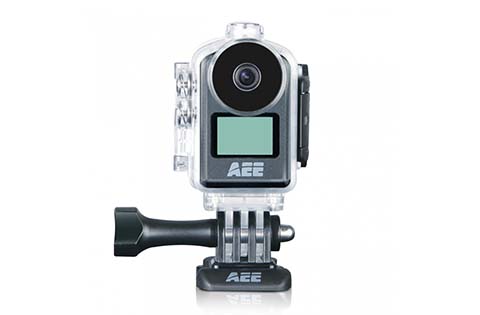 AEE MD10

Ambarella A7L

Sony 8MP


136°wide angle
6 glass

Weight : 75g (with battery)


5.0 x 3.3 x 2.3 cm
1.96 x 1.30 x 0.90 inches

1" LCD / not back-illuminated, black and white

8 megapixels (2592 X 1944)


1080 FHD 1920*1080 @ 30fps
1080 FHD 1920*1080 @ 25fps
720P1280*720 @50fps
720P1280*720 @60fps
WVGA 848*480 @120fps
WVGA 848*480 @100fps

H.264

JPEG

64GB

1000 mAh (not removable)

USB, HDMI
Accessories
The number of accessories included with these cameras is completely different. The difference is literally visible:
The SJCAM includes many kinds of accessories including the usual (though apparently not for everyone) waterproof case, the 3M stickers, nine other types of mounts, a lens cap, the USB cable, a cleaning cloth and the manual.
It also includes a pair of stickers having the SJCam logo, typical for their products.  Not every manufacturer sends so many accessories with their cameras.  One of them is AEE.
As you can see from the photos above, the AEE sent only a single mount, a US-spec charger (I live in Europe so I can't use it) and a manual with print and digital versions.  The SJCam accessories seem to be of average quality.
There weren't enough accessories with the AEE camera to evaluate them. The worst thing about the AEE is that I can't mount the camera anywhere without the waterproof case, an additional option, so it means spending more money and placing another order.  It's really frustrating.
Design and Build Quality
Other than their similar shape the design of these two cameras is completely different. The M20 has a beautiful screen in back and useful LED's all around. It doesn't matter if you're under the light of the sun or moon, you'll be able to see the screen wherever you are and whenever you want.
By contrast the MD10 has a front display that's not backlit.  If you're using it in light it's okay but if there's no light in front of you can't see what's going on with the camera.  Another huge difference between the two screens is that the M20 displays a "preview" of what you're "aiming" at while the MD10 screen just shows the resolution, recording mode and few other settings.
You can't see if the current shot is good or not. Also there's a huge difference between the cameras' buttons.  The M20 has all dedicated buttons such as on/off, up/down, mode, WiFi – it's all clear.  The MD10 has all button combinations. To utilize the menu you MUST use the manual because it's quite impossible to understand what's going on with this camera.
Menu and Navigation
As I mentioned, thanks to its buttons the SJCam camera is very intuitive and very easy to use, so much so that it has another problem: it has too many menu settings and is a little bit confusing. Conversely the MD10 has an absolutely crazy method for navigation due the fact that it doesn't have a real screen.
Without any help from the manual it would be absolutely impossible to navigate the menu.
Video Quality
The SJCam M20 has a huge advantage in video quality: its wide angle. For an action cam a wide angle is a must. Yes, the AEE MD10 does have a 133° angle.  It's not that narrow but the difference is huge when these camera are used in an action environment.
An action cam must capture everything at any particular moment to be as realistic as possible, but you can't do that without a huge field-of-view (FOV).  The FOV isn't the only problem with the MD10. It lacks details.  And while it's competitor isn't the best on the market it has absolutely more definition and detail, enough to zoom in without much problem.
Another difference is the colors. With the M20 the first thing you think is, "Wow, look at these colors!  They're perfectly bright and true to life!"  With the MD10 it's more, "Okay, the general impact is good but… that green was actually more green than that."  There's a difference with these two cameras.
At night they both perform equally poorly. Both let you see what's going on in very low light, something that's not assured with action cameras, but the details are near zero.  This time the MD10 seems sharper but always with the same color problem – it's too cold.
However, if I'm going to zoom in on something they both have ridiculously poor quality.
Both cameras were set at 1080p 30fps.
Photo Quality
Photos for both cameras have the same problems as their videos.  The only difference is that there's also a light veil over the MD10 images.
Photos were made at the highest setting available on each camera.  The AEE MD10 photos are 8MP; the SJCam M20 photos are 16MP.
Audio
The M20 doesn't distort the sound, even at high volume.  The MD10 distorts bass frequencies even at medium volume – just listen:
WiFi and App
Both cameras have great WiFi stability.  The MD10 can even reach the incredible distance of 40m!  They have very stable connections, great apps (at least for Android), are easy to use and have very fast response.
Battery Performance
The  battery performances results are:
Summary
SJCam M20 advantages:
Better video quality
Better audio
More accessories
Has the screen
Good interface
Good build quality
AEE MD10 advantages:
Better battery life
Incredible WiFi range
It's smaller
So the question is: "Which camera do you prefer?" Without a doubt my favorite camera is the SJCam M20. It's much better at a lower price. Why would I choose the fewer accessories, fewer settings, lower quality and higher price of the MD10? This time the SJCam M20 wins against the AEE MD10.