The road that Chinese action camera manufacturer had over the last 12 months can be described as : as per aspera ad astra (from the mud to the stars). But also as : from the stars to the mud all over again.
Note: If you want to save few bucks, use coupon SJ4PLUS when buying.
It all started with their SJ4000 camera, which was and still is a great success and certainly one of the best action cams that provides excellent value for the money. Company became world-famous low-budget GoPro alternative in just few months. They sold thousands of cameras, despite the counter-fake issues they faced along the way.
However, after a massive success, they hit the rock bottom.
Their newly launched, three times as expensive SJ5000 series had so many software problems, that even I (yes, an action camera freak) did not want to waste time on reviewing. It was overpriced and unfinished product rushed out just to get more money from already existing customers.
Now SJCAM is  back to square one. They obviously gave up on the SJ5000 series, and went back to their roots. Few weeks ago, manufacturer released, brand-new SJ4000+ (also known as SJ4000 Plus).
In this article, I will provide you with an in-depth review, and serious overview of all features and functions on their latest model.
Note : You can buy this camera on GearBest for $120 (including free worldwide shipping) or get one on Amazon (Link) or eBay (Link).
SJCAM SJ4000+ action camera brings new features compared to its predecessor. Most important ones are: better image sensor,video recording in full HD at 60 fps and in 2K. SJ4000+ is a WiFi action camera that can record videos and take photographs in various resolutions and sizes. It comes in eight different colors and its menu supports 17 different languages.
With previous model being priced at 90$ most, Plus version will certainly raise a few eyebrows with its $120 price-tag.
Some of you, who already have an SJ4000 or even SJ5000 (unlucky you) will certainly ask :
Should I upgrade from SJ4000 to SJ4000 plus?
Is it worth the money, or are these guys playing the same "Money on my mind" song all over again?
Have SJCAM engineers created something that will make their customers astonished by the price/quality ratio and defeat competitors? Or have they yet again, created a camera that is not worth mentioning, let alone spending money on?
I have been using this camera for 15 days now. Various tests have been performed and bunch of videos and photos have been created in different light environment and different setup.
So, I will be more than happy to answer these and many other questions in this post.
Fasten your seat-belts, take a cup of coffee or ice-cold beer, its going to be long and bumpy ride! 🙂
Update 10/28/2015
I should mention that after this review was published, SJCAM released an updated version of SJ4000+ called SJ4000+ Gyro. This one is referred as standard. While I have not tested Gyro edition (nor I intend to), I would like to explain the difference between the two. Once again, SJCAM managed to confuse as all, so here is a simple explanation.
Standard version of SJ4000+ is the one featured in this article. Gyro version was lanuched 2-3 weeks after it, as an attempt to improve stabilization, which was terrible. Gyro edition contains far better video stabilization due to the built in Gyro it has.
I assume that this is only software stabilization. Obviously its not optical. Meaning camera will narrow the angle of view, but the video is certainly less shaky.That is the only difference between these two cameras.
So, if you really really want SJ4000+ (though I do not see a reason why), you probably should get a Gyro version. You can buy Gyro version  Amazon |Link|. I have not seen it being sold elsewhere for now.
Update 11/14/2015
Differences between SJ4000+ Standard and Gyro have been covered quite in-depth in this post.
SJ4000+ specifications
Bellow table illustrates official specification of SJ4000 Plus provided by manufacturer. I have however, enriched it and added few more details that were not pointed out in the specs, though they are quite important in my opinion.
Chipset : Novatek 96660

Image Sensor: OV4689 COMS

Lens : Wide Angle: 170 degree

Focus Range: 12cm~infinite

Weight :

Size

Screen Size: 1.5inch, LCD

Colors available : 8

Image resolutions : 12MP (4032*3024), 10MP (3648*2736), 8MP (3264*2448), 5MP (2592*1944), 3MP, 2MHD, VGA, 1.3MP.

Video Resolutions : 2K (2560*1440 30FPS) ; Full HD (1920*1080, 30 and 60 fps) ; 1080*720 at 120fps)

Video compression format : H.264

Video format : MP4

Image format : JPEG

Memory : External MicroSD/MicroSDHC up to 32 GB (class 6-10 recommended)

Battery : 3.7V 900mAh li-ion rechargeable battery

Power Supply: DC 4.2V 450mA

Charge Way : USB charge by PC

Video Output: HDMI

Built-in microphone/speacker (AAC)

WiFi

Android App WiFi

iOS App WiFi

Connection : USB 2.0

Timer: 2s, 3s, 5s, 10s, 20s, 30s, 60s

Continuous shooting: 2/5/10 seconds

Video Time Lapse
Packing and design
SJ4000 plus comes in complete different packing then its predecessor. It seams that SJCAM borrowed the minimalistic approach in packing from Xiaomi YI.
Camera comes in a single, tiny-looking cardboard box. At first glance I though that it is impossible to pack everything in it. However once you opened a retail box, inside there are 3 different mini-boxes.
Two of the mini-boxes contain accessories, where as the third one has camera and a waterproof case. Packing is fantastic. Everything is easy to pull out, but at the same time product seams to be protected inside the sturdy boxes quite well. Quite an improvement.
Yeah, I know that the packing cant still justify the 50% increase in price nor improve video quality, but it does look much better, then the cheap and flimsy boxes in which SJCAM M10, SJ4000 and Amkov AM5000s were packed.
What's Inside the box?
Once you pull out all the boxes, here is a list of everything you get :
1x camera
1x waterproof case
1x spare plastic case back door (not waterproof, for better sound recording)
1x manual (44 page, multilingual)
1x 900mAh battery (inside the cam already)
1x USB cable (for charging and transferring files to PC)
1x bicycle stand
2x helmet self-adhesive base
3X switch supports
1x bracket
1x clip (for bracket)
1x base mount
1x base adapter
1x base curved
2x 3M adhesive double tissue tape
2x bandage
1x cleaning cloth
2x SJCAM stickers
I am quite happy that they finally ditched wire rope and plastic ribbons which were included in their previous models. These tiny but cheap accessories gave only an illusion of camera habing more gear, though they were quite useless and cheap.
Compared to SJ4000, the only new piece of gear is a sticker.Besides ditching useless ribbon and rope, this time they did not include an AC power adapter, which means you will have to get a separate one if you want to charge your camera via the wall plug. In my opinion this is a huge omission. I am sure that many of us find wall charging more convenient, especially on the travels. In case you are wondering, yes camera can be charged via the USB port on your PC.
Speaking of gear, to be honest, I was slightly disappointed by the choice of the gadgets. Its standard. Nothing new, nothing impressive. Tens of other action camera from China have these very same accessories in their boxes. I expected SJCAM, as a Chinese action cam leader, to step up and at least add something new, but they decided to do what everyone are doing.
Do not get me wrong, the gear is OK, but its not impressive nor extremely useful.
Manual is on 44 pages and its pretty similar to SJ4000 manual. They pretty much copy-pasted huge portion of the previous version instructions. The piece of information provided this tiny booklet is pretty brief and cant get you all set up. But do not worry, I will clarify all the options that SJ4000 Plus has and reveal best practice when it comes to video and photo making.
One great thing worth mentioning is that due to the huge amount of counter-fakes of their SJ4000 that appeared on the market, the plus model now has the security scratch and check code, which you can enter on their website, to check if your purchased product is genuine one. All SJ4000+ have the code on the box. So if yours does not have one, return it right away.
Buttons and ports
Even though the design hasn't changed not a single bit, here is an overview of all buttons and ports of SJ4000 Plus together with their function.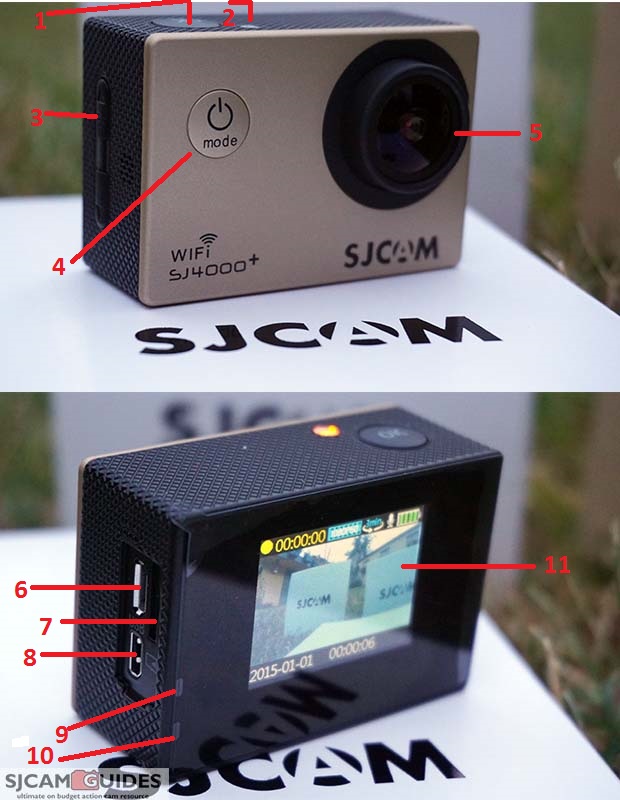 OK/Shutter button (for recording video or taking photos, or to confirm particular option inside the settings)
WiFi indicator (flashes orange when the WiFi is on)
Navigation arrows (for browsing through the menu, or zooming in or out. Upper arrow is WiFi button which activates WiFi when you hold it)
ON/OFF or Mode button – used for turning camera on or off, as well as switching through photo, video, preview and settings modes.
Lens
HDMI port – for connecting camera with TV
Memory card slot (Micro SD Class 10 card is highly recommended. Camera can use cards that have storage space of 32GB maximum).
USB Slot – for charging or exporting files to PC.
LED recording indicator (flashes blue while the camera is recording)
LED indicator charging indicator (red light when the camera is being charged)
LCD Screen
Video
SJ4000 offers six different video resolutions to chose from. Biggest change is recording in 2K (2560*1440) at 30 frames per second. Additionally, unlike previous SJ4000 model, Plus version allows recording at 60fps in full HD (1080p) and HD (720p).
2K (2560*1440 30FPS)

Full HD (1920*1080, 30 and 60 fps)

1080*720 at 30/60/120fps)
In my opinion, video quality is quite good. I like the fact that there is an option of recording at 60 frames per second. I really haven't seen any significant improvement of recording at 2k resolution. Colors look better then its previous version, but video stabilization is nearly non existent.
Footage I taken  at 30 fps looks quite shaky. I have no idea if there is something to be fixed in firmware, but I truly hope video can be a bit more stabilized then it is now. Video sound is decent bout on ground and underwater.
Note : You can download true, uncompressed video file samples that I took on this DropBox link (download video raw samples at night, underwater, sounds test ,etc and preview them on your PC for best quality. Do not preview them on DropBox.) Make sure you are using a decent video player such as VLC or QuickTime.

Images
When it comes to image quality, I would like to be clear right away, even before I show you the sample. For its price, I am deeply disappointed with the quality of photos SJ4000+ provides. This is where low-quality OV4689 sensor comes to the fore. Images are not sharp as expected, and at a price of nearly 150$ there is no excuse for SJCAM.
According to their price, they had enough space to put some better-quality sensor, like Blackview did with their Hero 1 by adding Sony sensor (and its 20$ cheaper then this pile of junk!). The sensor manufacturer put inside the camera, produces images at 4 megapixels top.
If you do not trust me, take a look at the official specs of OmniVision OV4689. It says right away, in the first sentence :
The OV4689 is a high performance 4-megapixel CameraChip sensor in a native 16:9 format designed for next-generation surveillance and security systems.
Okay, so last time, with their 60-70$ camera, they had 3.5 mp sensor (which was great overall value for the money), and this time their camera has crappy 4.0 megapixels for much higher price.
Who are these guys kidding? This is an absolute joke.
Note : You can download true, uncompressed image samples that I took on this DropBox link (download images and preview them on your PC for best quality. Do not preview them on DropBox.)
While this sensor is pretty okay for videos (even 2k video) for photos it is absolute trash if we have the price in mind. Remember, that when reviewing any feature of any product I always have price/value offered in mind. And in my humble opinion, you get pretty lame photos for 150$.
You might be thinking I am going harsh on the company and perhaps its a true. SJCAM is the company that once inspired me to start this blog. They made me believe that video making does not have to be expensive and that there are cameras that will do the job for fraction of the price of a big-brand.
So yes, I once trusted them, I worshiped them, all because of their products, which provided great overall value. So yes, I am going to be harsh when they try to cheat us, interpolating resolutions, increasing prices and offering no real reason for that.
If you are still interested in image quality and resolution, here is a list of images resolution in which SJ4000+ can take photos. Note that all of these resolutions are interpolated, and are not true. Once again, huge failure for SJCAM.
12MP (4032*3024)
10MP (3648*2736)
8MP (3264*2448)
5MP (2592*1944)
3MP
2MHD
VGA
1.3MP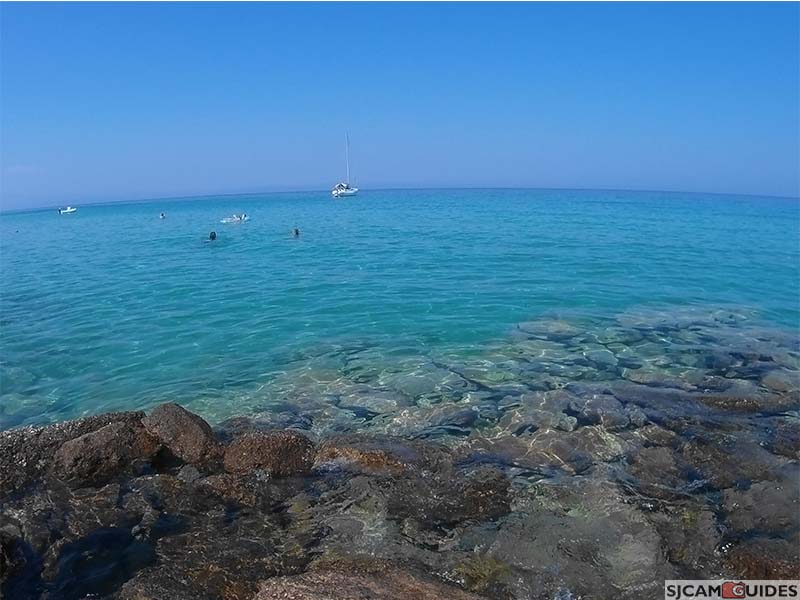 There is one positive though, close ups are pretty OK, considering the fact action cameras are not made for close up videos or photos. Camera has 30cm focus range, which means everything taken at distance farther then 30cm will be in focus.
And here is a fact. Colors on the images are pretty good and as natural as you can expect from an action camera. These images do not look that bad online. They are decent.
But once you download original image samples you will see they they are nowhere as sharp as you can expect for 150$. Sharpness is a major issue. And that bothers me.
I as customer feel deceived. While action cameras are mostly made for video, is this really all I get for the money I pay?
Settings
What I always liked about SJCAM video cameras is that they allow users bunch of options and settings which you can use to tweak, improve or change in order to get better photos or movies. While the user interface hasn't change at all, camera still offers basic and some advanced features.
Cyclic record
When cyclic recording (also known as loop recording) is turned on, camera will record sequences of the entire footage. For instance, if you chose the 3 minute interval, while you are recording, camera will stop the video recording once you reach 3:00 and start recording new one.
I personally always keep this option to off, since I do not see much use of it.
Motion detection
By turning motion detection on, camera will start recording a video as soon as it detects a motion. This feature is not reliable and do not even thing about using SJ4000+ as a surveillance camera. Its something that might be interesting to use for experimental purposes, but when it comes to home safety, you should get a proper equipment for the love of God.
Also if you notice that your camera is recording videos as soon as its turned on, it is probably because motion detection is turned on. Just switch to off.
For more info on the motion detection feature, please check my SJ4000 WiFi review, since it works absolutely the same.
TV Mode and TV Out
TV mode setup allows quick change between two most commonly used video modes – PAL and NTSC. Strange thing is that no matter which one you chose, resolution options will not change, which makes this option quite useless.
For those of you who want to preview video or photos onto your TV and show them off to your friends and family this way, you can connect your camera to TV. For this you will need a Micro HDMI to HDMI cable and TV out turned on.
OSD Mode
By default, LCD screen shows lots of information on the margins while you are taking photos or recording a video. You can see recording time, weather or not you have cycling mode enabled or is sound turned on.
Additionally you will see battery life, date and few other things. I do not know why, but if these informative icons bother you, you can turned them all off by choosing OFF in On screen display (OSD).
I guess this is helpful once you get quite familiar with the interface and you want to focus solely on footage instead of screen data.
Video lapse
Video time lapse is one of the most interesting features of SJ4000 Plus camera.
But first, what is a time lapse?
Time–lapse photography is a technique whereby the frequency at which film frames are captured (the frame rate) is much lower than that used to view the sequence. When played at normal speed, time appears to be moving faster and thus lapsing.
For more info on time lapse technique in general, check this Wiki-Page.
By enabling this option, your camera will take photo at the interval selected. Unlike many other action cameras, it will not only create bunch of photos from it, but also create a video, right out of the box. You do not have to edit video in video software, it works right away.
SJ4000+ video lapse has these intervals available : 1/2/5/10/30/60 seconds.
White balance
If you are one of those people who like to take full control of their movies/photos, it is always a good idea to experiment with white balance. This option will change warmth of your footage. Camera offers five different WB setups :
Auto
Daylight
Cloudy
Tungsten
Fluorescent
In this particular situation, the most natural looking colors came when using Cloudy and Fluorescent. However it depends on light condition and situation you are photographing or recording in.
ISO
ISO is one of the most important things in photography. ISO controls how much light goes into your camera. Lower ISO number is used for situations where you have enough light. For low-light situation, you need higher ISO.
While WB should not be left on auto as camera does not always recognizes what is best for you, it works pretty well white auto ISO. That is why I keep mine on automatic, but you can always play around and take manual control of this option.
Auto
100
200
400
800
1600
Exposure
Like most the Chinese action cameras SJ4000+ gives you the manual control over the exposure. This means that you can set up brightens or darkness of your footage. Exposure value go from -2 to +2. It is not possible to lock on exposure. In my experience, +1/3 and +0.0 gave the best results. I usually keep it at these two setups.
Capture mode
Capture mode allows shooting in different modes :
S-Shot (single shoot)
3s timer
5s timer
10s timer
20s timer
Single-shoot will create only one image after you press the shutter button. Timers will delay taking photo after you press the shutter at the specified interval, which is pretty handy for group photos.
Language
Though not a big deal for most people, the fact that camera offers menu in seventeen different languages is astonishing. Besides English which is a default language, switch your camera interface to be on :
English (default)
French
German
Spanish
Italian
Portuguese
4 types of Chinese
Russian
Polish
Czech
Hungarian
Danish
Dutch
Multilingualism certainly adds few points to user friendliness of SJ4000+.
Auto power off and screen saver
After I have updated the SJ4000+ firmware, new features appeared. Here is what you get with this firmware update.
Continuous shoot
Stabilization
WDR (wide dynamic range)
No worries, I will talk about how to upgrade the firmware as soon as I clarify all these additional options.
Continuous shoot
This feature is also known as burst mode. It allows your camera to take multiple photos continuously. You just need to press shutter button once and SJ4000+ will (depending on selected option) take 3, 5 or 10 photos. This is excellent feature especially if you want to photograph fast moving subject. One good example of this would be photographing soccer game, jumps, etc.
What is exciting is that SJ4000 plus has a 10 continuous photos, where as some other action camera such as Xiaomi YI or Blackview Hero 1 can take to up to seven continuous images..
Firmware updates
Updating firmware is quite important with any tech gadget. Firmware updates usually fix bugs and improve features. One great thing about SJCAM is that they update their FW quite regularly. Though firmware update is something you have to do manually, no worries, its not a rocket science.
How to update SJ4000+ firmware?
Make sure to check official manufacturers site for correct FW  version
Download FW
Unzip the folder
Plug in your camera into the PC via the USB cable.
Turn it on and chose Mass Storage
Enter the memory card
Copy the firmware file with the name .BIN into a root of the MicroSD Card
Turn off the camera
Turn it on again
Wait while it upgrades (30 seconds usually)
If will turn on automatically
Chose Mass Storage again, and DELETE .BIN file, otherwise  your camera will upgrade again
Once .BIN is deleted, turn the camera off, and it should work on the latest firmware
These is quite detailed step by step instructions, if you are having trouble updating, contact your seller or manufacturer. If you are having troubles understanding these steps, you have instructions on SJCAMHD website.
One more tip about firmwares. Always double-check if you are installing the right one. Luckily this model has quite simpler FW structure, so the possibility of installing wrong one are almost impossible. Install only FW from the official manufacturer site. Anything non-official is always risky and do not attempt it, unless you really know what you are doing.
WiFi and App
Unlike previous model in the series, this one does give you the choice to chose over WiFi or non WiFi version. There is only one SJ4000+ model and it has built in WiFi. What this means is that you can connect to cameras wireless network and control it remotely. You can give some basics commands, switch through different setup and download photos directly to your phone without having to use an USB cable.
This all sounds good in theory, but when it comes to practice, an official SJCAMHD app does not seam to be ready yet. It is absolutely not calibrated nor adjusted for their latest model. Inside the app you can not switch to 1080p 60fps or 2K.
Therefore it is absolutely impossible for me to review an app that obviously is not ready yet. This is one more huge minus for this product, since I can not believe that they launched a WiFi product without having a ready to go Application for it.
If you are curious on how the app works, it is absolutely the same as SJ4000, the previous version. Check out this video of mine for more info on the app itself. Lets hope that very soon developers will fix this android app.
As far as I know there is also an iOS app, but I haven't had a chance to test it out. So if any of you iPhone users would like to share your experience on using the iOS app, drop a comment bellow and let me know.
Battery and memory card
One thing I found problematic is zero improvement or whatsoever when it comes to battery life and memory card over a previous model. SJCAM SJ4000+ has a 3.7V 900mAh li-ion rechargeable battery, absolutely the same one its predecessor used.
The maxim storage space is 32gb. It is recommended that you use MicroSD or MicroSDHC memory cards from reputable brands of at least class 10, for best performance and less headache later on.
UPDATE : 11/6/2015
I have tried my Sony MicroSDXC 40MB/s 64GB and it worked in both SJ4000+ Gyro and Non Gyro versions.
Mass storage and PC camera
Since I recently upgraded to Windows 10, I tried to make SJ4000+ works as a Skype camera, but I had no luck. So at the time of publishing this review, this camera is not compatable as a web camera on Win10. However its predecessor works just fine. It probably is a firmware that needs to be updated.
To use it as a webcam, just plug it into your own PC and select PC Camera. It is most likely that your PC (Windows) will search for a driver automatically (Windows 7 and above, not sure about XP) and after a minute you can test it out on the Skype.
Summary
My overall experience with SJ4000+ can be described in one word – disappointment. I will be honest with you and say that in my opinion this camera is not worth its price tag. It provides great videos in 2k and full HD at 30 or 60 fps, which is its biggest advantage.
Videos underwater look quite good, though I have not spend much time testing underwater performance, as I would have probably drowned.
Colors on both videos and photos are quite natural looking, though the sharpness of the images is terrible. This is here SJ4000+ starts to fail. Photography. Photos are simply dreadful considering the price-tag the camera has.
For some people poor quality of the photos might not be an issue, this is an action camera, for making videos, right? Well no. Images are important, especially if you want to survive on today's the competitive market. People care about photos, especially if they pay 140$.
Packaging is quite neat and I really loved the security check up code they implemented on the boxes. Huge progress on these two points.
Manufacturer launched a WiFi camera without adjusting the app for this particular model, which means plenty of features were left out.
Battery life could be better, and I can not understand why they didn't include a better battery, especially since other competitors who have  cameras in same price-range have better batteries.
Design is standard, nothing new, pretty much a repack with + sign on it.
Let me now answer two questions, asked at the beginning of the article.
Should I upgrade from SJ4000 to SJ4000 plus? –
No. In my humble opinion existing owners of SJ4000 would not gain much considering the price. However if you do need 60 fps in your video, or want 2k, there are plenty of better and cheaper solution then the SJ4000+. This camera makes very good videos, but for its price it disappoints when it comes to images.
Is it worth the money, or are these guys playing the same "lets-take-the-money-fast" song all over again?
They are playing the same song over and over again. If they continue do produce products just to make profit, instead of satisfy the needs of their target customers, there will be no reason to buy their cameras soon. Competition has never been bigger, and SJCAM has never been in bigger crisis.
I truly hopped they will create amazing cheap action camera, but they created average mid-range action cam, which has plenty of better, cheaper alternatives. If SJCAM continues to take the piss out of their products and customers, the light at the end of a tunnel is non-existent.
You can also take a look at some alternatives which are cheaper, but preform better, like Xiaomi YI or Blackview Hero 1.
Your questions, experiences and suggestions
Like on any other article on this site, if you have any sort of question, idea, doubt or you want to tell us about your experience of using this camera, just click the post comment button bellow and leave a reply.
I would gladly update this article, once more info is available, and if significant firmware update appears. Until then, happy recording.