Few weeks ago I received an email from yet another new action camera manufacturer from China called GitUp. They offered me one, of two of their latest action cameras – GitUp Git 1.
I have been using this camera on a regular basis, basically every day, after I git up (lame joke I know 🙂 ).
In this article, I will do an extensive review of this 109$ priced fella which comes with lots of interesting bells and whistles.
Article contains an overview of all functions and best practices, which will hopefully help you decide weather or not this camera is right for you.
Update 2/14/2016 : If you are looking for GIT 2 information, please check the full review on this link.
Gitup Git 1 pro specification
Bellow is an official specs table of GitUp Git 1. Specs apply to both, pro and basic version.
Chipset : Novatek 96655

Image Sensor: Sony Exmor IMX322

Lens : Wide Angle: 170° (wide) / 120° (narrow)

Weight :

Size : 59 x 30 x 41mm

Screen Size: 1.5inch, LCD

Colors available : black

Image resolutions : 12MP (4032*3024), 10MP (3648*2736), 8MP (3264*2448), 5MP (2592*1944), 3MP, 2MHD, VGA, 1.3MP.

Video Resolutions : 1920 x 1080; 30fps / 1280 x 960; 30fps 1280 x 720; 30fps / WVGA: 848 x 480; 60fps

Video compression format : H.264

Video format : MP4

Image format : JPEG

Memory : External MicroSD/MicroSDHC up to 64 GB (class 6-10 recommended)

Battery : 3.7V 950mAh li-ion rechargeable battery

Power Supply: DC 5V 1000 mA

Charge Way : Mini USB to USB charge by PC

Video Output: ,Micro HDMI

WiFi

Built-in microphone/speaker (AAC)

External microphone support

Android App WiFi

iOS App WiFi

Connection : USB 2.0

Time Lapse 2 sec. / 5 sec. / 10 sec. / 30 sec. / 60 sec.

Self timer : 5/10/20/30/60s

Burst mode

Video Time Lapse : 1/5/10 fps

Remote control

Motion detection
GitUp is a brand new company based in China. As the matter a fact, this camera is their first public product. In order to make Git1 different, they added few options that no other cameras in this price range has – external microphone support and an instant AV video output.
It has a Sony CMOS IMX322 image sensor and Novatek 96650 chipset. The fact they included this sensor speaks a lot about the quality they want to achieve. Since sensor is one of the most important things you should look when buying a camera, you should know that this one is 2 megapixels sensor and creates very decent colors and sharp videos.
Git1 is comparable with all GoPro mounts and can take 12megapixel photographs (2 megapixels in reality, 12mp is interpolated) and shoot full HD video in 1080p at 30 frames per second.
One more thing that makes it stand out from the crowd is the remote control watch, which enables you to take photos and record movies remotely. Quite handy for hikers and people who want to carry the camera on a head strap or a chesty (chest mount).
Packing and design
Camera comes inside a rectangular cardboard box wrapped within an grey and orange thick paper wrapping. Once you remove the branded wrapping, you have a thick white box to open. Inside, on one side there is one smaller packet, opposite it is a camera inside a waterproof case surrounded with foamy and spongy structure, to prevent possible damage.
I quite like the way this whole package looks.  It arrived perfectly save without a dent. And trust me, if a package, delivered by my mailman arrives untended, it is packed pretty well, since this guy loves to play football and other ball sports with my packets.
Inside a smaller box, there is whole bunch of accessories, screws and mounts. Lets talk about them in a moment. First, lets see how camera itself looks.
Git1 is available in a single color – black. The camera shell is made out of plastic. The edges are rubberized which prevents slipping and scratches as well. It is quite similar to Amkov 5000S when you look at a it from a front side.
The size of the camera is 59 x 30 x 41mm. Without a waterproof case, which makes camera waterproof up to 30m , Git1 weights around 64 grams. With a housing that protects it underwater its hits up to 154g.
Housing has an interesting lock mechanism that allows camera to go 30m underwater. This way of opening camera is quite unique, and according to manufacturer offers much safer underwater protection and prevents accidental waterproof openings. It is a bit hard to figure out at first how to pull this damn thing out of a case, but once you get used to doing it (took me 10 minutes at first:D) it is a breeze later.
LCD Display
Besides the LED indicator, located at top right corner, at the back side of the camera there is a 1.5 inches LCD screen. Having a screen is big deal. It helps you to improve video/photo composition by allowing you to preview while you are recording. It is also a huge time saver, when it comes to changing settings and adjusting camera, previewing photos and videos.
One difference between this any plenty other cameras with a screen, is that Git1 LCD is not totally flattened with camera back. It actually goes a bit inside. This is good because, you can lay your camera onto its back sometimes, without having to worry that screen will scratch.
On the other hand, this sort of a design makes things easier for tiny pieces of dust to get onto margins of the screen. That is why its necessarily to maintain it properly.
Buttons and ports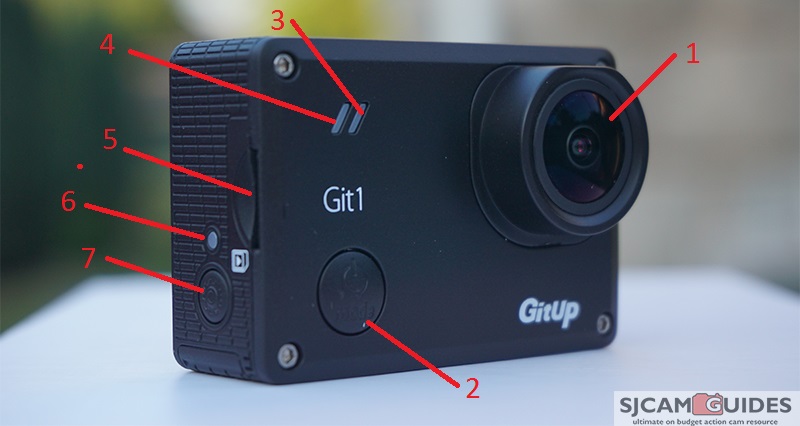 Lens
On/Off/ Mode switch button – turns camera on or off and allows changing through video, photo, preview and default settings modes.
LED charging indicator
LED recording indicator
Memory card slot ( supports MicroSD and MicroSDHC up to 64gb)
WiFi indicator
Settings/WiFi button (press it when in photo/video mode to enter settings, hold it to turn WiFI on or off)
Shutter/OK button (take photos, start/stop recording videos or confirm options inside a menu)
Microphone
HD port for AV output (TV or FPV for quad copters)
USB Port – transferring files to PC/charging/external microphone port
Accessories and different versions
GitUp GIT 1 action camera comes in two versions :
Standard (Priced at 89$)
Pro (Priced at 109$)
The difference between these two versions is in additional accessories. Standard version includes only most basic equipment :
1x camera
1x lens cap
1 x 950mAh Removable Battery
1x USB cable
1x battery
On the other hand, for additional 40$, Pro version offers quite a lot of additional stuff, which if you already own an action camera or some of the gear, might not be necessary for you. GitUp Git 1 Pro packaging includes :
1 x 30M Waterproof Casing
1 x Lens cap
1 x 950mAh Removable Battery
1 x Bike Roll Bar Mount
1 x USB Data Cable
1 x Flat Adhesive Mount
1 x Curved Adhesive Mount
1 x Long Screw
1 x Short Screw
1 x Long Connector
1 x Short Connector
1 x Quick Release Buckle
If you are familiar with action cameras, you probably remember that SJCAM had two versions of their M10 camera. Same thing goes for the Git 1 Standard and Pro. Gear is the only difference.
Everything else, is absolutely the same between the two. Camera, software, interface, the gear is the only thing that makes a difference.
As I mentioned already, in this post I will review the GitUp GIT 1 PRO, but everything else applies to Standard as well.
Besides lots of additional gear that comes in the Git 1 PRO box, there are few additional gadgets that can be purchased separately.
Additional Gear – Microphone, RC watch, AV cable
Microphone, RC watch and an AV cable are being sold separately.
external microphone (priced at around 19$)
RC watch (priced at 29$)
av cable
External microphone
First thing that makes this camera different, is a support of an external microphone. I haven't had a chance to test it, but manufacturer created a nice side by side comparison. Obviously external mic makes huge difference in sound quality. Not everyone needs this though. For musicians or people who want to do voice overs for their videos while riding a bike or hiking it is highly recommended.
>>> Buy external microphone on Amazon – here or on GB where you have free worldwide shipping. (link)
If you already 3.5mm jack MIC, you can buy this adapter, and it should work with this camera as well. There are also lots of other adapters which will suit just fine.
Remote Control Watch
One of the features I absolutely loved is a remote control watch which smoothly allows you to take photos and videos without having to touch camera itself. Watch itself is water-resistant up to 3m underwater.
So, you can not use it while diving, which is a shame, but for surfing and similar activities it is a life-saver. I used it while driving, to take photos and short video samples. It is quite similar to the one SooCoo S60 has, but works much smoother.
It is made out of rubberized materials, where as the strap is some sort of cloth. I really like that the strap is not rubber, as some previous watches caused skin redness, especially when you sweat. This one is quite comfortable to wear.
The range of a RC watch is around 5-7meters. So you can also use it as a remote shutter while camera being on a tripod, or on top of your helmet. For larger distances, you would have to use a WiFi app.
It consists out of 4 simple buttons and allows you most basic functions :
WiFi button (turns WiFi on/off)
Video button (start, stop, switch mode)
Photo button (take photo / switch mode)
Power off (turns off your camera)
Please note that the camera has to be turned on or on standby in order for a RC watch to work. You can not turn camera on via the watch, it has to be done manually. Also you can not do any complex operation, such as change settings or white balance via the watch. Which I do not mind at all.
Retail price of this great piece of gear is 30$. However if you buy a camera from GearBest, for the same retail price of 109$, they also include a RC watch. This way you save 30$ right away. Huge saving, and if you need a watch (who doesn't, its awesome!) you should go get camera on GB. Link here.
>> You can also buy watch separately on Amazon.
All the extra gear can also be found on official GitUp website.
How to pair the Git1 with Remote Control
It is quite easy to pair your camera with a watch. In some cases your camera might be paired right out of the box (mine was). However if your camera does not "listen" to a watch, you have to pair it by following steps below.
Turn on your camera and go to system settings by pressing power button.
Inside system settings find RF Pairing and press shutter button to confirm.
Pairing process has started.
On a RC watch, hold video and photo buttons for 2-3 seconds)

When you see a "RF Pairing success" on your screen, you are good to go.
Video
Camera allows recording in full HD at 30 frames per second. Additionally it offers few other resolutions, which you probably wont use. As you can see, there is no 60 fps in full HD nor 120 fps in some lower resolutions. Which means that slow motioned videos wont look as good.
Video resolutions :
1920 x 1080 – 30 fps
1280 x 960 – 30fps
1280 x 720 -30fps
WVGA: 848 x 480 – 60fps
For most people 30 fps in full HD will be more then enough. Thanks to its Sony sensor, Git1 produces great videos. Low light performance is also decent.
However, if you are looking for a 60 fps camera, you can take a look at Xiaomi Yi or Blackview Hero 1. Xiaomi offers no equipment, but is cheaper then this one. Where as Blackview H1 costs 50% more. The upcoming Git 2 will bring 60 fps video and 2k video, at a higher price tag then this its predecessor however.
Video quality is quite good. It is quite sharp, has great wide-angle and natural looking colors. Con is that it lacks support of 60 fps in 1080p, which is what most of manufacturer are striving for last few months. It creates better video compared to SJ4000, one of the most popular cameras these days, but at the same time it cost a bit more.
I also noticed that wide dynamic range on videos is quite good. Camera will produce sharp footage even of objects that are in distance and in shadow. Quite good feature and I recommend you to have WDR on.
One thing that came along as a problem is that when camera moves fast, there is some sort of smudging or a distortion of objects that are not moving. Its hard to explain, but take a look at this and you will understand what I mean. This usually happens when a camera is inside a waterproof case, but with this camera it happens when the camera is not in a case. I assume it has to do with wide angle lens they are using. In a below video review you will see my entire video review including samples.

Image
While the video quality is quite good, with natural looking colors, and better then most of its competitors, photography is something that Gitup 1 cant be proud of. While the photos are decent for social media, for anything more serious then that.
Advertised image resolutions :
12MP (4032*3024)

10MP (3648*2736)

8MP (3264*2448)

5MP (2592*1944)

3MP
Even though camera allows you to chose up to 12 megapixels of photo quality, the truth is that this sensor supports only 2 mp. Which means that, like many other Chinese action camera, photo resolution is interpolated.
Once you try to zoom the photo, you will realize that this is nowhere near the apparent 12 megapixels. If I would have to compare photo quality, it is quite similar to more expensive SJ4000+ in terms of sharpness.
Colors on photographs are quite good. White balance setup allows you to customize it to incredible matters. Take a look at the first sample image I took. It looks amazing when it comes to colors.

Sound
The overall audio quality is average for a camera in this price range. Git 1 has mono built in microphone inside that captures sound quite OK in terms of volume. On some of my videos I noticed that there is a hiss or some sort of a background noise in my videos.The WiFi was not turned on, so there was no interference. It is just the quality of the mono mic inside is not the best one.
This did not bother me much, as I mostly edit my videos in post production and always add music to them. However if the sound is important to you, you probably should get an external microphone which this camera supports.
Settings
One quite interesting thing about Git1 camera is gives user quite a lot of settings to experiment with. I will talk about user experience at the end, but I will say that I really like how they separated settings. You have 3 different settings :
video settings (when you press setting button while in video mode)
image settings (when you press setting button while in image mode)
system settings (when you press on/off buttons while switching modes)
Even though it seamed to me quite confusing and unnecessary to have 3 different menus just to change settings, I realized that categorization like this makes options changing much faster and logical.
All of these 3 menus offer different options which will be covered in the next few paragraphs. I hope this can help new users to figure out options that camera offers, but also help people who already own a camera by providing brief explanation of each function by giving real-life examples.
Video settings
While you are in a video recording mode (remember, to switch between different modes photo, video, preview and setup, you have to press on/off button rapidly) press settings button to enter video settings.
Loop recording
Loop recording means that the camera continuously records videos in selected intervals (2,3,5,10 minutes) without stopping. Once it reaches 2 minute video, it will stop it and start recording another 2 minute video. As your memory card gets full it will erase the oldest file and overwrite new file over it.  I recommend you to keep this option off, unless you want to use Git1 as a car camera.
Video Time Lapse
Be aware that if you want to have a 30 fps videos, you will need at least 30 images for 1 second of a time lapse video. So for 30 second video, you will need 900 frames. Assuming that you selected 10  fps, means your camera will have to be recording for 900/10=90 minutes.
I was a bit puzzled with these fps options at first, but I managed to figure them out eventually. One thing I believe should be improve in future firmware update is to allow more options for video, at least the same as image time lapse.
Self-timer mode
Taking group photographs can be daunting experience if a camera does not have an automatic self timer. Luckily, Git 1 has it and offers these intervals :
off
5 sec
10 sec
20 sec
30 sec
60 sec
If you select 20 seconds, once you press shutter button, there will be 20 second delay between a click and a camera taking photo. This gives you and your friends enough time to say "cheese".
White Balance
If I could chose one camera that gave me most control over a white balance, it has to be this one. Gitup Git 1 action camera has a wide range of options for those of us who enjoy experimenting white white balance. There is a total of 10 different WB scenes to chose :
Auto
Cloudy
Daylight
Tungsten
Fluorescent
Blue
Light blue
Red
Light Red
Custom
In my experience, auto mode works quite well, and it gives the most natural look. However the setup will certainly depend on the light conditions in which you are recording. In one of the images above, you can see a sunset that I took in Red white balance and it looks fantastic, like the whole sky is burning.
Oh yes, I forgot to clarify what is white balance. It allows you to change warmth of your video according to a scene in which you are recording or taking photos. In case you want to learn more on this, quite important setup for action cameras, you can take a look at this page.
Image below illustrates how a single change in camera menu can give different look and evoke different emotions. Not that these flowers  I photographed in my fathers garden can awake emotion, perhaps if someone accidentally stepped onto them, my father would kick his ass. But imagine a breathtaking scenery or a beautiful portrait instead of these 😛 Bam, you see the emotion white balance can produce? Or at least different warmth of your photo/video.
Exposure and WDR
By setting exposure to different levels, you basically change how bright or dark your video or image looks. This is quite basic explanation. If you would like to learn more about exposure in photography here is a link to Wikipedia.
WDR is quite complex term, but in laymen words ,Wide Dynamic Range (WDR) helps the camera to produce more realistically looking and sharper images in situation where the light and illumination vary excessively.
For instance, while recording you have a situation where one subject is in bright light, where as the objects behind are in shadow. This is good example of different illumination. So, by turning WDR on, camera will record with more details, more contrast. WDR helps sensor to determine more accurately different light intensities and then increase details, or sharpen them in this case.
Plenty of cameras have WDR, but in most of them, it makes zero difference. However, wide dynamic range is quite good. Take a look at the image below. It illustrated how WDR makes huge difference, as more details are visible.
There is also a video comparison with WDR on and off created by Romanian YouTuber TechTronic9000.
Field of view (FOW)
The camera has quite a large field of view. While in most cases this is great, sometimes you might want to reduce the field of view. FOW can easily be changed to a narrow 120°. This also reduces the fish-eye distortion effect. Quite interesting and handy option.
wide angle 170°

narrow angle 120°
Be aware that sharpness of video is slightly better on wield angle. This is because wide view is uses the entire width of the image sensor where as 120° utilizes center part of the sensor. The difference is not huge, but is certainly visible.
Already mentioned TechTronic has also good explanation of these WDR and FOW on this page.
Motion detection and G-sensor
With motion detection turned on, your camera becomes a sort of a home survailance camera. In theory it will start recording as soon as it detect a motion. However this option is not as reliable. So use it only for fun. For safety of your home, you must have specialized cameras. Action cameras are not meant to serve as a surveillance camera.
G-sensor is a dash camera feature. Its main purpose it to start recording as soon as it detect shake. You can set G-sensor sensitivity as from High to low. High means camera will start recording at slightest shock, low does quite opposite.
I have not tested this feature in car, but when trying it out on my head strap, it did not show as a reliable. Sometimes it works, sometimes it does not. Like motion detection, this option is not specific nor useful for true action camera users. But G-sensor can be handy when you want to record traffic, though its not highly reliable according to my amateurish test performed on it. (Sorry I do not like wasting time on features I found useless, blame my laziness for this one 🙂 )
Image settings
Options described above are not all exclusive for video mode. Some of these appear in image settings as well. Since they all do same thing, I will not explain the ones that are overlapping between the two modes.
Here are options that appear only in image mode. Some setups such as exposure, white balance, etc are available for images as well, but I wont bore you by repeating same thing over and over again.
Time lapse (image sequence)
Similar to video time lapse, image time lapse will take photograph in selected interval continuously. So if you chose 5 seconds, camera will take photo each 5th second. Difference between the image and video is that in image mode you get tons of images. This is for people who enjoy creating time lapse videos on their own, in video editing software by merging images.
off
1 sec
2 sec
5 sec
10 sec
30 sec
60 sec
Color
If you are one of those people who like old school effect on their photos, you will certainly use color settings which allows you to change image colors. 3 options are available :
Normal (default)
Black and white
Sepia
System settings
System settings will influence both video and photo mode. These are most basic things that each action camera has.
Languages:
Camera supports multiple languages. The default one is English, but you can easily switch to 9 more languages. By selecting one of the language, your camera menu will transform to the chosen one.
You can chose from :English, French, Spanish, Portuguese, German, Italian, Russian, Chinese (3 types of Mandarin)
Image rotation
If you are mounting Git1 upside down, on a helmet or a windshield on your car, you can rotate the video as well by turning image rotation on. This way, the output video will look normal, even though the camera had been facing the ground.
OSD (On screen display) info
Lots of info appears on the screen while you record video or take a photo. If you find those information distracting, you can turn them off by selecting off in the OSD setup.
Screen auto sleep and auto power off
Since the battery is always a problem for action cameras, having a choice of reducing the battery consumption is handy. With screen auto sleep turned on, your LCD will be in standby mode. This means that it will be idle, but your camera will still record. You can wake it up by pressing shutter button once.
Auto power off, is for oblivious people, who often forget to turn of their devices. If you select 1 minute, your camera will turn off after a minute of inactivity. This does not mean it will turn off while you are recording or browsing through the menu, since it is in active state.
My tip is to keep screen auto sleep at 3, and auto power of at 1 minute. It will save your battery quite a lot.
Car mode
When Car Mode is On the camera will start recording when the car starts up and shutdown when the car is turned off. You will have to connect it with a car charger which is sold separately. By turning this on, and setting loop recording on, you will transform Gitup Git1 Pro to a car camera (dashcamera).
PC Camera
With a current firmware version, Git 1 can not be used as a web camera. Even though Novatek platform support this function, GitUp decided not to implement it.
We did some change for charging procedure and removed the web camera function on GIT1.

For GIT2, we will keep the default setting, so it supports web camera function.
Battery and memory card
Removable 950mAh Lithium-Ion battery powers this camera. Approximate battery life is little less than 2 hours of continuous recording in 1080p 30 fps. This means that battery will approximately last for 100-120 minutes if you record continuous video, without turning it on/off, while the WiFi remains turned off. You can get a little bit more of time if you turn on screen sleep.
Battery life is far from perfect, but at the same time is slightly better then some of the competitors. For instance all SJCAM cameras are powered by 900 mAh batteries. I have tried to fit a battery from my SJ4000 and it fits perfectly as well.
There is also comparison of SJ4000 vs Git1 Battery here (done by GitUp, so its not quite independent, though there is no real reason not to believe the research, since its a common sense conclusion after all).
According to manufacturer, camera can record 126 minutes with a screen turned off and 10 minutes less, 116 when the LCD is on.
Problem with battery back cover
After I initially received this camera from a manufacturer, I had a huge problem with it. It appears that GitUp somehow "forgot" to put some sort of a support on the battery back cover, which caused battery to wiggle. A lot. This wiggling meant- constant turning off on the slightest shake. I immediately informed customer support, and was assured that this quality controlled issue is of course by mistake, and that they were aware of it already.
I was told that this problem happened only on cameras sent to initial beta testers and reviewers. While I really can not confirm if this is a true or not, but there is no reason not to trust to their support, since they were quite opened from start.
If you already bought a camera and have troubles with its accidental turning off, put some sort of foam or tiny piece of sponge, cloth or even plastic to stop battery from wiggling. Additionally if you have this problem, please post it in the comment section bellow, I would like to know if anyone else has this sort of issues.
For an action camera that moves constantly, this is quite a serious issue. Luckily its quite easily fixable once you reveal the cause of sudden turning off.
Camera supports up to 64GB MicroSD memory card. I have only tried a few of them, all of them  worked. Both of my Sony 16gb and 64gb worked, as well as Samsung EVO 16gb. All of them are class 10 cards, which is something I always recommend. Again, compared to some cameras in similar price range, it offers double the storage space, which is quite neat.
User Interface and navigation
If you asked me to pick one thing about this little cam that I never expected to be so good its the user interface and navigation, without any doubt. Having tested tens of Chinese cameras, I am used to all sorts of bugs, idiotic setups and frustrating UI.
This camera is everything but that. Its navigation is fast, smooth and easy. At the same time, its much different compared to other action cameras I tested. Differentiation is something I love.
In my opinion software developers did a great job, and I cant wait too see in which direction will their WiFi apps and menus go in future. The only physical thing that lacked are navigational arrows. Mostly because of a digital zoom and faster navigation through the menu.
Even though I never use digital zoom on any camera, because its crap, there are people who like to zoom things. So they will not find this camera as a good choice for zooming.
On the other hand, I quickly got used to a fact that navigation is different, yet simple.
Once again, to enter video or photo mode setup, press Settings/WiFi button on the side. (#7 on button illustration image above). To cycle around the settings you should press power button on the front. (#2).
To change different options within a setting you use the shutter button on the top  (#8).
WiFi App
This camera has its own built in WiFi. With it, you can connect to your mobile device or tablet and take full remote control over it. Action camera apps usually allow you to download photos and videos directly to your phone.
However, at the time of writing, Git1 is on the market, but its WiFi app is not ready yet. On one hand, I am quite disappointed that manufacturer released the WiFi camera without the app. On the other hand, I understand that they are new company to the market and that it takes time to make everything work.
Until their app is ready, GitUp suggest users to use alternative one which is called Final Cam.
Since the app has not been launched yet, I will not review the alternative one, as it makes no sense to me. I was informed that both iOS and Android application should be available somewhere in October, which indeed is quite a lot. Hopefully they will keep their promise and finish it on time. Lets hope other consumers are as patient as I am.
Customer support
Unlike many other Chinese brands (not only one related to action cameras) that have bad support, the customer relationship form the GitUp guys have been great in my case. Perhaps because they know I will be writing a review on their camera? 🙂 Well I tried with a different email address and a fake name, and got a reply equally fast.
Their team is quite helpful and replies within few hours. They were not bothered to reply multiple questions that I had either. I also appreciate them being honest about 2 megapixel sensor, though it would have been better that it is put somewhere on the manual at least.
I also noticed that Bill from their customer support is quite active on few forums. He replies to customer questions about other cameras as well. Of course, this helps them spread awareness of their brand, but its also nice for people who need help.
Also some of their support team also replied to few questions about other products on this site, which I really liked. Replies were quite professional and never revealed their brand though. You have to appreciate this kind of support.
They obviously want to find out what their potential customers need. Lets hope that as the brand becomes popular and volumes of emails increase, they will manage to keep this level of customer support.
Where to buy Gitup Git 1 camera?
Summary
For a new brand, trying to break through the competitive market, GitUp did quite good job. In my experience of using this camera for a few weeks, I haven't encountered any software problems. Videos recorded are quite sharp and colors are natural looking as well. Camera has Sony Sensor which gives decent results even when facing direct sunlight and in low-light condition.
Camera comes neatly packed and with bunch of gear. Even though lens cap is quite cheap piece of gear,  it is very useful and I really loved it. Optional accessories show how serious this company is. I found RC watch absolutely amazing. It allowed me to create bunch of photos on a go, as well as the videos.I like that it enables recording videos and taking photos while being charged and also allows shooting photos while recording videos at the same time.
I like tons of options that camera offers, especially the white balance, which offers insane amount of scenes to chose from. Support of an external microphone is also great addition and will be huge thing for guys who need good audio solution, provided that they buy good microphone. User navigation is absolute breeze. Customer support is responding quite fast via email. I also like the fact that their team is active on forums ,which shows their willingness to research the market and have actual conversations with customers and better understand our needs.
However, there are few cons that come along with GitUp Git 1 camera. I will not be as strict as usual on some matters, since I understand they are new to the market, however I will stress out all cons, as always straightforward.
Sound volume is quite good, where as the quality is pretty average and can not be considered great. There is a some sort of hiss that camera will pick up due to the quality of mono microphone. Luckily you can always use external microphone to boost your sound significantly.
When it comes to video, I have two objections. Considering the price of the camera, it would be great if they managed to squeeze 60 frames per second video. Especially because some companies have that option for a little more or little less. But its not a huge deal.
Bigger issue with video is that sometimes camera struggled with an exposure, which happened with few other cameras I tested. Also when camera is moving fast, objects which are not moving look a bit stretched and smudged until the movement stops.
Photo quality is decent but could be a lot better good. Camera has 2 megapixels which makes image sharpness an issue. Even though for any sort of web sharing or social media it wont be a huge issue, for printing on a larger formats it might be a  huge bummer.
Lastly, I had an issue with battery which wiggled and I hope this wont happened to anyone else, as the manufacturer assured me. Also the WiFi app has not been finished at the time of writing this review, which is certainly not good, even though they have an alternative one until the official one is ready.
To sum up, I must say I am very pleasantly surprised with GitUp Git 1 camera. I think it provides good value for the money  (especially if you buy it with a RC watch packet). GitUp showed how serious they are about their products and customers as well. With its pros and cons, camera justifies the price tag. Now that their first product is good, criteria from reviewers and consumers will certainly lift, for the upcoming Git 2, which will bring new features, but will also cost more.
Your questions and experience
I hope this review was of some help to you. I assure you that even though product was supplied by manufacturer, it was written completely independently and without anyone (except my parrot) influencing my opinion.
If you have any sort of question, concern or you just want to share your experience with this camera, please feel free to post a comment below. I reply to each and every question as soon as I possibly can, and so do other readers as well.
Happy recording.