With an increasing popularity of cheap sports cameras together with 4K videos, it was logical to expect affordable action 4K cam to appear on the market to compete with bigger brands such as Sony and GoPro.
Hawkeye Firefly 6S is an alleged 4k video recording WiFi camera that can capture 12 megapixels still images and videos in wide variety of resolutions. More over, it has a gyro video stabilization and 1600 mAh battery. It is made by a CNFPV, an aerial photography and equipment manufacturer from Shenzhen in China.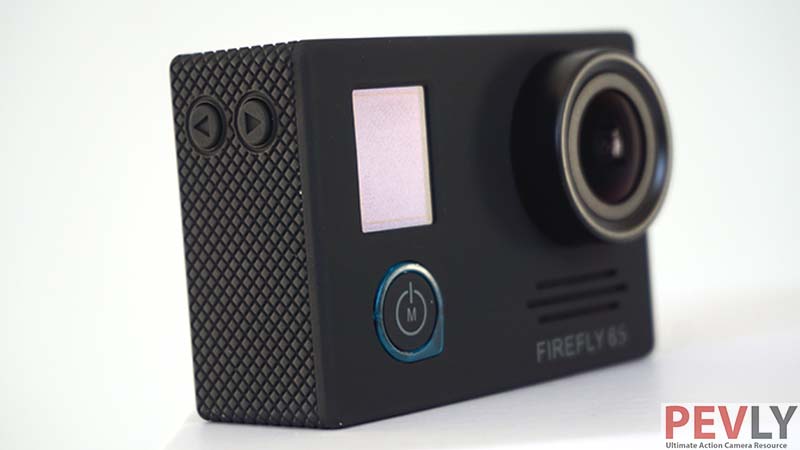 6S is a successor of a Firefly 5S from the same Hawk-eye series. Physically there is no difference between two models. The only thing that 6S has is Gyro sensor stabilization and alleged 4k video recording compared to its predecessor.
Camera official retail price was originally around 140-150$, but it seems to be decreased and can be bought for little over 100$. With that price you certainly wonder does this all sounds too good to be truth?
Note : Firefly 6S seems to be on sale now on GB | Link to promotion |
This is where I step in to help.
I have been testing Hawkeye 6s for 3 weeks now on regular basis. In this article, I will try to provide you with an honest review and as much info as possible. The goal is to dive deep into its performance and show all of its pros and cons.
Finally, I will do extensive video, photography, sound and battery tests that will hopefully help you decide if a Firefly 6S is good enough to be your first or the next action cam.
Firefly 6S – Technical specification
Lets take a look at the official specifications. Please note that I have added a bit more information compared to official specs you can find online.
Novatek 96660

Sony IMX078cqk 12mp CMOS

140 degree wide angle
Focal Length 3.0 mm
Aperture 1.8

5.9 x 4.1 x 2.1 cm
2.32 x 1.61 x 0.83 inches

0.65inch LCD (front)

12 megapixels

2880 x 2160- 24fps
2.5k - 30fps
1080p - 30/60 fps


H.264

MP4

JPEG

64GB

1600mah

USB Mini 2, HDMI

0.5/3/5/10 seconds

11 fps
Packaging
Box in which camera is packed is no different than any other action cam. What is interesting that nowhere on the box will you see 6S or Firefly branding. As you can see in the image below, manufacturer pride themselves with 4K, WiFi, 30m waterproofs and large capacity battery. I will talk about all of those features in just a moment.
Let's open the box
Once opened, besides tiny-shaped black action camera, box contains lots of accessories. Some of them are useful, some are not. Here is what you will get :
1x Firefly 6S camera
1x waterproof housing
1x 1600 mAh battery
1x clip
1x J shaped mount
1x lens cap
1x bracket
1x usb cable
1x bike/pole mount
2x adhesive base (flat and curved)
2x 3m adhesive tape
1x wire
3x plastic tie
1x cleaning cloth
3x bandage
1x manual
1x flat base mount
1x adapter
3x screws and adapter
Somewhere on the web I found information that some online stores send you a cable for FPV as a bonus, but I was unable to find which stores do that. Anyway, its quite cheap piece, so I guess unless you need cable for flying a drone, you will not worry much about it. Of course it can be bought separately for few bucks only.
The manual is brief, but quite good. It is probably one of the best manual for Chinese sports camera I read. It is written in a simple language and provided clear instructions about features. I like the amount of info it covers. It goes quite deep and explains each icon and symbol that appears on the screen. It is in English and Chinese.
One interesting thing about the manual is that it also has an instruction on how to "USB/AV cable" and "Remotely control camera to take photos and videos". Even though its very nice of them to illustrate how to do this, it would be better if they explained how to do it and added more information.  This way it made me feel confused and it seamed unfinished and incomplete. From what I was able to understand from those photos the last pages is for people who fly multi rotors (drones) and need FPV.
Furthermore image of accessories in the manual does not show all accessories that you get inside the box, which was a bit funny.
Beside all other standard gear that comes with every Chinese camera, I liked the lens cap. It was  a nice silicone protector for the lens and quite handy little piece.
Camera comes with up to 30m waterproof housing. Please understand that I haven't done any underwater tests with 6S due to the weather here. So if you are reading this and you used it underwater, please leave a comment and let us know your experience.
Design and built quality
Hawkeye 6S is a true mixture of 3 popular cameras : Xiaomi Yi, SJ4000 by SJCAM and Amk500s. As soon as I pulled it out of the box, similarities were obvious. On the front it looks quite similar to 5000s, its back reminds of YI, where as the side of the camera and rubberized edges are exactly the same as SJCAM's most popular camera – SJ4000.
The advantage of Firefly 6S is that they combined best from three worlds and managed to bridge the gap between SJ4000 and YI  by adding a tiny 0.65″ screen on the front side of the camera. It appears to be using the same or identical lens to Xiaomi's camera, though I was unable to get such confirmation.
When it comes to built quality, it is better made and more compact compared to SJ4000, but not as firm as Xiaomi YI, not to mention Dazzne P3 or Git 1.
Camera is made out of plastic materials and its quite lightweight. Clean design with no silly branding and colors is something I found quite appealing. It is produced in two colors black and silver. I prefer if the ports for USB and HDMI as well as memory card had a cover. It would not only look way better, but also prevent dust from getting into the camera.
Memory card slot at the bottom is an interesting solution. However I noticed that when the camera is placed on the ground, the dirt and dust easily get into a slot, which requires some proper cleaning after that.
Buttons and ports
Here is an overview of all buttons, ports and slot that camera has with brief information about function of each.
Shutter / OK button – for taking photos and videos and confirming options inside menu
LED indicator
Screen (3a – Mode, 3b – Resolution, 3c- amount of photos/videos left, 3d – battery, 3e- angle)
Power On-Off / Mode – for turning off the camera and switch from photo and video modes
Charging indicator
Lens
HDMI  port
USB/AV port
Down navigational button
WiFi / Up navigational button
Battery compartment
Memory card slot
Video quality
What I really like about this little action cam is the variety of resolutions you can use to record your videos :
"4k" * – 24fps (2880 x 2160) – interpolated
2.5k – 30fps (2540 x 1440)
1080p – 30/60 fps
720p – 120 fps
VGA 640 x 480 – 30 fps
I uploaded RAW video samples taken with this camera. You can download and preview them on your own PC. Here is the link to samples.
I recorded all my videos (except for samples) in 1080p 60 fps and 30 fps. For me those resolution fulfill my needs perfectly.
*Please read next paragraph if you are interested in 4K on this camera.
I should mention that while recording, there is no recording indicator at the back. There is no sound indicator either. That is why it is quite hard to know if you successfully started/stopped recording. You always need to take a look at a top LED surrounding shutter button to be 100% sure. Of course, after few days of practice I got used to it.
Here are few frames extracted from the video, but for best experience, download samples.
As you see, in low-light it works okay, but certainly not perfect. Objects in distance are a bit blurry, but compared to others I have, its quite average.
4K action camera?
First thing everyone wants to know – Can this camera really record in 4K at 24 frames per second?
No it can not. No, I am not joking. I am dead serious.
While camera can create movies in various resolutions, the 4K res that is listed in the menu is not actual 4k. I know, I caught you off-guard, but let me elaborate on it.
So called "4K" resolution that Firefly 6S has is 2880 x 2160.  The actual resolution of UHD 4K is 3840 × 2160. This means that vertically the camera has same amount of pixels as any 4K video, but horizontally it has 960 pixels less. So it is not a true 4K. Bummer.
Also because Firefly managed somehow to trick some players such as QuickTime, if  you are viewing video in QuickTime and check properties, it will say 3840 × 2160, but its not the actual resolution.
This is a common practice Chinese manufacturers do. A year ago, they all wanted to boost "image resolution". So we had cameras like SJ4000, SooCoo C10, SJ4000+ claiming they can shoot 12 megapixels photos with 3-4 megapixel image sensor.
4K is a new trend, so they are playing the same song over again trying to trick people, which is unbelievable. Firefly is not the only one, there are literary tens of brands pushing "4k action cameras" right now as you read this article.
It is unacceptable and deceptive. If you need a 4K action camera, you can take a look at Sony FDR-X1000V/W or GoPro Hero 4 Black. Be aware that these cameras are several times more expensive. Just think twice if 4K is something you really need, or you just heard about it and want it, even though you have no idea what it does.
Unless you really know what 4K is and you really need it, you will be more than good with full HD videos at 1080p 30/60. My opinion is that 4K is overrated anyway, it will be soon replaced by something new, like 8K and so on. In reality on a normal monitor we all have at our home, you will not see a difference between 1080 and 2160 pixels.
I nearly forgot to tell you that some default video players such as Windows Media player might not be able to play "4K" videos from 6S due to resolution interpolation. You can use VLC player for Windows instead. Its great player that I use, and its free.
2.5k (2540 x 1440) is true resolution and it can record at 30 frames per second.
Gyro Stabilization
Gyro stabilization is a built in hardware part that stabilizes the video. It is quite unclear to me how it works, but it basically reduces the field of view (angle) and difference is certainly obvious when Gyro is on.
My Hawkeye 6S action cam arrived with 2.1 firmware*. After I tested it, I realized that when Gyro was on, camera video looked choppy and shaky. I then updated to 2.2 which was the newest firmware at the time. Video stabilization improved significantly after the update . It works quite similar to SJ4000+ Gyro.
**Please check update firmware paragraph if you would like to update your camera.
Photo quality
Firefly 6S has a 12 megapixels image sensor that allows camera to take 12mp still photos.
In terms of sharpness and colors, camera is above average Chinese cheap GoPro clone. 6S captures images in true 12 megapixels resolution. Even though official specification and even camera setup claim image size to be 16MP, this is incorrect.
I already mentioned that camera has Sony's IMX078CQK image sensor. When you look at the sensors specs you will see that it is capable of shooting images in 12.40M-effective pixels (4072H×3044V).
So the actual photo resolution that Firefly 6S has is 12 megapixels.
"Why everyone else say its 16 mp?"
They are not interested to dive deep into hardware that camera has.
They copy/paste what manufacturers say.
Camera sells better if its 16mp compared to 12mp.
"But when I take a look at my photo exif data it says resolution is 4608x 3456?"
Exactly. This means that photograph resolution that Firefly 6S shoots is interpolated. It is just up-scaled, rasterized to 16 megapixels size, but in reality its 12 megapixels image.
Same thing they did with a 4k video.
This does not mean the photos are bad. Quite opposite. I am satisfied with their sharpness. Colors are okay, but I would prefer if they were a bit more lively and vibrant. Besides colors, my biggest concern was the exposure struggle that camera has when facing a bright sunlight in a background. Something like this is fixable in firmware updates, and lets hope manufacturer will improve the way exposure is adjusted soon.
Next image is an example how camera handles exposure by overexposing sky most of the times. WDR was off, as recommended by manufacturer. The good thing is that the subject in this situation looks perfectly fine.
When facing direct sunlight 6S behaves quite well. Its lens gives interesting flare effect which I like, though its a personal preference.
A fellow reviewer of mine, also uploaded great samples over at Dashcam forum, if interested you can check it out here.
Firefly 6S Settings
Besides video and photo modes, there is also a settings mode. It allows you to browse through different options camera has and adjust them to fit your needs. Beside standard options such as format, data stamp, factory defaults, which are quite self-explanatory, I will not clarify you all features that camera has.
Timelapse
Camera allows you to shot video time-lapse, if you are into time-lapse photography.
Cycle recording
When enabled, cycling mode (also known as loop recording) will cut video in 5 minute segments. This means that if you record for 30 minutes, you will have 6 x 5minute videos. When memory card gets full with this feature turned on, it will automatically erase videos, overlapping one another, starting with earliest recorded.
Usually this option is used for people who use action cameras in their car, as a dashcam for recording traffic.
USB Power Up Auto-record
Turning this function will enable 6S to start recording as soon as the camera gets plugged into USB power source. This is something people who use cameras for aerial photography will find handy for their multi-rotors (drones).
Wide Dynamic Range (WDR)
WDR is a handy feature which should help camera distinguish more details in different low light/shadow situation, where subject of photograph can be in shadow and other in light.
In the manual, manufacturer suggests that WDR should be turned on only in dark or cloudy environment, as it might cause overexposure in a sunny day.
Burst
For sports photography and in situation where you want to capture something moving quite fast, you can use burst mode. After enabling it, your camera will take 11 photos on a single shutter click.
Continuous photo
Even though it might sound similar to burst, it is not. Difference between Continuous and burst mode, is that continuous photo takes 1 photo in a selected interval (3/5/10/30 seconds). This is used for time lapse photo mode, if you prefer creating your own time-lapse videos inside video editing software.
ISO
ISO controls the amount of light that goes through your sensor. The darker the environment, the higher ISO should be used. Sometimes higher ISO can bring more noise to your photo. In normal, daylight situation, you can set low ISO (100), where as at night you can boost it up to 1600.
If you do not want to be bothered with adjusting it manually, just select "auto" and camera will do pretty good job recognizing ISO level itself.
Sharpness
When recording a video, manufacturer suggest that we use medium sharpness. For close-up images, low is something you should enable.  You should also use low sharpness at night, where as high can be used for normal daylight images.
Color
The reason why there is a color adjustment is simple. by allowing advanced users to chose from more neutral and vibrant colors of photos and videos, you give them more creative freedom for post-production.
If you are just a regular user, I recommend that you use vivid colors. Standard color give more bleached out effect, because its easier to boost more neutral colors inside the software.
Image below depicts differences when vivid or standard is selected.
In order to show you exactly how color-correction can boost your images, I quickly shoot this image in standard mode. My goal was to have more neutral looking colors. Then, in Photoshop CS6, I reduced exposure just slightly, boosted vibrant and saturation and auto-toned an image. Here is my result.
My conclusion is that even vivid colors are not as "vivid" as they should be. It would be great if somehow they added a bit more vibrancy in photos, similar to what I did in an image above.
Angle Adjustment / Remove fish-eye
Although it might seam obvious to people who have action camera already, 6S, like any other sports cam out there has a fixed focus wide-angle lens, which allows large field of view. At the same time this creates a barrel roll distortion (fish eye effect) which causes objects in the corners to look misshaped in some cases. This is not a defect, its just the way wide angle lenses work.
This can be irritating, especially to newbies, that is why its cool that there is an option to adjust from wide to narrow angle which will alleviate the distortion. There are two field of view adjustments :
Large (wide angle)
Medium (narrow angle)
At the same time, there is a separate option called "remove fish-eye". It works absolutely the same, and in my opinion it is redundant.
I would like to explain how these angle adjustments work. They do not do magic. Camera simply crops the angle of  view. This can cause your outputs, especially the photos to loose their quality. This is because cropped image is then rasterized and scaled to fit original image resolution.
My advice, if fish-eye really bothers you, go ahead and use this option. However if you got used to it after a while, just do not use it as it might cause slight quality drop in photos and videos. Personally I am not bothered with this at all.
WiFi and an App
Firefly 6S has a built in WiFi, which means you can use camera together with your mobile device and operate it remotely from the iOs or Android. First struggle I had is to find an official app, as by typing Firefly brought all sorts of results.
To save you the trouble, Android app can be found on this link, where as the iOs can be found here.
The Firefly app is quite buggy on Android where I tested it. It is identical to Dazzne App design-wise. While the interface is quite simple, the functionality is buggy. App is quite to use. When trying to preview video, there is huge lag, which makes it impossible to follow what you are recording on your phone.
Options inside the app are quite modest. You can only change photo and video resolution, turn cycling recording on or off, and format the camera. At the time of writing this review app is one of the weakest things, and certainly one of a buggiest camera app I used. It requires lots of work and updates make to be usable. Inside the app, you can chose photo resolution of maximum 12 mp, an you can not choose resolutions such as 2.5 or "4k".
Overall, quite poorly made app. If one of the priorities of yours are controlling camera via the phone and transferring footage to your phone directly from the camera, you should look for some other action camera.
Firefly 6S battery
With 1600 mAh lithium-ion battery powering 6S and the fact there is no huge LCD I expected much better battery performance. In my tests in 1080p 60 frmes per second, I managed to get little over 80 minutes. Not bad comparing to some other cameras.
Here are full results of battery performance test :
2880 x 2160 x 24 fps – 71.24 min
2540 x 1440 x 30 fps – 78 min
1920 x 1080 x 60 fps – 83 min
1920 x 1080 x 30 fps – 88 min
Results made me think about how manufacturer optimized battery performance. It is unthinkable that Dazzne P3 with 2 inch screen at the back,turned on all the time and powered with weaker (at least on the paper) 1000 mAh battery gives 81 minutes of battery life.
Where as the 6S,with 1600 mAh battery and tiny LCD gives only 83.
In my opinion, either they are using really poor battery or the camera needs to be better optimized. According to the size of the battery I really doubt that capacity is fake. Seems legit to me. But appears not to be using its full potential.
Storage
Firefly 6S supports up to 64GB memory cards. I tested it with Sony 16 and 64GB microSDXC Class 10 and Samsung 16GB Evo and those cards worked just fine. There is no internal storage, so you will need a memory card in order to record and take photos.
I mentioned already that when updating firmware, action cam will not accept 64gb cards, so you will need smaller capacity ones such as 8,4,2 GB in order to update the software.
Firmware update
Before you start updating the firmware, you should know that it will only work if you have up to 16gb or less capacity memory card. I was trying to update mine on 64gb and it did not work. Manufacturer warns about this on their site.
Make sure your battery is over 50%.
Format memory card in your camera (Settings>Format>OK)
If you have a memory card reader :
Pull the card out of the camera
Put it into memory card reader
Copy downloaded .bin file onto memory card.
Pull out card from reader.
Insert card into your camera.
Turn the camera on and wait for it to upgrade.
While upgrading camera will flash blue slower. As it gets to the end it will blink faster and faster.
If you did everything correctly, 6s will restart itself. Before turning it OFF, make sure to format the card and delete .bin file otherwise the process will repeat all over again.
If you do not have memory card reader repeat these same steps with the card being into the camera.
Customer Support
As in all of my reviews, I like to test the waters when it comes to customer service manufacturer offers. I never really had serious issue with the 6S, but I got in touch with manufacturer asking about how 4K resolution works. I got honest reply that its interpolated. It was quite brief explanation, but satisfactory.
Than, I used another email address and pretended I have an issue with the camera. Guess what? They never replied back.
In my third email asking about a link to the iOs app, I got a very unprofessional reply :
type FIREFLY in app store
Literary, not even a "Hi" or anything treating me like a complete idiot.
I insisted on getting a reply, and they sent me the link in next email.
My experience with a customer support is poor. 2/3 emails got a reply. 2/3 actually solved my issue.
What bothered me the most is the way communication went. Obviously they showed no respect towards me as a customer, and there is no excuse for that. Sad thing is that 2/3 is not that bad. I had worse issues with Chinese manufacturers.
Summary
For little over 100$ Firefly 6S is quite a decent camera. It provides very sharp video and above average photo quality.
Colors on photo and video are natural-looking, though it would be good if they were a bit more vivid.
I like the way manual was made, and enjoyed having a lens cap as a protective piece for my lens. Accessories included with the camera are quite standard, but handy to have.
It is a huge plus that there is a video stabilization which works very well.
By looking at the packing it is obvious that main selling points for the camera were large-capacity battery and of course, 4K video.
Manufacturer failed to deliver what was promised on the packing:
4K video (not true 4k)
16 megapixels photos (actually 12 mp)
Extended battery performance (nothing special)
My biggest disappointment was 4K. Camera is being advertised as a 4K, Ultra HD video recording device. In reality it does not record in true 4K resolution. Actual resolution is 960 pixels lower compared to real 4K. Even though some video players might recognize videos as 3840 × 2160, most of them will show 2880×2160. As a customer if on a package I see 4K, than I bloody expect to get 4K. Disrespectful, shameful and deceptive way of advertising.
Camera battery life is decent, but no better then other action cameras I tested. I expected "larger capacity" to deliver more recording time, especially because there is no large LCD to consume battery power.
With recording time of around 80 minutes, I really wondered if these guys know what a large capacity means.
One more disadvantage is a lack of LCD display, which might make things harder for beginners. I also think that for quad-copters, this is very good camera, as it has FPV function, and USB auto start-up recording. I have seen plenty of aerial photography guys posting videos, and seems to me they are satisfied with it.
In conclusion, 6S provides good value for the money, provided you can get it for around 110-120$.
Since this is their second camera, I will try to say this politely as I can.
Dear CPFPV, next time if you make fake promises about your products people can sue you. You are spitting on your  brand by failing to deliver what you promised on the box.
You could have easily left out 4K and better battery performance as your sale-pitch and you would still have product worth buying. Now you have great camera that is a not good as it sounds. Its full of false promises. Its a a great-deceptive camera.  People who want 4k videos are not stupid, they will realize  that you are deceiving them. Next time they will not buy your product.
Where to buy Firefly 6S Hawkeye camera?
Here are few places where you can get this camera at quite affordable prices. Prices are different depending on the strore, as some have occasional promotions, so make sure to check all to find a best deal.
Your questions / 6S owners
I hope this article helped you decide if 6S is the right camera for you. I did my best to show you how it works and what are its pros and cons.
If you have any question about the camera, feel free to leave a comment. Be aware that camera has been released recently and it is possible that software will bring some improvements in future. When that happens, I will update the review.
Do you own Fiferly 6S? What is your opinion on it?
Let me know, I would love to hear back from you.
Firefly 6S
Video Quality - 82%
Photography Quaility - 78%
Price - 75%
Value for the money - 81%
User Experience - 75%
App - 40%
Customer Support - 65%
Built Quality - 70%
71
%
Sneaky and tricky, but works well.
Firefly 6S is good camera with great video and photo quality. Colors of the outputs should be a bit more vivid. 4K video is interpolated and not true 4k resolution, big bummer. User navigation is smooth, but WiFi app is terrible and buggy. Battery life is average, and not "extended" as manufacturer advertised it.