After the first 360° camera I reviewed, the Cube 360, I have a similar camera to review, the Elephone EleCam 360. This time there are two lenses for a real 360° immersion and at quite a low price. Recording with this camera allows you to view a genuine VR (Virtual Reality).  I myself didn't believe that these kinds of cameras could work that great.
Let's see it in 360°!
Specifications
The EleCam 360 is a new 360° camera.  The dimensions aren't the smallest on the market at (L x W x H): 6.00 x 4.90 x 3.20 cm / 2.36 x 1.93 x 1.26 inches. With it's two giant eyes the camera can shoot two videos at the same time with 220° x 220°.
Chipset (Processor)

Image sensor

Lens

F-Number (maximum aperture)

Weight

Size

Screen

Max image resolution

Video resolution

Video compression format

Image format

Memory

Battery

Microphone

WiFi

Connection

External Mic

Video Stabilization
Elecam 360°

CPU SPCA6350M (Manufacturer iCatch)


OV4689 *2®
4 Mexapixels CMOS

220° wide-angle lens

F2.0

Weight :107g / 3.77 oz


(L x W x H)
6.00 x 4.90 x 3.20 cm
2.36 x 1.93 x 1.26 inches


0,92", 128*64
LCD screen

3008x1504

1920*960P @30FPS

H.264

Image format : JPEG

32GB

1500mAh (non-removable)

Built-in Microphone


Built-in WiFi

USB, HDMI
Box and Accessories
The box is well made and seems very resistant to damage. In it you'll find two other boxes, one for the camera and one for the accessories, and in general it's well organized. In the boxes you'll find:
1x EleCam 360
1x USB cable
1x Bicycle mount
1x Universal mount
1x Screw mount
1x M3 sticker
1x Manual
1x Reset Key
An articulated tripod and a 32Gb Elephone-branded SDcard were also sent with the camera because it was pre-ordered between 8 and 20 June as you can see in this photo:
Deal : You can buy the EleCam ELE  360° on GearBest and get a free 32GB memory card. Here's the link.
This is the tripod:
The quality of the Elephone accessories is incredibly high.  They have metal supports to offer better stability and every accessory is fully adjustable to ensure the camera is in the position you want. Only the generic tripod is quite cheap.  It's articulated so it could be quite useful but it's very light. The main problem was that when I opened the box I found it broken because it was not included in a box but was simply loose in the plastic bag, obviously unprotected from impacts during delivery.
Unboxing
If you want to see how the box and accessories look, see this unboxing video:
Camera Design
The first thing you notice are the two giant eyes, one on the back and one on the front.  Let me tell you now to prepare yourself for a struggle.
If you have problems with the law then don't buy this camera: it could be dangerous because you'll leave fingerprints all over the lenses!
Part of the problem is that the camera has a very simple design composed of three buttons with a screen on the top; the SDcard slot and the USB on the side; and the screw mount underneath.
Lens 1
Recording LED
Recording/Select button
Reset button
Screen
WiFi LED
WiFi/Menu/Scroll down button
Power/Mode button
Charge/power LED
Lens 2
SDcard slot
Micro-USB port
Mic
Screw mount (under)
The screen looks like this:
Mode
Arrow that indicates the front lens but it's absolutely useless because both of them work in the same way
Battery status
Time
Date
Memory count down/Recording Timer or Photo count
The EleCam 360 seems well built.  The buttons make a great mechanical "click" together with an easily audible "beep".  It also beeps when you scroll the menu, turn on the WiFi or shoot a photo.  Inexplicably it doesn't beep when you start a recording and I really don't know why. It's very frustrating be forced to look to the LED's or the screen. I hope they fix this problem in the next firmware upgrade.
Another problem is how to transport it without damaging the lenses. It's already difficult learn how to not touch them.  Bringing it with you on a walk for example is simply madness.  Elephone should include something like a soft bag with the accessories. However, in general it's a well made camera.  The rubber door for the SDcard and the micro-USB port it quite solid.
Let me warn you that this camera is NOT waterproof – don't try to put it in water.
Menu and Navigation
The EleCam 360 has only one resolution for each mode so the menu has only the minimum settings necessary.

Power Save – Automatic screen shut-down (Off/1min/3min/5min)
Date & Time – Adjust Date and Time
Language – English/Chinese/Franch/Spanish/Italian/Portugese/German/Polish/Russian
Factory Reset – Reset the camera (Yes/No)
System – System information and Card information
Format – Format the SD card
An interesting menu feature is the System section. In it you can find information about the System and the memory card. Obviously the System information includes the name of the camera and the version of the firmware but the nice feature is the Card information.  It shows the class of the SD card, it's full memory size and the free memory space.  This allows you to check the real status of the memory without using a computer.  I think this is one of the more useful things I've ever seen on an action camera.
Navigation is very easy.  The power button is used to switch between video and photo modes just by pressing and releasing it.  Pressing and releasing the WiFi button turns the WiFi on or off but if you press and hold it for 3 seconds it opens the menu.  It's also used to scroll down through the menu.  The third button, the recording button, is used for making menu selections.  To exit the menu you must press and hold the WiFi button for 3 seconds.
Video Quality
The video quality is quite good for this kind of camera but don't expect the quality of a normal camera.  The resolution doesn't reach Full HD and the angle is very wide so details aren't that good over the entire FOV.  It has quite a good bitrate, 12.000kbps, for a 360° camera but don't expect anything special.  It's like seeing videos at 360p on YouTube. To make a 360° cameras as good as a normal action cam it would need to have a huge bitrate and resolution, but to have these features would cost more than 130€ ($145/£111). However, the camera does have great colors and allows you to shoot incredible videos or photos of everything around you. It's also amazing how it can see things positioned above and below the camera.
The difference in the light between the two lens is managed extremely well.  The only slow thing is the light adaptation which takes a couple of seconds.  Another thing: it's not a real action camera because it's best when it stays still and not when it's in motion.  With VR (virtual reality) you risk feeling a sense of nausea. Here are two perfect examples:
Another good point is the great exposure in dark conditions. The Elecam 360 is probably the best camera I've ever tested in the dark. It manages to capture all the lights and all the illuminated objects perfectly though with some evident video noise that diminishes video quality.  You can see it in this video.
I also tried to mount it on my backpack to make a sort of third person view and this is the result:
As always YouTube makes everything looks worse so download the videos from here and see the original using your own software.
Photo Quality
The photos have the same positives and negatives as videos. It has a resolution of 3008 x 1504 pixels so it's not super wide and the details aren't good.  It's out of the question to try to zoom.  The colors are great: vivid and bright, they're a perfect match with real colors.
[phpzon keywords="Elephone Elecam 360″ num="4″ country="US" trackingid="pevly0d-20″ templatename="columns" columns="4″]
This is a photo made on the top of a mountain:
Preview this 360 degrees image on Facebook.
As you can see the perspective is absolutely insane but the details are very poor.  I also made a photo inside a store:
Preview this360 degrees image on Facebook.
As you can see the colors are awesome.
Audio Quality
The EleCam 360 has an unexpectedly good microphone.  Usually this kind of camera doesn't have good audio quality but it's not like those other cameras. The volume is not that high but the quality is good.  It captures high frequencies very well while the lowest ones are a little bit poor but I don't think you buy this kind of camera to record a concert and expect super audio quality.
These are my classic three tests with the car stereo set 10, 20 and 30 volume:
Battery and Memory
The EleCam 360 has good battery life like all cameras without a huge screen but this one has double lenses so the processor must work more than normal. The result of the battery test is:
1920x960p @30FPS – 110 Minutes (8.36Gb)
Recharging Time – 270 Minutes (4 Hours and 30 minutes!!!!)
As you can see the recharging time is absolutely ridiculous.  I don't know why it's that slow. If you don't use the camera while it's recharging then it's a waste of money to buy a 32Gb SD card because with the entire duration of the battery you can only record a maximum of 8.36Gb of video.  My advice is to buy a 16Gb SD card and nothing more. The battery is internal and can't be changed.  The camera automatically creates a video clip every 23 minutes, 20 seconds (2.07Gb) and you can't change it.  That could be a problem if you use the original software as we'll see later on.
[phpzon keywords="Elephone Elecam 360″ num="4″ country="US" trackingid="pevly0d-20″ templatename="columns" columns="4″]
One of the biggest problems on this camera is the crashing/freezing issue. Sometimes, completely at random, the camera decides of its own free will to freeze during a recording losing the current video. I tried other SD cards, I tried to cool it while recording, I tried to use it with and without the recharging cable but nothing happens. In this state you can't do anything with it, even shut it down. The only way to unlock the camera is to press the reset button with the special tool or just a toothpick.
This is a huge problem because you can lose your videos and if you're outdoors without the tool or a toothpick you can't unlock it. It's absolutely ridiculous! If I find a solution I'll add a little section at the end of this article so check it out from time to time.
WiFi and App
By now almost all action cameras have WiFi and an app for Android or iOS and the EleCam 360 is no different. Because the WiFi connection is perfectly stable, the app never crashed or had any other problems. The WiFi range reaches about 10 meters (33ft) without problems so you can put the camera on a table and shoot photos from a good distance. The app looks like this:
WiFi Status
Rotation (up/upside down)

View Mode

Preview

Shoot Photo/Video
Mode (Photo/Video)

Options

Accelerometer (On/Off)
Battery Status
The View Mode consists of:
Wide view mode
2. Spherical Mode
3. 3D mode (VR)
In the Preview section you can see photos and videos on your phone wherever you want.
The Options section consists of very few options:
Image Resolution (It has just one resolution)
Video Resolution (It has just one resolution)
White Balance
4. Format
5. Change WiFi password
As you can see the app is very very easy to use and very intuitive.
Software
The original EleCam software for the camera is called "EleCam 360 Video Converter".  It works well but it wasn't enough for me.  After I dragged and dropped the video into this converter it transformed the file from this . . .
. . . to this: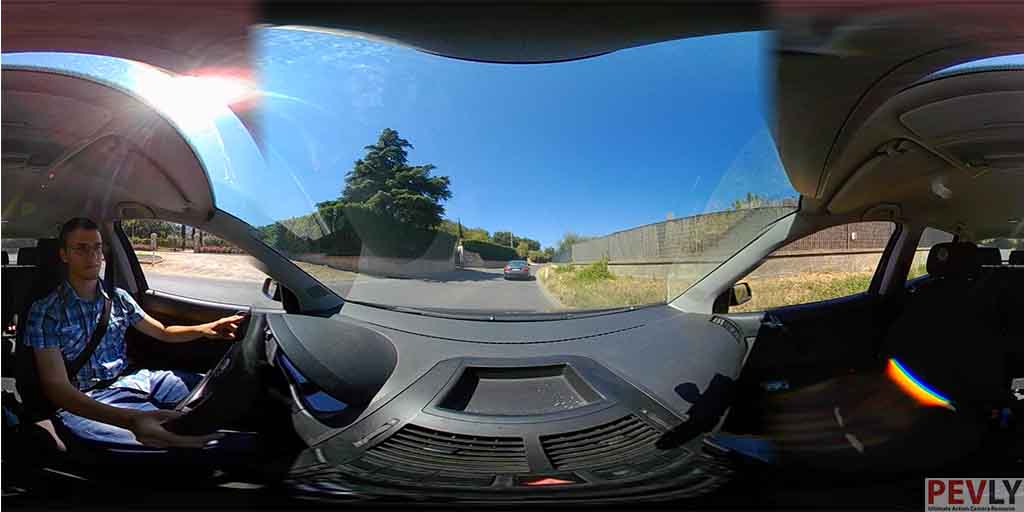 It also changes the format from .MOV to .mp4. It not only makes the aesthetic changes but it also writes the metadata into the video code that allows, for example, YouTube to understand that this is a 360° video. I said it's not enough for me because you're forced to render the entire video, so if you have 20 minutes of video and you want to cut a part of it you can't, and it's not a fast program. It also doesn't render the photos for some reason. Look at the time left… it was only a 10 minute video:
Another problem is the metadata.  If you edit the video in another program then YouTube can't see it as a 360° video. I spent many hours trying to find better software that allows me to cut the video before rendering it and also let's me see the video in preview. Well, I found it. It's called "SYMAX360 player" and you can download it here. It's more complete than the EleCam software.
Remember you that you are forced to "stretch" the video before uploading it on Youtube because if you upload it as "two sphere mode" then YouTube can't see it as 360° video.  Therefore you're forced to use this kind of software. I also found another way to edit your videos.
First of all you must (as always) render it with one of the programs to stretch it but after that you can edit it with your favorite program with just one condition: Use the "Spatial Media Metadata Injector" program before you upload it on YouTube. You can download it from here. This eponymous program injects the 360° metadata into the file.  It takes just 2 or 3 seconds but it allows you to see the video in 360° on YouTube.
A strange thing about this software is that when you upload a video on YouTube you'll find this "seam" down the middle:
The line is not located where the front and back lens views join up.  Rather it's in the middle of the front lens  – the one with the blue arrow.  It's not too visible but it could be annoying for some.
 Summary
In general the EleCam 360 is a good quality camera and the video and audio are  acceptable.  Apart from some issues easily fixed by a firmware update like the freezing/crashing and the missing "beep" when you start recording, I can't ask for anything more for 130€ ($146, £110).
If you search for a better 360° camera, a real 360° camera, then you'll have to spend  400€/500€ ($448/$560, £337/£422).  In my honest opinion, if you want quite a cheap approach to this kind of camera then the EleCam 360 is the one for you.
Pros:
Good quality accessories
Above average battery performance for long recording times
App is perfectly stable and WiFi connection is very good
Deals well with light or dark conditions
Cons:
Few accessories; lacks waterproof case
Very fragile and difficult to handle
Freeze/crash issue when recording (easily fixable with a software upgrade)
Quite poor details in videos and photos
Now, as the camera says…