Action camera market is booming. More and more people are becoming interested in tiny, customizable and featherweight recording devices that  can fit your pocket and on top of that provide hell of a fun for semi-professionals and complete newbies.
However, as technology, market, products and customers demands progress, less and less brands seem to be focused on providing a good camera priced below 60$. That is why for people on a extremely tight budget, there seems to be less and less cameras to choose. Everyone are producing something mid-range these days. Even Chinese brands.
So why is H9 by Eken is an interesting camera?
Is it because it shoots videos in full HD at 30 or 60 fps? Is it because it comes action-packed with accessories,has a built in WiFi and a neat 2 inch LCD screen? Or is it maybe due to the fact that it can shoot 4K videos in useless 10 fps?
The real reason why this camera is interesting is that it provides all these features for a little over $40. Price and options it offers make this device, launched by Chinese brand Eken, quite interesting. At least on a paper.
So I decided to give it a try. According to specs, it appears to be a perfect choice for newbies. Can this little known brand from Shenzhen create something that can beat famous SJ4000, the most popular affordable GoPro alternative?
Like you, I am so curios to find this out. I have been using Eken H9 for a couple of weeks now, and I am ready to tell you all about it in this review of mine.
No products found.
Eken H9 technical specification
Chipset : Sunplus 6630

Image Sensor: OV4689 CMOS

Lens : Wide Angle: 170 degree

Focus Range: 12cm~infinite

Video Stabilization

Weight : 65g (with battery)

Size : (L*W*H) 59.3*24.6*41.1(mm)

Screen Size: 2 inch, LCD (320 x 240 pixels)

Colors available : 8

Image resolutions : 4 megapixels

Video Resolutions : 4K (4096 x 2160 @ 10FPS), 2.7K (3264 x 2448 @15 FPS), 1080P (1920 x 1080 @30,60 FPS ) , 720P (1280 x 720 @60,120FPS)

Video compression format : H.264

Video format : MP4

Image format : JPEG

Memory : External MicroSD/MicroSDHC/MICROSDXC up to 64 GB (class 6-10 recommended)

Battery : 3.7V 1050mAh li-ion rechargeable battery

Power Supply: DC 4.2V 450mA

Charge Way : USB charge by PC

Video Output: HDMI

Built-in microphone/speaker (AAC)

WiFi

Android App WiFi

iOS App WiFi

Connection : USB 2.0

Timer: 2s, 3s, 5s, 10s, 20s, 30s, 60s

Burst shooting: 3 photos in 1.5 seconds

Time Lapse 2/3/5/10/20/30/60s
As you might have noticed, camera uses the same, OV4689 image sensor as three times more expensive SJ4000+ and M10+ cameras, but has different, quite unknown Sunplus 6630 processing chip, on which there is not much info available.
Video Quality

H9 can shoot videos in these resolutions, fps and bit rates.
4K (3840 x 2160) – 10 fps (bit rate 49445kbps)
2.7 K (2701 x 1524) – 15 fps (bit rate 49401 kbps)
1080p (1920 x 1080) – 60 fps (bit rate 23914 kbps)
1080p (1920 x 1080) -30 fps (bit rate 12756kbps)
720p (1280 x 720) – 120 fps (bit rate 27521 kbps)
720p (1280 x 720) – 60 fps (bit rate 15562 kbps)
If you do not know what a resolution is, its basically the amount of pixels horizontally and vertically aligned that form an image. In theory the higher resolution the better the video clarity is. However for some resolutions it also depends on what kind of equipment are you watching the output.
For example if you are watching 4K video from a high-end couple of thousands camera on a 1080p TV or monitor, guess what? There will be little or no difference at all..
Besides resolution, FPS – frames per seconds are also important. Video is created similar way the photos are. With photo you get a still image, but video captures a motion. In layman's words FPS is the amount of photos that camera captures in a single second of a video. Most commonly used frame rates are 24, 30 and 60. 30 fps means that in a single second, camera records 30 still images which form 1 second of your video.
Wikipedia provides good starting points if you would like to learn more on frame rate and video resolution.
Okay, since I explained to you resolution and frame rate (FPS), one other important factor is bit rate. Its not that important for newbies, but the higher the bit-rate the more data is being transformed in a second of a video, which means higher quality due to better processing and more storage consumption. Higher bit-rate files will be larger in size.
Let me tell you this in a very simple way. Videos at 10 and 15 FPS are complete crap. Videos look like flip-book, and hence these resolutions are just a way for Eken to attract uninformed people. if you want a 4K action camera, buy something real (GoPro Hero 4 Black or Sony). At those frame rates, Eken, like any other camera is useless.
No products found.
Even though 4K and 2.7k can make a minor difference in video sharpness at this frames per second in Eken H9 they are unusable. They are just a gibberish marketing talk and you really should not be recording in those resolutions with H9, unless you want to make a 1940s motion films.
If you are interested in raw video samples, you can download them here.
In order to get the best possible shot, a balance between the ISO, aperture and shutterspeed must be achieved. Our friends at photographytalk have created a great guide explaining this exposure triangle, we highly suggest you read it here.
Let me show you few video frames extracted as photos.
Resolutions you will probably use the are 1920 x 1080 (FULL HD) at 60 or 30 fps. If you intend to use slow motion in your video, shoot at 60 fps, as more frame rates give impression of more realistic and faster movement. 60 frames per second can be slowed down in post production and still look smooth, so if you know how to use video editing software, 60 FPS is a way to go.
For some every day recording, use 30 FPS, as it consumes less memory and battery.
Camera can record while being attached to a power bank, and that is great advantage as well.
Photo Quality
You can download all these images in original uncompressed quality here.
Colors that the image sensor produces are okay for the price, but in some cases it appeared to me that that images looked over-saturated over-sharpened. Colors depend a lot on the light condition and position of the camera. Still, images are decently sharp for 4 megapixels senor and camera focus seems to be set up quite well, so even in distance objects are visible.
When facing a direct sunlight camera does not do that good job. Colors get quite weird and there is a lot of reddish flare. This is where its obvious that lens is not the best one.
By previously having focus problem with cameras, I was pleasantly surprised with H9. Even though photos are only 4 megapixels, they look quite sharp in distance.
If you ever want to do a bit of color-correcting or image cropping in post production, you should know that resolution that Eken H9 has is just not enough for serious photo editing. Resolution is okay for social media sharing though, which is what most of target customers for this camera will do.
In example below, you will notice how details get lost quickly when the photo gets cropped, even by only 4 times.
No products found.
Sound quality
I never expected a low budget camera to have a decent sound. Boy I was wrong. Considering the price of the camera, I found sound quality acceptable. According to metadata in video, camera has stereo microphone inside with a 1938 kbs bitrate.
Audio levels are quite high, maybe even higher than it should be. But you can hear a person talking in front of a camera quite clearly.
This means that if you intend to record concerts though, there is a possibility that music will be hard to hear, as mic is too sensitive for such recordings in my opinion. The only way I tested the audio is talking while recording, and it sound pretty good for the price of the camera.
In my opinion, it is much better than any SJCAM cameras that are way more expensive. Audio quality is in Xiaomi Yi range.
Camera does not support external microphone either, so for professional sound recording, you will need to buy both microphone and sound recorder that supports it.
I am really sorry but I was unable to do any sort of music audio test, as I suck at playing any instrument, though I was pretty darn good on metallophone, at least I thought I was good. If you are a musician and own Eken H9, I would appreciate if you can let me know in the comments your impression on audio quality, and if you have some audio samples, even better.
Packing and accessories
Camera package is quite simple and certainly nothing new. Box looks quite cheaply made, but its not like I was expecting much for $45. On the outside there is obvious similarity with Amkov 5000s and SJ4000 boxes.
Inside the box, you get a camera inside a waterproof case with a base GoPro like mount and a screw in one compartment, where as in other, there is a large number of additional accessories.
Here is a list of everything you get in the box :
1x camera
1x waterproof case
1x manual
1x USB charger, AC Adapter 100-240Vac, output 5V, European plug.
1x usb cable
1x bicycle/handle/pole mount
1x spare (sound-enabling, non-waterproof) case back door
1x clip and bracket for mounting the camera on a 1/4″ screw
7x different types of mounts
1x lens cleaning cloth
4x bandages
2x helmet mounts
With these mounts, you can mount your camera almost anywhere including a car, boat or on your person.
Design and built quality
Overall design of the camera has zero innovation. Its the same as any other Chinese camera produced this year. Same size, dimensions and shape. The only difference is that compared to some of the competitors, Eken H9 action came has a 2" LCD screen at the back.
Thanks to this 2 inch fella, you can preview your videos and photos and also live-view your recordings as well as change settings inside the camera.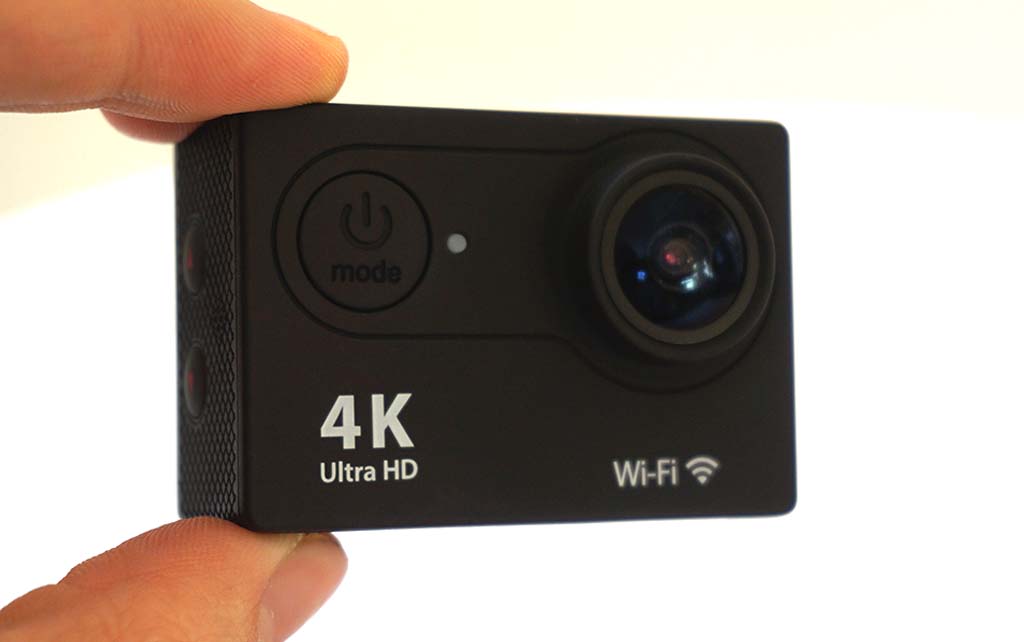 Besides LCD, I really like huge LED indicator button on top of camera. Most of cameras have tiny indicator that sometimes is hard to see. This one is without any doubt the largest and easiest to see. Eken obviously listen to feedback from users on some other cameras and constant complains on LED indicators, so they put this gigantic indicator on top.
This one is not perfect in sunlight either, but way better and easier to see than the most others. It looks a bit ugly though, but you can't have it all.
Built quality is quite poor. I mean, we have to be realistic here. Its hard to expect awesome built quality for 40-50$, right? Camera feels light weight, which is good, but also a bit cheap. I did not have any issues with it.
It can not be compared to Git 1, Dazzne's P3 or Xiaomi's YI when it comes to toughness and craftsmanship. It is more in SJCAM range, which means it is made out of plastic materials with rubberized patterned edges.
Camera is available in 7 different colors from black, blue, yellow, silver, etc.
Dimension and weight
Eken H9 weights around 65 grams with battery inside. Its size is (L*W*H) 59.3 x 24.6 x 41.1 mm.
Buttons and functions
Here is a brief overview of buttons and their functions. This piece has been  extracted from manual.
Operating Modes
Eken H9 can work in 5 different operating modes. Each mode does different thing. Even though their names are pretty self-explanatory, because lots of newbies probably read this, I will go through each of them and try to explain how it works.
To change a mode, just click the "Mode/Power ON button".
Video (default)
Photo
Burst
Time-lapse (Self – timer)
Settings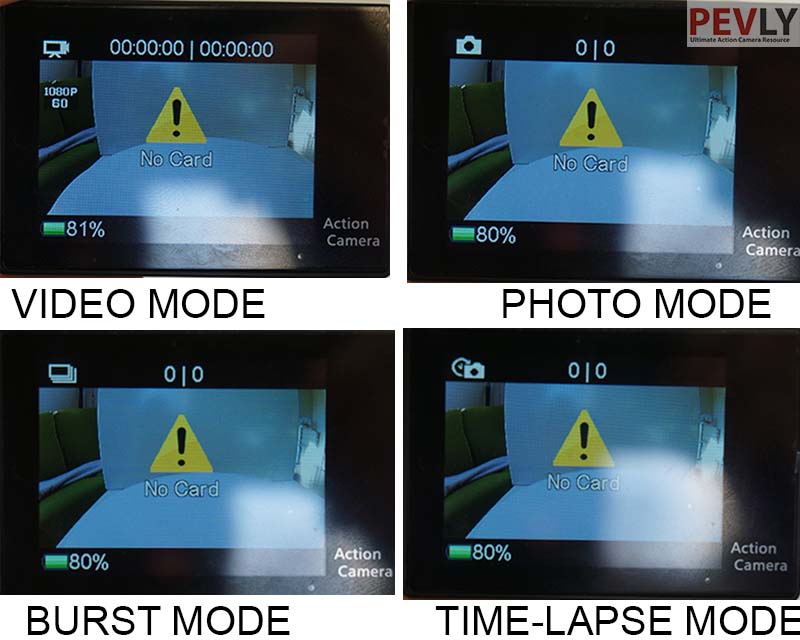 Video and Photo mode
Video mode is a default mode in which camera works will turned on. Quite obviously, when in video mode, you can record videos by pressing a shutter (OK) button. Video can be stopped by pressing the same button. There is no option to pause video, so once you stop it, camera will create a new video file.
Settings
Settings is an operating mode which will allow you to change different settings. I bet you were not expecting that?
Anyway, comparing it with some other cameras when it comes to features, Eken is in the middle. It has decent amount of options, but not all of them are useful, and the ones that could be useful are not included in the camera.
For instance, I would really like to see a white balance option, ISO or anything similar, but Eken engineers thought LCD screen refresh rate is more important than that.
Now the boring part. Warring, if you do not have a camera, the "Settings" part might bore you to death. I am not joking. But it can at the same time explain some technical stuff and show you what this camera can and cant do.
Video resolution
Inside settings, you can switch through different video res explained in the paragraph above.
4K-10 fps
2.7 K – 15 fps
1080p  – 60 fps
1080p  -30 fps
720p  – 120 fps
720P – 60 fps
Looping video
If you turn the loop recording on, the camera will segment videos in 3 minutes. For example, if you leave your camera to record continuously 30 minutes, you will have 10 videos each lasting 3 minutes (3×10).
Since the option itself is intended for people who want to use Eken H9 as a car (traffic/dash)camera when the memory card is full and camera is recording, it will automatically delete the first video and record over it, overlapping (looping) one video sequence over another. For action camera this is useless feature, and my personal recommendation is to keep it off.
Time Stamp
Time stamp shows date or date and time in the right corner of your video. Most people including myself turn it off, but if you for some weird reason like seeing date and time on your photos and videos, you can enable it.
OFF
Date (shows only date)
Date and Time (shows both date and time)
Exposure
A photograph's exposure determines how light or dark an image will appear when it's been captured by your camera. |Source|

If for some reason you want to boost the brightness or darner your footage a bit, you can experiment with these values. positive (plus) values give lighter videos, minus darker.
0
+-0.3
+-0.7
+-1.0
+-1.3
+-1.7
+-2.0
Photo resolution
I previously explained the video resolution. Same goes for photos. The higher resolution, the more details and the sharper the photo. If you were not reading carefully the "Photo quality" paragraph of this article, scroll up and read it to understand what is photo interpolation and how is it possible that this camera can shoot 12 megapixels photos when it has 4 megapixels image sensor.
*12mp (4000 x 3000)
*8mp (3264 x 2448)
*5mp (2592 x 1944)
4mp (2304 x 1728)
Note : Resolutions marked with "*" indicates interpolated (scaled) resolution.
Burst photo
Burst photo is fun option that will shoot 3 continuous photos when you press shutter button in 1.5 time interval. It is good for sports photography or when you are trying to catch a fast moving object (like me trying to catch a balloon i threw up in air in the photo below).
While 3 photos in 1.5s is far from impressive speed, it is not that bad either, though if you are moving really fast, images will be blurry.
I am not sure why this option even exists inside the menu, because nothing can be turned off or changed inside Settings>Burst Photo.
Time Lapse and continuous lapse
Everyone loves time-lapse videos. This camera has a time lapse as well. But it is a bit more trickier compared to some other cameras which have this function out of the box. By setting time lapse to particular interval, your camera will shoot photo with a delay. So if you set, 20 seconds, once you press shutter button, camera will take photo 20 seconds after that. So actually this is more like a timer.
In order to enable time lapse, you need to turn "continuous lapse" on. Once you turn that on, camera will take photos each 2-60 seconds continuously one after another, until you stop it or it runs out of battery.
To conclude, there is no video lapse option, which means that time-lapse on this camera will output lots of photos, which you need to combine together in  video editing software to get a video. Not exactly what newbie would like, but these videos are so fun, that I am sure if you are willing to you can learn this in less than 20 minutes, with nearly any tool. There are lots of tutorials online on how to make time lapse.
Do not forget to choose interval in time-lapse (I use 30 sec mostly) and then enable continuous lapse. Change the mode to "timer/time lapse" by pressing mode button few times and press shutter. There you have it. Its not the easiest thing, but I am sure you will get used to it eventually.
Power frequency
Even though it sounds like it has to do something with charging or battery, this is actually a refresh rate of your LCD screen. Just leave it on auto and stop worrying about such unimportant feature.
Language
One neat thing about H9 is that it is a polyglot. It "speaks" 16 different languages. For some ridiculous reason mine was set to Turkish on default.
English
Simplified and Traditional Chinese
Italian
Spanish
Portuguese
German
Dutch
French
Czech
Polish
Turkish
Russian
Japanese
Korean
Thai
Sound indicator
Shutter (on/off) – sound when you press shutter button (works only in photo mode)
Start up (1/2/3/off) – sound on welcome screen, you can chose from 1-3 levels or turn it off.
Beep (on/off) – sound inside the menu/settings that can be heard when navigating.
Volume (beep sound volume (1-4 level/ off)
Upside down
H9 has image and menu rotation or "upside down" feature. This means that if you rotate the camera and mount it upside down, this option will rotate both menu and output footage so that it looks like it was recorded normally.
Rotates the screen and output footage. Useful if you are mounting the camera upside down, so that you do not have to rotate the footage in post-production.
Screen and power saver
When enabled, these options can turn off the screen (screen saver) after a specified period of inactivity. Power saver turns off the entire camera upon specified time interval, but will not work when camera is recording or taking time-lapse photographs, because its considered as activity. Nobody wants camera to turn off in the middle of recording.
Other
Date and time – allows you to set time and date that can be shown in date stamp.
Format – formats memory card (erases all data) – highly recommended when you put the card inside the camera for the first time.
Reset – reverts all settings to default.
Version – shows firmware version
Eken H9 Battery performance
The weakest link of H9 when it comes to hardware components is without any doubt a battery. Eken H9 is powered by replaceable 3.7 Li-ion 1050 mAh 3.885 Wh battery. The key word here is replaceable.
Why? Because battery life is so poor that you will probably need few spare batteries and replace original one.
Battery is compatible with 900mAh SJCAM batteries, which leads to a conclusion that 1050mAh advertised is faked. Not only that it is fake, but the original battery proved to be significantly weaker compared to 900mAh.
I tested out battery performance few times, and here is the average recording time I managed to get, with screen saver being turned on, WiFi off and other settings left on default.
1920 x 1080p 60 fps – around 45 minutes
1920 x 1080p 30 fps – around 83 min
Another keyword is inconsistent.
It is very hard to get exact recording time, since camera behaves quite unpredictable. Even when its fully charged, it will show 80-90%, and will quickly come down to 30-40%. Once you turn camera off, battery indicator goes to 50-60%. Sometimes I got 90 minutes at 30 fps, sometimes I got 70, so above values are average, based on at least 3 battery tests for each resolution and fps.
No products found.
No products found.
I am not quite sure if this was just a problem with my battery, but I read that few more users were complaining on performance of original, 1050mah battery.
Using SJCAM batteries on Eken H9
Seeing how consistent and weak the 1050 mAh battery is, I inserted 900mah battery from SJCAM, as they are the same size.  To my surprise, not only that the battery meter remained more stable, but I also got way better recording performance by using "weaker" battery on paper.
Results with 900mah battery
Recording time :
1920 x 1080p 60 fps – around 70 minutes (35 more compared to original battery)
1920 x 1080p 30 fps – around 120 min (40 minutes more than with original battery)
Now these are not perfect results, but certainly far more acceptable.
My advice is to reinforce the original battery capacity that comes with a camera by buying at least 2 spare batteries, or if you do not mind carrying a power bank around, that is also a great way to extend recording time.
I use this power bank and it allows me up to 4-5 charges of my cameras, phones, etc. You can also get any other, as they all do the same job, the only different thing is capacity. And yes, you can record and take photos while the camera is connected to external power source such as power bank or car charger.
Customer Support – Knock, knock, anybody out there?
Even a dirty cheap products need to have a customer support. To be honest with you with Chinese brands, I never set my expectations bar too high for after-sale assistance.
But my experience with Eken is one of the worst I have ever experienced.
Even though you can get support from retailer from China as well, I always go with manufacturer directly, just to test the waters and see how they threat their customers. I sent 3 emails to Eken with from different accounts with different technical questions.
4 weeks later and I still have not received a reply from them.
That is unbelievable. Terrible and disgusting.
They only seam to care about their sale volume. Okay, I completely understand that they are new brand to the market, but the complete lack of customers support is inexcusable. I also added them on Skype and asked similar questions, but never ever have I received a reply.
If you ever need a technical assistance from Eken, do not count on it. Its not because they do not know English, or do not reply promptly, it is because they do not give a damn about replying.
What is even funnier is that here is what Eken claims on their about page :
Eken truly believes that long-term customer satisfaction is the foundation of our success.
Well either they completely misunderstood the word "satisfaction" or they are shamelessly lying. I will leave that one on you to decide.
Firmware updates
One thing that worries me more than lack of customer supports is lack of firmware updates. While I have not encountered any serious bugs with this camera, it is quite normal that a product has its own firmware page where users can download latest software that will improve the camera based on customers feedback.
Unfortunately on manufacturer site, at the time of writing this review I did not see a firmware list. I am really hopping they will not forget about upgrading firmware and improving the camera at least in the next few months.
I guess it all comes down to, you get what you pay for. With Eken you get camera that is great overall value for the money, but it appears they are decreasing their cost on customer support, and that is not the way you do business.
If you ever have any issues with the camera, you probably need to rely on communities and online forums and try to fix it yourself with the help of good people (trust me there are many many great people willing to help in this virtual world of ours). Also, you can always leave a comment here, and if I can, I will be happy to help.
Final Eken H9 Summary
Before I tell you my final judgment on this camera, I would like to tell you something first.
Final judgement
Most important factor when I review a product is how much value it offers for the price? With this in mind, I will now summarize my opinion on Eken H9.
Considering the insane low price of 40-50$, in my humble opinion Eken H9 is great value for the money camera. Even if it cost 70$ I would still recommend it as probably the best low-budget camera.
It has its own pros and cons, so lets go through them quickly.
Pros
First and most important advantage of Eken H9 camera is its price. At the moment of writing this review, camera can be bought from various online retailers at 45-60$ price range. That in my opinion is amazing price for what this camera offers. Besides price, I also liked the 60 fps option in full HD. I did not find 4K and 2.7k useful at all, due to their low frame rates, for me they were unusable.
For me personally it is important to live preview what I am recording. Thanks to quite big 2 inch LCD that camera has it is very easy to both navigate through the menu and see what you are photographing.
One more thing that I found appealing is quite large LED indicator located next to a shutter button on top. It flashes red while you are recording, and because of its size, you can always know if the camera is recording or not. When you stop recording, there is no sound however, so I always had to double-check if I stopped the video recording or not.
Video quality in my opinion was quite decent. Even though camera did not do that good job when facing the direct sunlight and in low-light, in pretty much all other situations it was even beyond my expectations.
Photo quality is quite sharp and focus is set up perfectly considering the price. Colors on photo and video are a bit saturated, but the contrast was quite good. Camera comes action-packed with lots of additional accessories and manual is not that bad either.
What surprised me the most is the volume of audio, which was very good.
Affordable price
Great overall value for the money
60 FPS in full HD
LCD screen
Large LED indicator
Decent video quality considering the price
Decent photo quality considering the price
Good audio quality
Cons
Built quality is not something Eken H9 can be proud of. I do not like that their main selling point is "4K action camera". I mean, it is 4K camera, but it can only shoot 4k in 10 FPS, which is ridiculous. Videos look like flip-book and I really can not understand how anyone can record videos that are not smooth, especially fast-paced videos make no sense in 10 frames per second. Same goes for 2.7k in 15 fps.
Battery life is quite poor, and I am under impression that the battery capacity is not 1050mah as stated in specs. Good news is that H9 is compatible with SJCAM 900mah batteries, so its highly recommended that you get at least one or two spare ones. They are quite cheap, and they will give you better battery performance.
Manufacturer declared that  camera can take up to 12 megapixels stills, but this is just interpolation. The true resolution of images is 4mp, since the image sensor inside the camera is a 4 megapixels sensor. Quite deceptive behavior, but plenty of Chinese brands do this lately. This is not an excuse however.
There is no right out of the box, video time lapse, so if you are not tech-savvy, you will need to learn how to create time lapse videos out of photos.
The biggest disadvantage in my opinion, is a complete lack of support.
Not the best built quality
4K is not usable in given frame rates (15 FPS)
Interpolated image size (Manufacturer states 12MP when it's actually 4MP)
There is no right out of the box time lapse
Battery life is poor
Conclusion
Overall, Eken H9 might not be the best built and supported camera on the market, nor have the best image or video quality, but for overall value for the price of 50$ is incredible. I would recommend this camera to people who are newbies to action cams or users on an extremely tight budget.
If you are not sure if action cam is what you really need, you can get H9 and play with it, see how action cam works and what can be done with it. Because of decent video quality and photos and tons of accessories, I am sure Eken H9 can be an interesting gift your children or grandson. Its cheap, so if it breaks, who cares, right?
A bit more advanced users will probably not find it interesting enough due to the lack of advanced features.
You can also take a look at other action cameras I reviewed, if this one does not suit your needs.
Where to buy Eken H9?
Here are some links where you can get this camera.
Questions
I hope this review of Eken H9 helped you while evaluating if its good for you or not. If you have any question regarding H9, feel free to leave a comment below, I would love to help you out. If you already have Eken H9, please let me know how it works for you and what is your experience with it, what you liked and what you didn't like?
Eken H9 review
Video Quality - 6.7
Photography Quaility - 5.5
Price - 9
Value for the money - 9
User Experience - 7.5
Customer Support - 5
Built Quality - 6.5
Audio - 7.5
7.1
Great value for the money!
Camera provides great overall value. It has large LCD screen and lots of accessories. Provides good video and decent photo considering its price. However built quality is not that good, it can shoot 4k only at 10 fps, which is ridiculous and customer support is non existent. Battery life is quite poor as well, but it is compatible with SJCAM 900mah batteries. Low-light performance is not that good. No AV output via USB.
Last update on 2023-12-06 at 20:37 / Affiliate links / Images from Amazon Product Advertising API