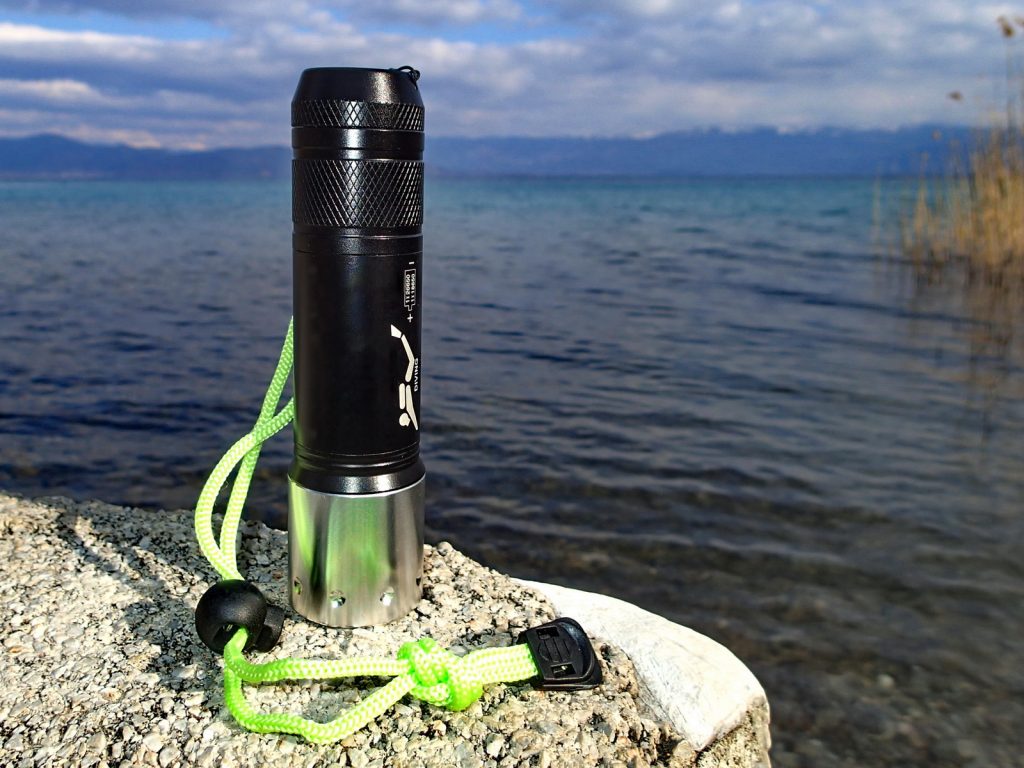 Recently I realized that I've been good, so I awarded myself with an underwater flashlight!
I was looking for such light for a long time, since I need to visit my lake in the night hours to see what kind of life can be found prowling about. It is a well-known fact that sea life during the night differs a lot from the daylight scene. I'd like to see if that also holds true for the lake.
When you go looking for something as simple as an underwater flashlight, your first realize that the sheer size of choice is stunning. So I searched among literally hundreds of similar models, browsing many sites and reading all the characteristics, all the while comparing the prices with performance. Internet is grand, but can also be tiring.
The model I finally picked combined all the factors that are relevant, at least to me: solid waterproofing, strong light output, ability to withstand rough handling, power cell options and availability, simplicity in design and usage, and of course, the price.
My choice?
What I finally decided upon is the CREE T02 XML LED Flashlight – L2 5000K 1000Lm that I have acquired from GearBest. It is (supposed to be, but not tested yet) waterproof down to 100 meters, or 328 feet. It cost me $11.66 with no add-ons, and that includes free shipping.
From my point of view, I have made a good deal.
Here is where I found it, and I'm going to show you how it's made in a moment. Let me just point out that I was looking for a searching light, as opposed to photo or video lighting. The difference is in the wideness of the lightcone the lamp can emit. For photo and video recording purposes it would have to cover the camera's entire field of view, and this torch doesn't manage that.
Still, it can be good for macro and close-up work, or used with another lighting as a spotlight.
Design & Quality
The torch appears well-made. It is designed in black anodized aluminum, and has a simple, tubular shape. The diameter widens somewhat around the smooth silver reflector part, and tapers slightly at the back end. The middle and the front or the body is smooth, excepting for some sunken points around the reflector which I suppose are there more for aesthetic reasons than, say, for surface enlargement meant to optimize the lamp cooling. There is some crisscross texture in two places, to ease the opening of torch for servicing.
The torch is 13.6 centimeters long (5.35 inches), 3.35 cm of its body diameter (1.31 inches), and 3.66 cm diameter of the reflector part (1.44 inches). It has no other surface features, save the diver symbol and type of batteries it accepts, printed in white on one side. The front is sealed with the reflector port, and on the back end there is a rubber button which shields the switch. The corrugated metal ring that secures this rubber button has a raised rim around it, so the torch can't inadvertently be bumped "On".
There is also a small hole in that rim to which a safety wrist line is looped. The safety line has a spring-loaded adjustment bit, so the line can't float over your hand. It can be used in a variety of ways, enabling you to use the torch in many situations like camping, around the car, or whenever you need light and free hands.
Lamp and Reflector
At the heart of the torch is a Cree XML – L2 LED that delivers 1000 Lm flux at 5000K light temperature (~Daylight). The light cone is focused via highly polished aluminum reflector. This LED is housed within the small, sealed space, and the operating heat is conducted and dissipated by the large outside surface of the lamp / reflector case. It functions well in the air, so it functions even better underwater. For that very reason I was more in favor of an all-metal torch, since plastic materials over the years may be affected by the heat, and plastic is not nearly as effective in heat dissipation. This would be more noticeable and important when you use a torch in the air, though.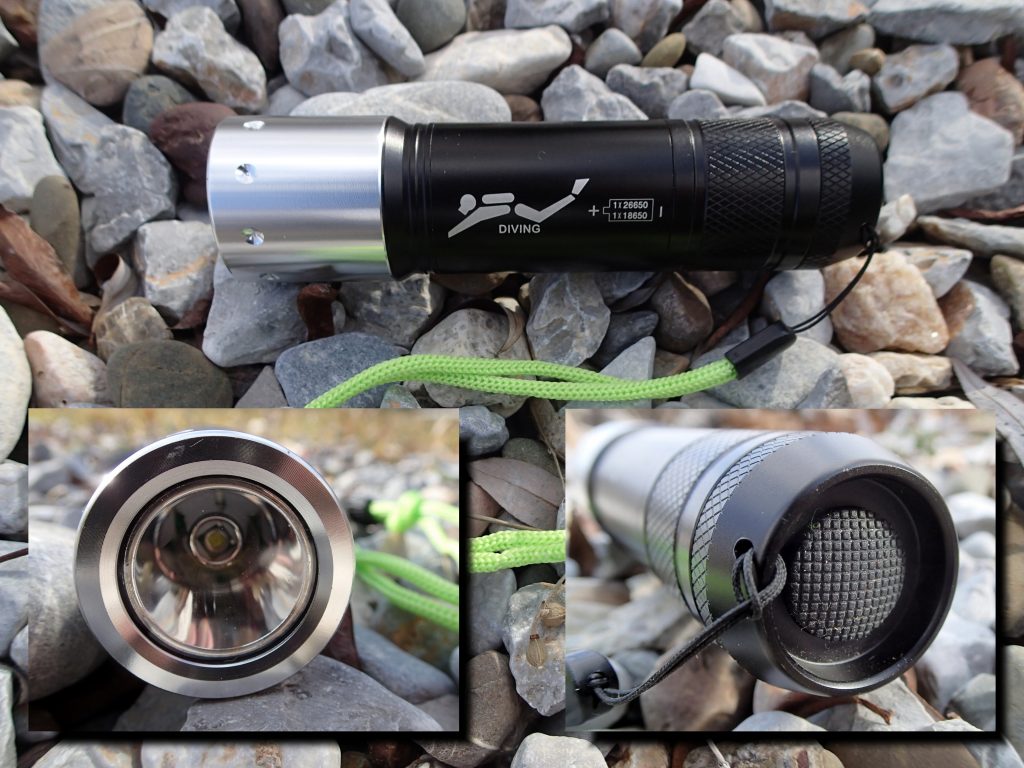 Switch
Covered with thick, soft rubber, the button switch allows you to control the light in three ways. Press the button deeply, and the light switches On and Off. When the light is On, press it halfway and the lamp emits a weaker light, thus saving the power. Press it halfway again, and a continuous blinking signal is emitted. Very simple and effective use of a single switch!
The rubber button cover is, to my eyes, a new approach at the switch sealing solution. In my diving heydays I was more used to magnetic reed-relays that didn't require any extra sealings. Where the mechanical switches were used, those were rotational and sealed with o-rings. But I guess the lesser pressures I'm going to expose this torch to won't be nowhere near its declared maximum depth / pressure rating.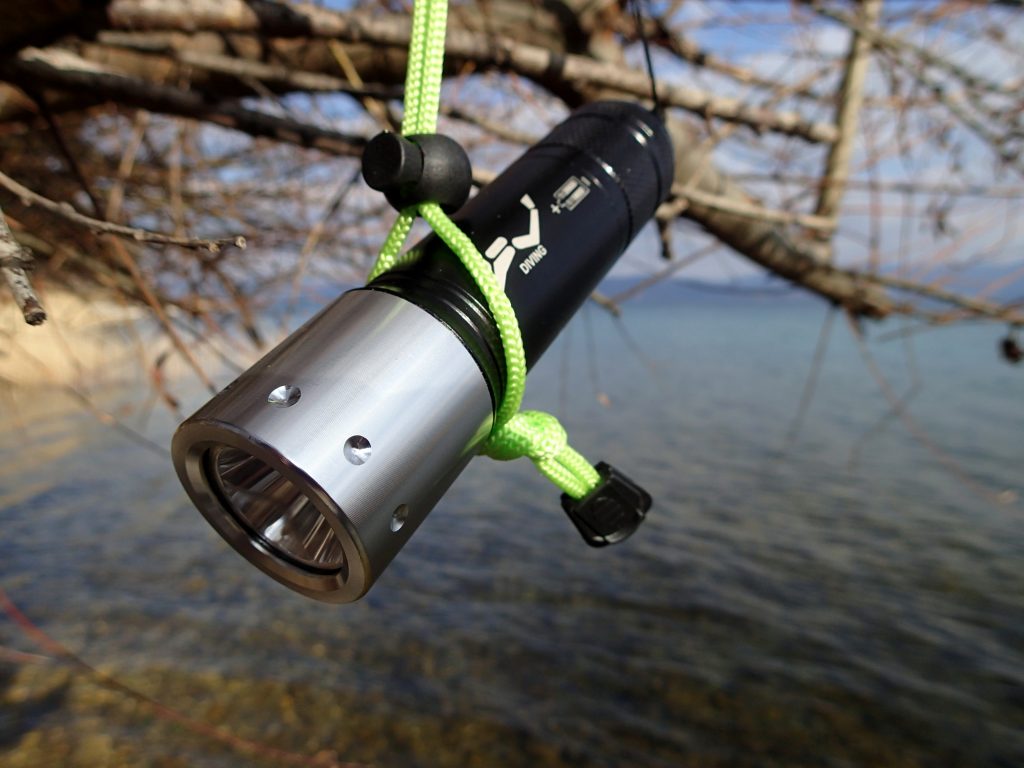 Battery Options
Yet another among the nice things is the choice of power source you can use with this unit. Two types (printed on the torch) are either 26650 or 18650, which are rechargeable 3.7V batteries. These battery types are gaining more popularity, ever since incandescent bulbs were effectively replaced with LEDs. A third option comprises a package of 3 serially connected AAA type battery cells, and to that purpose there is an adapter, right within the torch. It slides into a plastic tube that adapts the diameter of the package to the inner volume of the torch. To use the xx650 type batteries, just remove the adapter.
UPDATE: In the meantime I have replaced the adapter and triple-AAA "throwaway" batteries for 18650 cells. An "intellicharger" like Nitecore NEW i2 is one critical item for charging the Li-ions, too. It analyses the battery state and optimises the charging program individually for each cell, which is important for Li-ion batteries known to develop various problems if charged improperly. The i2 in its name means it can charge two cells; there are models that can charge more cells at the same time. On the practical side, it can charge from 100-240VAC (50/60Hz) and also from the car battery (9-12VDC) via the optional car lighter plug.

This charger can recognize and safely handle great variety of rechargeable battery types (IMR, Li-ion, Ni-MH, Ni-Cd and LiFePO4) and sizes (AA, AAA, AAAA, C and D, also the new sizes from 10340 thru 26650).

Assuming you are already familiar with the usual A, C, and D sizes, let me just mention how the new numerical descripts relate to battery size. The first two numbers reveal the battery diameter in milimeters, the next two denote its length, while the 0 on the end means the battery is cylindrical in form. So, an 14430 battery has a 14mm diameter, its length is 43mm, and it is cylindrical (round like 0 in cross-cut).
If you plan to use the torch somewhere where there is no recharging outlet available, just take along sufficient quantity of single-use AAAs and you'll be fine. Those were once called "throwaway" batteries, but we know better now – so please always dispose of the used cells in a responsible manner!
Specifications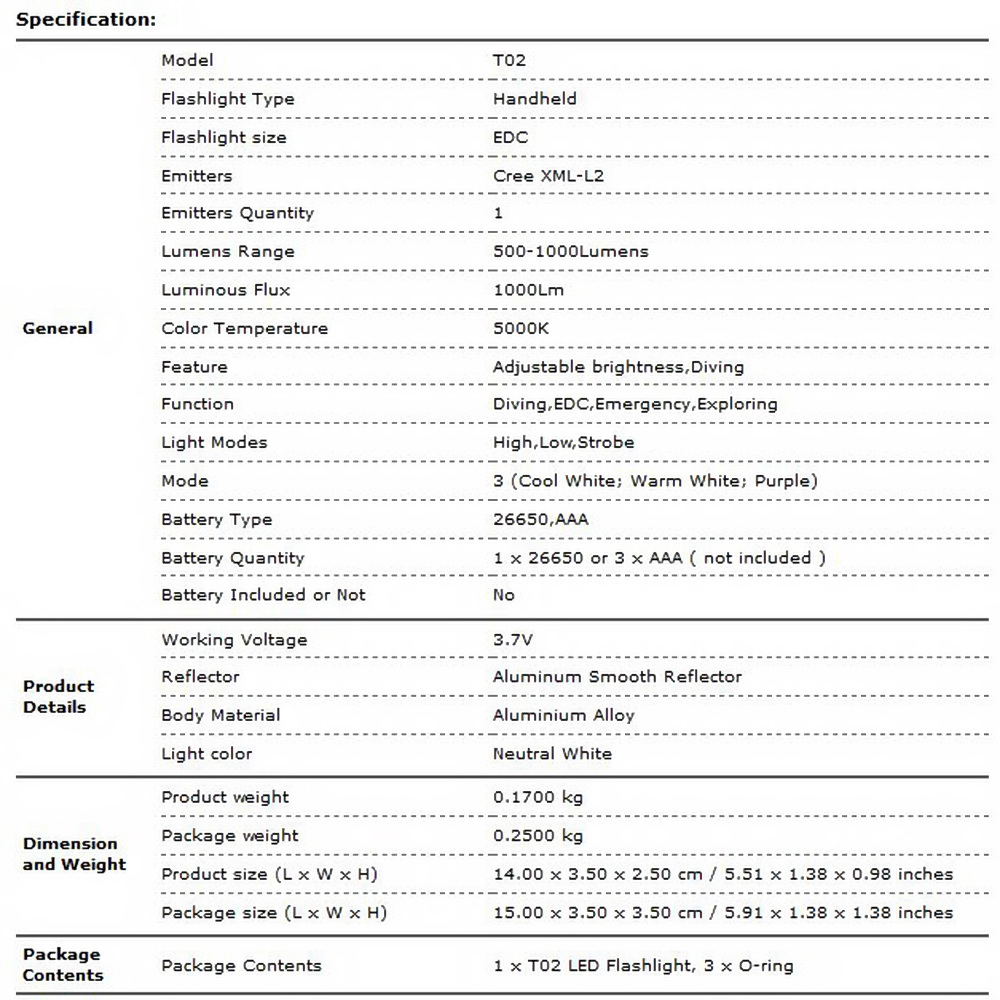 Summary
I'm happy with what I have received for less than $12, and the feeling did not wane after I have inspected and tested this product! For now (which means winter in my parts) the water is too cold for me to test it under the surface, but I'll surely update this review when I do.
The manufacture is neat and from what I see, this torch will work well underwater. All the sealing elements are sound; these will need usual care and maintenance (see more about it here), but that is normal procedure with all the water-going tech that we use.
So far I am using the torch in everyday life and it works as intended. Isn't that the best one can expect? I'll conclude with clear and unequivocal recommendation:
This is one well-made, affordable product!