Finding new earbuds or workout headphones can be sometimes difficult.
Every time you need a new pair of earbuds knowing in advance how there are hundreds if not thousands of new types on the market. Of course it's easy to spend over $100 for something with a famous brand displayed on it! Clearly, not everyone can or wants to spend that much on a gadget that is usually mistreated badly, and then you are almost forced to look for some alternative so incredibly cheap, that will literally crack after two uses.
At this point the question is obvious: is there something not quite as expensive as diamonds – but offering a good quality at the same time?
Yes, there is an affirmative answer!
The Aelec S350 earbuds is one of the best workout headsets I've ever tried and tested!
Use special coupon code: A8KTGH2X to get a pair for only $9.88! Buy here
When the Aelec proposed that we review this product, honestly my first impression was of something very cheap – and not only in money sense. Maybe even not worth the effort. But I'm happy to state now that I couldn't've been more wrong.
Box and Accessories
The set of 'buds comes in a tiny box with the brand name and the product version printed on top, and on the bottom side there is the list of accessories that comes with it.
In the box itself there is a hard pocketcase accomodating the earphones and all the accessories.

The accessories comprise a range and variety for every adult type of hearing.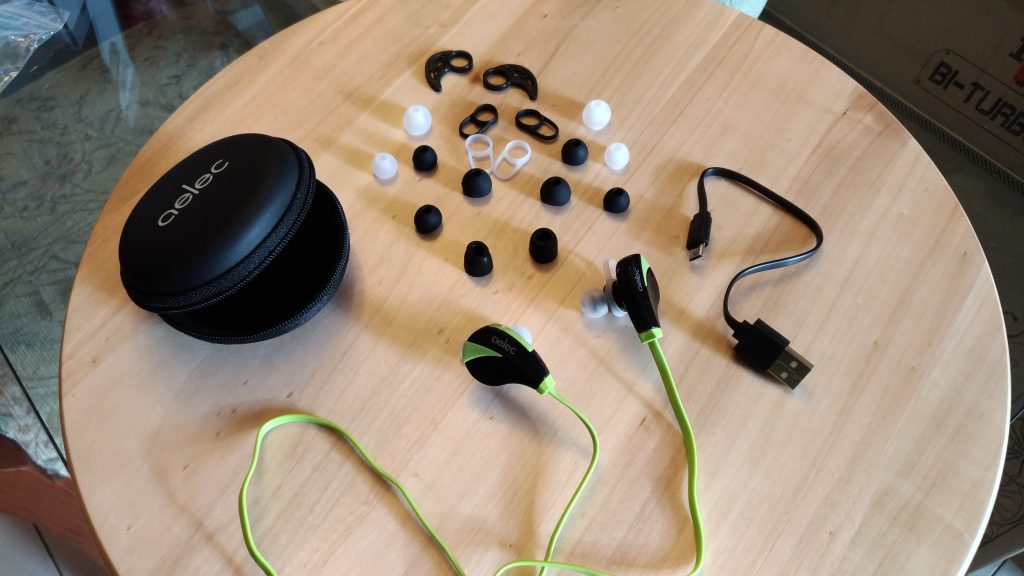 Above the earphones and the USB charging cable, there are 4 different plugs of different sizes, consistency and materials.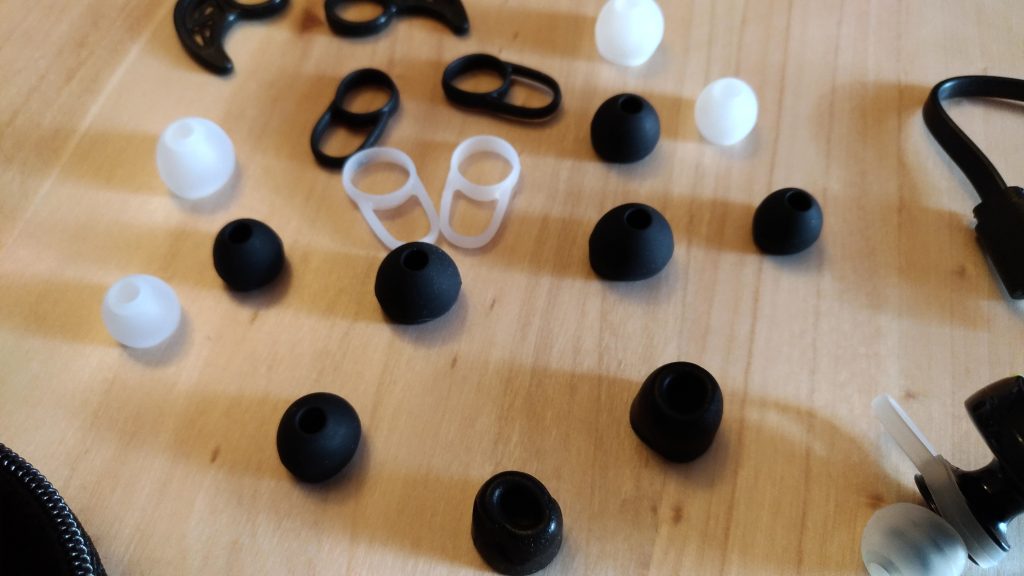 Earplugs and Build Quality
AELEC S350 earphones are very lightweight – but extremely solid. The units are interconnected with 60cm long flatcable that prevents the forming of famous "magic twists" in your pocket. The earplugs of these headphones are formed as a hook to improve the position and the stability during sports and action. Two silicone parts anchor the pods perfectly to the ears and deaden the ambiental noise. The pods also boast an IPX4 protection level that keeps them  safe from sweat and little water drops. Yet I didn't try them out under such conditions because the USB port is not covered. That makes me think about damage if this port gets wet. Sweat, yes, it could probably survive – but with a little bit of luck on a side!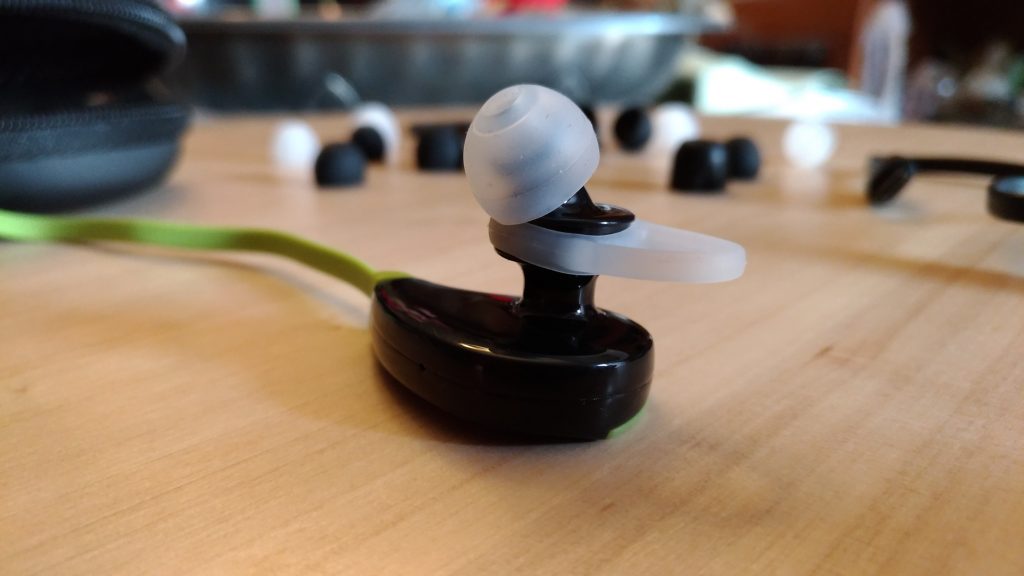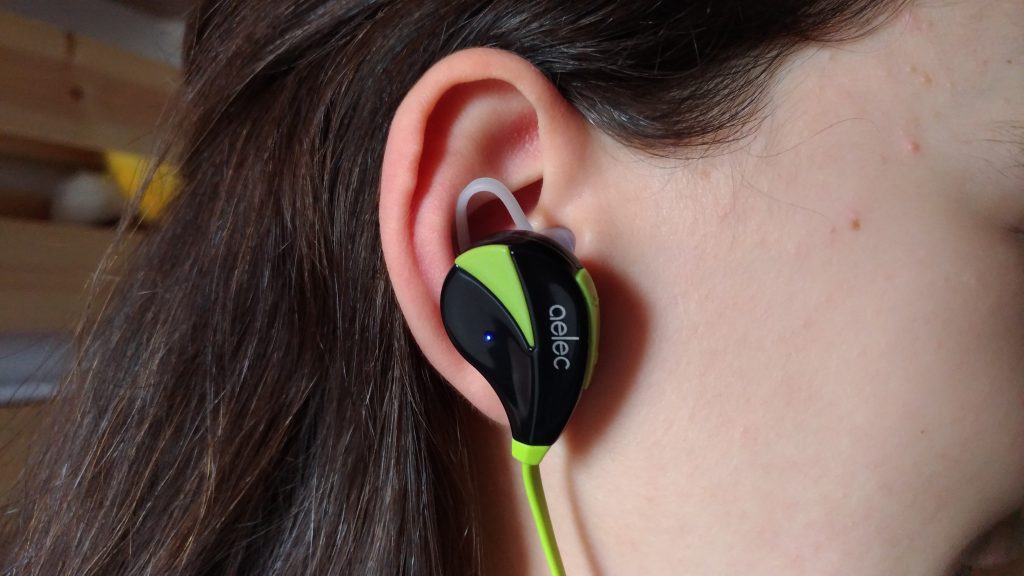 In all, there are three buttons, on the right pod. In addition, there is the USB port for battery recharging.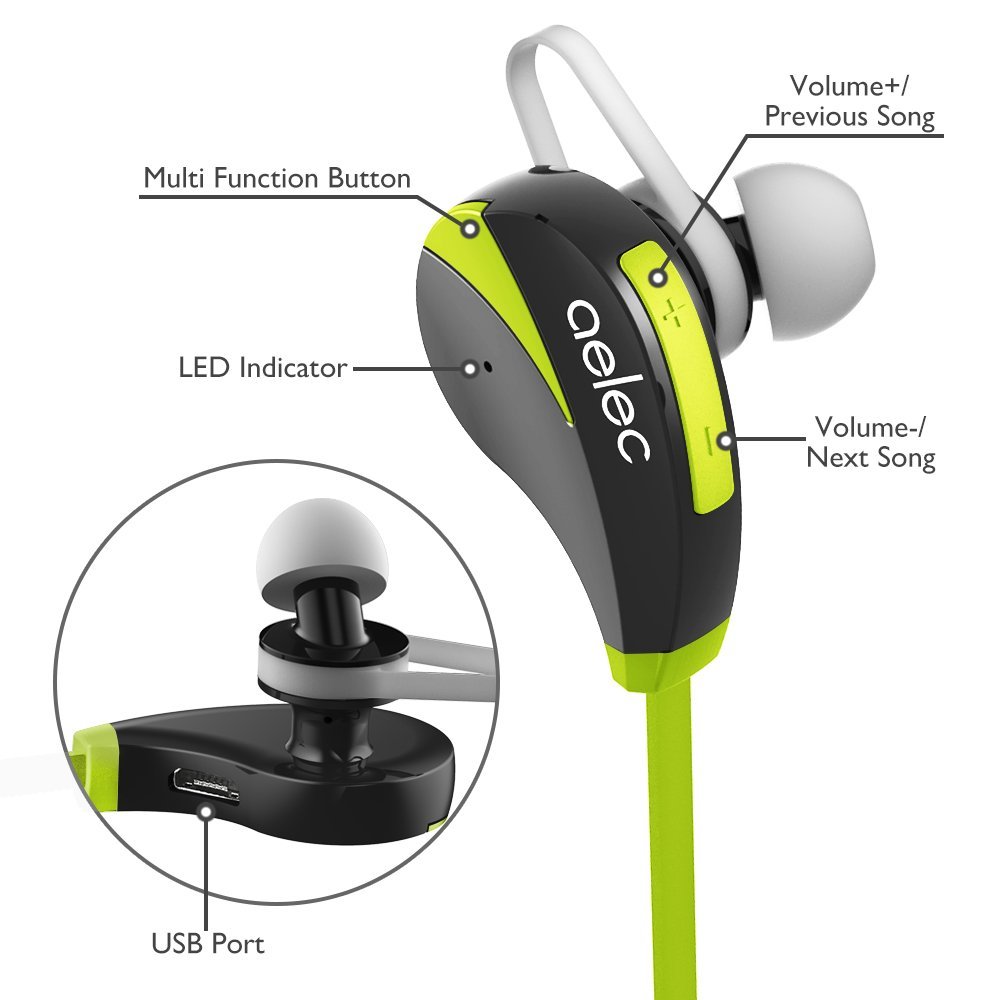 The buttons are well made, solid, giving a decisive mechanical "click" but with a soft touch.
I thought that the pods were maybe a little too big for a 12y/o… but then, those were made for grownups, after all. Aesthetically, this is of lesser importance, thanks to good designing.
Sound Quality
Describing a sound quality can be a difficult thing to do since sound is usually perceived uniquely and very personally among different people. Some people are more sensitive than others and the fact might determine if certain set of earbuds is "bad" or "good".
Based on my experience, I surely can say when a headphone is badly built. So be assured that the S350 are on the high side of the middle class. I am particularly pleased how these provide a nice balance of clear tones that makes hearing the lyrics easy; while never getting too out of control with the bass.
The most common problem with the little headphones is that the manufacturers try to cram too much of bass. This creates, as I call it, the "fart" noise that ruins all other frequencies. Don't worry, though. With these, the basses are still here; just not exaggerated.
At least, I honestly hope you don't buy this kind of headphones to experience deep bass. The S350 doesn't try to impress you with their superior bass, but rather with seriously good balance and crystal clear frequencies that I've never heard out of a $30 headphones before.
Call Quality
Most of the people use headphones for listening to music, but the S350 have an integrated microphone that enables you to accept phone calls completely hands-free. That small microphone is located in the left earbud, and specifically there for making phone calls.
When you receive an incoming phone call, the audio track will be automatically paused. You can then either hit the multi-function button to answer, or simply ignore – to reject it. Having connected the S350 to my phone, the answering seemed instantaneous. There wasn't any perceived lag or latency issues. The call sounds themselves seemed to be high-quality and without any unwanted distortion. I tested them out several times and continuously had simply great experiences with the microphone feature. The only thing to remark is that the mike is a little bit too sensitive. It's not a con, obviously, but sometimes the other part of the phone connection may seem too loud. However, don't worry – it is nothing excessive! With any normal level call, you could say it's perfect!
Bluetooth and Pairing
Bluetooth is the heart of such headphones. Without good Bluetooth there will never be a good quality. And the Aelec reaches a high level in that aspect too. With its Bluetooth 4.1 the device is able to connect not with just one device, but with two devices at the same time! I never had a pair of headphones able to connect to my phone and my PC in the same instance, and it is amazing because you can listen to the music from your PC, have your phone in the other room, and if someone calls, all you need to do is just press the button on your right pod to answer the call, instantly pausing the music!
I think it is an awesome feature, surely one not to underestimate. The pairing is simple like cheese; natural and completely automatic. All you have to do is search out the S350 from your device and activate the paring, without any password hassle. The manual states, you need a short password like "0000" (4 zeros) to connect your devices, but for some reason I didn't need it at all. Probably it was already programmed in.
Battery
I made a few battery tests, some with two devices connected, and some with just one – and the results are practically the same; the differences nothing to write home about.
Battery life: about 5 and half hours. Charging time: less than one hour.
I think this is a great endurance for a battery of only 85mAh. I honestly can't ask for more.
Summary
I think the Aelec S350 are among the best cheap / budget workout headphones on the market. There is this respectable harmonization of low price and high quality of the materials, manufacture, and the sound. I like the fact that the Aelec doesn't stay behind in any aspect of these headphones, from the design to the case, to the quality. Everything to see and experience is incredibly balanced and then perfectly distributed.
I really recommend this product for a daily use at the gym, in your leisure time, or in your car… I'd say during your driving, too… but then, safety comes first – so use it responsibly!
PRO
Very cheap
Good audio quality
Perfect bluetooth pairing
Great battery life